---
2020 marks the 5th anniversary of CENGN Summit! It's been five years of discussing the latest technologies and network advancements, hearing from countless expert speakers, and getting a look at the companies utilizing this next-generation tech.
This year, CENGN takes the event online with a completely virtual platform to present an exciting new experience. There will be technical sessions centred around evolutions in technology and their use cases. Innovation-based sessions are also included, focusing on the impacts of tech advancement and overcoming implementation challenges. Innovative Canadian companies will also be at the Summit, ready to exhibit their disruptive solutions in this year's showcase.
The summit program is packed with intriguing sessions and expert speakers, so let's break down the Summit piece by piece.
Speakers
The Summit Speaker Schedule begins in the morning with a Keynote speech from JC Fahmy, President and CEO of CENGN. Next, attendees will hear from Pascal Menezes, CTO of MEF, followed by Cloudflare's CTO, John Graham-Cumming. After lunch, the President and CEO of CWTA, Robert Ghiz, will give his platinum keynote to begin the afternoon's activities.
This year, we're excited to hear from many local Canadian and international speakers. We're eager to welcome Cloudical's, Alexander Trost in Germany for our Cloud Native Session and Fortinet's Nicolas Thomas for our Cyber Security Block on our technical track. On the innovation track, IDB's Howard Tsao from Taiwan will join us as well as Amdocs' Alla Goldner joining from Israel for our ORAN panel.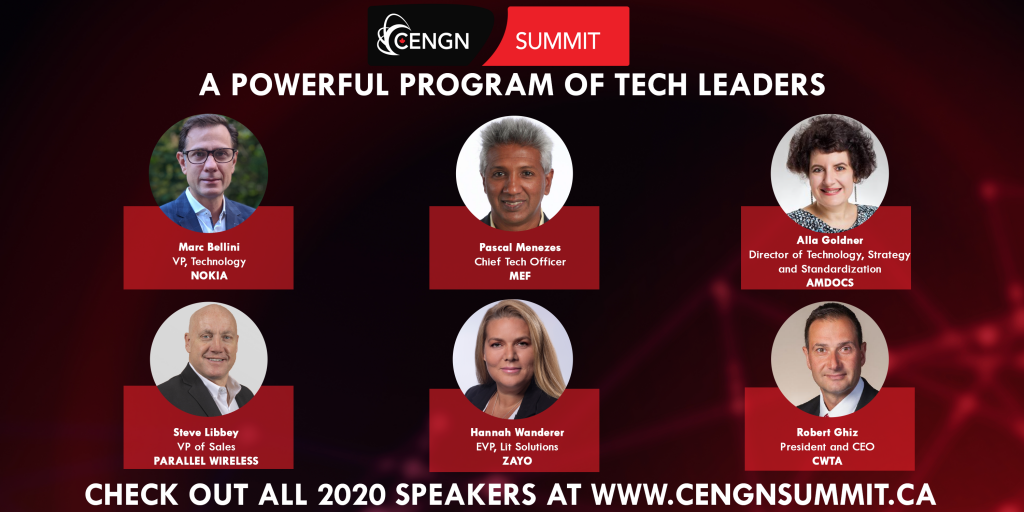 Tech Track vs Innovation Track
The CENGN Summit program will be split into two: the technical track and the innovation track.
The Technical Track:

Designed for engineers and computer scientists who work specifically with changing technologies. This track includes a Cloud-Native block powered by CANARIE, featuring speakers on some of the most relevant open source projects like Rook and Cilium and a Cyber Security block powered by ORION, featuring topics on DDOS attacks, secure internet routing, and security on the edge.
and
The Innovation Track:

Designed for leaders and visionaries, discussing the impacts of tech advancement, overcoming challenges of implementation, and how business/society needs are driving innovation. This track includes a panel on the importance of Open RAN and later a block of speed talks called "Preparing for Digital Transformation," where network leaders will tackle the current and future impacts of cloudification, Mass IoT and AI/Compute.
No matter which track you choose, you're sure to gain meaningful insights and take away valuable information surrounding the latest emerging trends.
Sessions
On top of the speakers and track sessions, CENGN is excited to offer additional sessions that attendees can sign up for to make the most of the CENGN Summit Experience:
CENGN Academy: Infrastructure Automation- Which Tool is best for you?

Learn what makes automation tools different so you can figure out which one fits your needs. Plus, learn about our upcoming Infrastructure as Code Course.

CENGN Services- Support for Start-Ups and Scale-Ups

Learn how CENGN provides engineering expertise, advanced cloud, compute, and datacentre infrastructure to help accelerate tech product commercialization across sectors (FIN-TECH, Cybersecurity, eHealth, Smart Ag, Smart City, AI/ML, etc.)

CENGN Academy Examination and Certification- Docker and Kubernetes Basics

Do you know a thing or two about Docker and Kubernetes? Sign up for our Docker and Kubernetes Basics exam to find out! The exam covers critical concepts and skills required to deploy and orchestrate containerized applications.

Showcase and Exhibit

Thank you to our Platinum and Gold sponsors: IDEaS, CANARIE, and CWTA.
Time dedicated to the Next Generation Network Showcase will allow you to network and explore the virtual exhibit, filled with the newest technology products and services on the market.
Say hello and explore some of the most innovative Canadian technology companies in today's market!
Registration is filling up fast for CENGN Summit 2020!
Sign up to hear from industry experts worldwide and participate in stimulating conversations surrounding the future of technology.
CENGN updates, in your inbox.