Validate Your Smart Mining Technology Solution in a Commercial Grade Infrastructure
Under Ontario's Next Generation Network Program (NGNP), CENGN is funding a CENGN Smart Mining living lab where companies can test their new and innovative IoT-based Smart Mining product solutions that work to make Ontario mines safer and more efficient. Companies that do a CENGN project through the Smart Mining program will be given access to our Next Generation Network wireless infrastructure, as well as the dedicated Smart Mining testbed located at the NORCAT Underground Centre, located near Sudbury, ON.
We have selected  Nokia and Northern Light Technologies to provide wireless connectivity within the mine for private cellular LTE and WiFi capabilities for communication and data collection throughout a live working mine at the NORCAT Underground Centre. This CENGN testbed will be accessible to approved project applicants and will allow them to physically install and test their product in a real mine environment, so they can deploy, test and accelerate commercialization of their Smart Mining solutions.
Leveraging technologies like Internet of Things and Artificial Intelligence for these solutions are the key to revolutionizing the mining industry, which will lead to stimulating job and economic growth, as well as solidifying Ontario's leadership in Smart Mining.
VIEW THE FOLLOWING RESOURCE TO LEARN MORE ABOUT THE CENGN SMART MINING LIVING LAB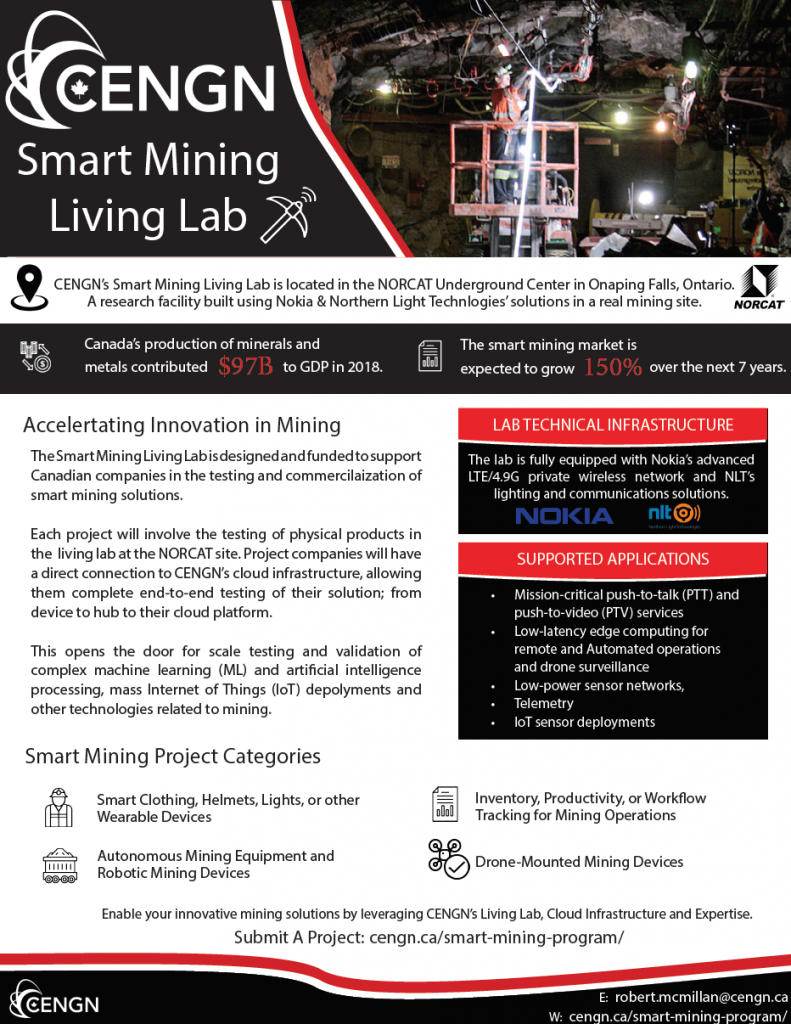 If you have a Smart Mining solution and are interested in leveraging our services and/or the dedicated Smart Mining Living Lab, please fill out the form below.
Talk to us about your innovative solution
Fields marked with an * are required.
For inquiries regarding project submissions, please contact:
Rob McMillan
Business Engineering Manager
For inquiries regarding the Smart Mining testbed, please contact:
Kirby Koster
Senior Manager, Broadband Programs
Completed Smart Mining Projects
Minetell
Risk Exposure Insights for the Mining Industry Minetell is an enterprise risk management SaaS platform that measures and communicates risk exposure and control performance in real-time. We support organizations in complex, capital intensive industries. Highly flexible and scalable, Minetell uses...
Read More
Data Centre and Cloud
Smart Mining Project
SHYFTinc
SHYFTinc Validates Smart Mining Solutions to Resolve Industry Inefficiencies SHYFTinc is a Sudbury-based company that develops and distributes solutions that advance the mining production process. The company delivers established and emerging automation and software products as well as services that...
Read More
Internet of Things
Smart Mining Project
See More Smart Mining Project Case Studies