Validate Your Smart Mining Technology Solution in a Commercial Grade Infrastructure
Under Ontario's Next Generation Network Program (NGNP), the CENGN Smart Mining Program allows companies to test their new and innovative IoT-based smart mining product solutions that work to make Ontario mines safer and more efficient. The program provides access to our Next Generation Network wireless infrastructure, as well as the CENGN Smart Mining Living Lab, a real smart mining testbed located at the NORCAT Underground Centre, located near Sudbury, ON.
Nokia and Northern Light Technologies provide private cellular LTE and WiFi capabilities for communication and data collection throughout the Smart Mining Living Lab. The mine is accessible to approved CENGN project applicants to physically install and test their product in a real mine environment, so they can deploy, test and accelerate commercialization of their smart mining solutions.
Solutions leveraging technologies like Internet of Things and Artificial Intelligence are the key to revolutionizing the mining industry, which will lead to stimulating job and economic growth, as well as solidifying Ontario's leadership in Smart Mining.
VIEW THE FOLLOWING RESOURCE TO LEARN MORE ABOUT THE CENGN SMART MINING LIVING LAB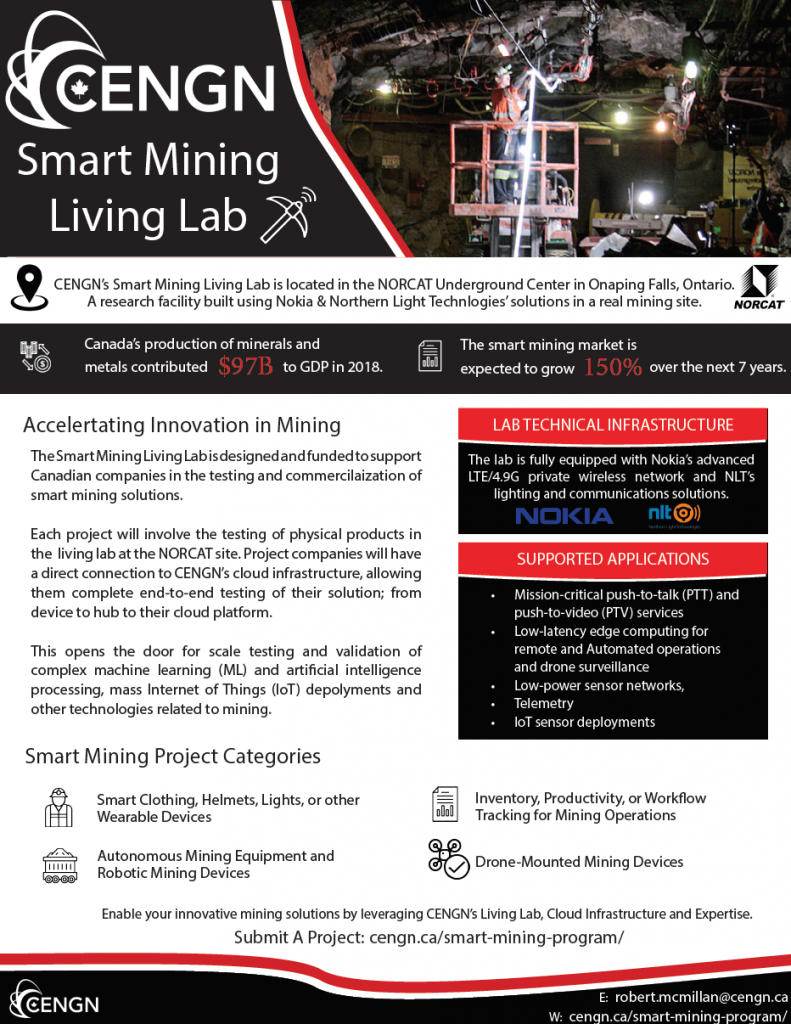 If you have a Smart Mining solution and are interested in leveraging our services and/or the dedicated Smart Mining Living Lab, please fill out the form below.
Talk to us about your innovative solution
Fields marked with an * are required.
For all inquiries, please contact:
Lisa Klimstra
Business Engineering Manager
Completed Smart Mining Projects
RockMass
Revolutionizing Access to Geospatial and Geological Data in Underground Mines
RockMass is a mining and geosciences technology startup focused on data capturing and mapping for technical services. Their technology improves safety in underground environments, labour efficiency, optimized analysis for ground support design, block modeling and mine planning.
Read More
Internet of Things
Smart Mining
FORTAI
Improving Mining Productivity and Safety with ADMMIT
FORTAI is an advanced technology and product manufacturing company focused on delivering innovative value chain management and savings to the mining industry.
Read More
Internet of Things
Smart Mining
Meta Innovations
Game Changing Training Platform for Energy and Mining Sectors
Meta Innovation Technologies, Inc. is a Canadian tech company headquartered in Ottawa which beside AI augmented analytics products, offers the first simulation-based digital learning and development (L&D) platform of its kind (metaKinetic) built for Energy and Mining technical managers and…
Read More
Data Centre and Cloud
Smart Mining
See More Smart Mining Project Case Studies
Be Connected to Canada's Tech Innovation and Community
Sign up for our monthly newsletter and stay up to date on the latest news, events, programs, and new projects.
Fields marked with an * are required.