Smart Agriculture Program
Validate Your Smart Agriculture Technology Solution in a Commercial Grade Infrastructure
Leveraging technologies like Internet of Things and Artificial Intelligence for agriculture solutions are the key to revolutionizing the agricultural industry, which will lead to stimulating job and economic growth, as well as solidifying Ontario's leadership in Smart Agriculture.
CENGN helps growing Canadian businesses overcome commercialization barriers and connect their innovations in the Information and Communications Technology (ICT) sector with the country's vibrant and powerful agricultural industry. By harnessing the transformative tech coming from Canada's small and medium enterprises, CENGN supports the growth of farming revenue, efficiency, and environmental friendliness.
As part of the Smart Agriculture Program, CENGN has built a Smart Greenhouse Living Lab where companies can test their new and innovative IoT-based Smart Greenhouse product solutions. Companies that do a CENGN Smart Agriculture project will be given access to our Next Generation Network wireless infrastructure, as well as the dedicated Smart Greenhouse Living Lab located at the DC Farms, in Kingsville, ON.
VIEW THE FOLLOWING RESOURCE TO LEARN MORE ABOUT THE CENGN SMART GREENHOUSE LIVING LAB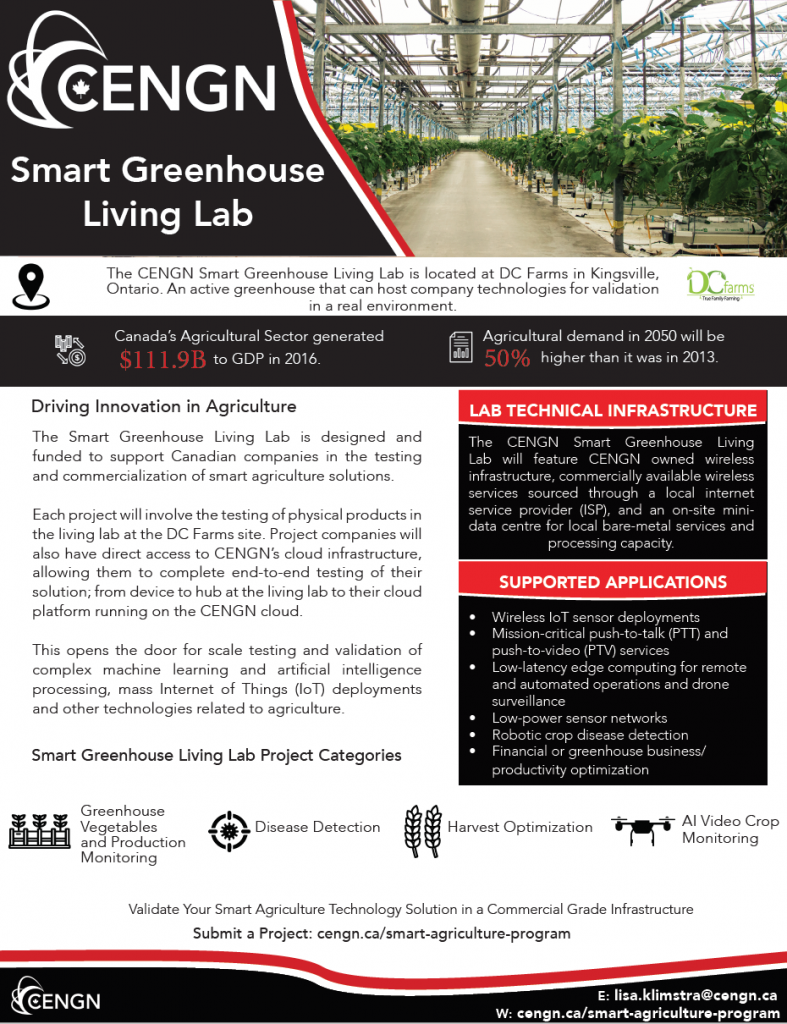 If you have a Smart Agriculture solution and are interested in leveraging our testing expertise and dedicated CENGN Testbed, please fill out the form below.
Talk to us about your innovative solution
Fields marked with an * are required.
For inquiries regarding project submissions, please contact:
Lisa Klimstra
Business Engineering Manager
lisa.klimstra@cengn.ca
Completed Smart Agriculture Projects
Vivid Machines
Revolutionizing Fruit Production with Vivid X-Vision
The Vivid X-Vision system captures plant-level data to see plants' chemical and physical properties, help with early-stage issue detection and automated counting and sizing of fruitlets through yield prediction.
Read More
Artificial Intelligence
Smart Agriculture
Cyberworks Robotics
Autonomous Navigation Technology for Agricultural Tow Tugs
Cyberworks Robotics develops autonomous self-driving technology for third party manually operated commercial equipment ranging from wheelchairs to floor scrubbers. Unlike other self-drive systems that follow embedded cables in the floor, the Cyberworks technology requires no infrastructure and allows for paths…
Read More
Artificial Intelligence
Smart Agriculture
Rakr
Increasing Energy Efficiency on Farms with Rakr's NeatMeter
Rakr is a Canadian agriculture technology company using data and Internet of Things (IoT) solutions to increase energy efficiency and decrease machinery breakdowns in animal husbandry and greenhouse operations.
Read More
Internet of Things
Smart Agriculture
See More Smart Agriculture Project Case Studies
Be Connected to Canada's Tech Innovation and Community
Sign up for our monthly newsletter and stay up to date on the latest news, events, programs, and new projects.
Fields marked with an * are required.