Smart Agriculture Program
Validate Your Smart Agriculture Technology Solution in a Commercial Grade Infrastructure
Leveraging technologies like Internet of Things and Artificial Intelligence for agriculture solutions are the key to revolutionizing the agricultural industry, which will lead to stimulating job and economic growth, as well as solidifying Ontario's leadership in Smart Agriculture.
CENGN helps growing Canadian businesses overcome commercialization barriers and connect their innovations in the Information and Communications Technology (ICT) sector with the country's vibrant and powerful agricultural industry. By harnessing the transformative tech coming from Canada's small and medium enterprises, CENGN supports the growth of farming revenue, efficiency, and environmental friendliness.
As part of the Smart Agriculture Program, CENGN has built a Smart Greenhouse Living Lab where companies can test their new and innovative IoT-based Smart Greenhouse product solutions. Companies that do a CENGN Smart Agriculture project will be given access to our Next Generation Network wireless infrastructure, as well as the dedicated Smart Greenhouse Living Lab located at the DC Farms, in Kingsville, ON.
VIEW THE FOLLOWING RESOURCE TO LEARN MORE ABOUT THE CENGN SMART GREENHOUSE LIVING LAB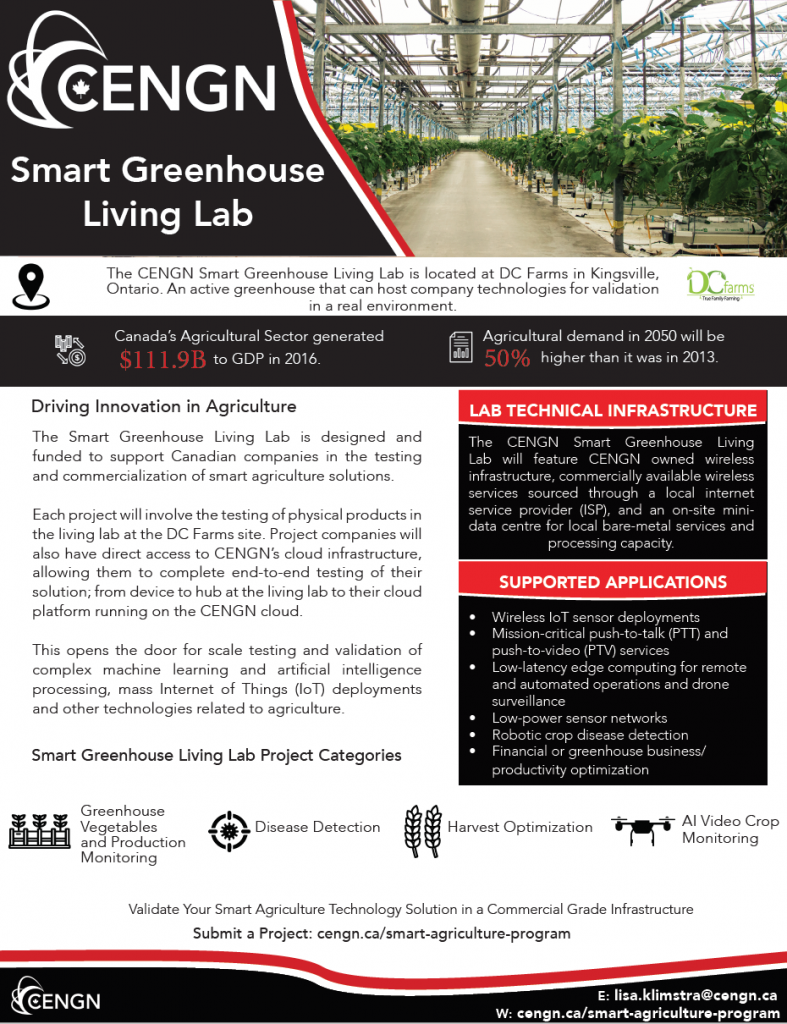 If you have a Smart Agriculture solution and are interested in leveraging our testing expertise and dedicated CENGN Testbed, please fill out the form below.
Talk to us about your innovative solution
Fields marked with an * are required.
For inquiries regarding project submissions, please contact:
Lisa Klimstra
Business Engineering Manager
lisa.klimstra@cengn.ca
Completed Smart Agriculture Projects
Cattle Scan
Monitoring Cattle Health with IoT Devices
Cattle Scan is an ag-tech start-up. Built in Ontario, Cattle Scan has developed an affordable livestock monitoring system to track the health and behaviour parameters of individual cows and of an entire herd.
Read More
Internet of Things
Smart Agriculture Project
Grain Discovery
Bringing Traceability and Transparency to the Agricultural Supply Chain
The agricultural industry is set for massive transformations in the next few decades. Technological advances and digitization of the supply chain will allow for the de-commoditization of agriculture. Crops will be grown to cater to consumer demands for traceability, sustainability,…
Read More
Data Centre and Cloud
Smart Agriculture Project
North Star Systems
Enabling Informed Decision Making for Businesses
North Star Systems is a Canadian technology company that develops hardware and cloud-based collaboration software for Industrial Internet of Things (IIoT). North Star Systems provides real-time remote information on logistic efficiencies to inspire the way businesses serve their clients. Through…
Read More
Data Centre and Cloud
Smart Agriculture Project
See More Smart Agriculture Project Case Studies
CALL FOR REQUEST FOR SOLUTION FOR THE CENGN SMART AG GREENHOUSE LIVING LAB
On February 24, 2021 CENGN sent out a call for a Request for Solution (RFS) to a wide diverse set of technology applicants that are prepared to supply all or part of the required suite of wireless IoT sensors, IoT gateways, and wireless cloud/internet access services required to support projects for small and medium enterprise (SME) client product testing of a wide-range of sensors, devices, robotics, or autonomous equipment in a commercial hydroponic vegetable greenhouse operation in Southwestern Ontario.
This infrastructure and services project is looking for technology applicants interested in designing, supplying, installing, and supporting innovative wireless technology solutions to deliver both narrow-band and broadband data access services. This set of wireless IoT services will be used to connect to a small self-contained edge computing centre on-site, or through high-speed internet access to CENGN and/or other commercial cloud or data processing centres.
CENGN, under the Next Generation Network Program (NGNP), is looking to fund an innovative Smart Ag Living Lab project that will support up to 10 SME Smart Ag projects per year that will help accelerate commercialization of products that will bring new technology and increased productivity to the Greenhouse Vegetable Growing Industry in Ontario and across Canada. Through this RFS process, CENGN is looking for one or more best of breed candidate technology applicants who can work with CENGN and our vegetable greenhouse operator (DC Farms) to offer a well-supported wireless environment with a wide-range of wireless options to support Smart Agriculture product testing in a commercial greenhouse environment. The technology solution required for this RFS will need to provide innovative, and high-performance turn-key solutions that will meet or exceed the project capacity requirements, with a combination of usage-based monthly charge plans for any commercial services, and a mix of installed private networks of wireless equipment on site utilizing commercially available licensed or unlicensed wireless access services.
Technology applicants are asked to propose a solution through an RFS submission which responds to the questions in this document in one or more of the following categories:
IoT Sensors – Light/Sunlight, Temperature, Humidity, O2, CO2, electrical connectivity, pH, and moisture sensors.
IoT or IIoT Gateways – Long Range Wide Area Networking (LoRaWAN), Bluetooth Low Energy (BLE), and Wireless Fidelity (Wifi).
Device and Data Mgt Platform(s) – for LoRaWAN, BLE, and WIFI IoT sensors.
Turnkey Private Wireless Network – WIFI.
Commercial Wireless IoT Networks – LTE and LTE-M.
Each of the 5 categories will be individually rated and evaluated by an independent External Review Panel (ERP) that will be using the ratings to make a recommendation on which technology applicants will be selected as best of breed technology solution providers for the CENGN Smart Ag Greenhouse Living Lab.
This Smart Ag Greenhouse Living Lab will be an exciting addition to the growing number of CENGN Living Labs being deployed across the Ontario supported by our four Data/cloud computing centres to support our SME clients accelerate commercialization of their innovative and industry changing new products.
Please click on the button below to view the official Call for Request for Solution:
For inquiries related to the Call for RFS please contact:
Kirby Koster
Senior Manager, Broadband Programs
Tel: 613-291-0707
Email: kirby.koster@cengn.ca