---
Pascal Menezes, Co-Founder and CTO for MEF Forum, is officially the next keynote speaker for this year's CENGN Summit – a national tech summit hosted in Ottawa, Ontario.
Pascal is a proven technology thought leader, sales evangelist, product manager and seasoned IP architect with decades of experience in internetworking, next-generation information systems, and communication architectures.
Now an inventor and pioneer of Unified Communications (UC) and Software Defined Networks (SDN), he was also the Principal Program Manager for Skype for Business at Microsoft from 2007 to 2015. At Microsoft, Pascal lead programs for Skype such as SDN, Real-Time Media over Wi-Fi, and Skype for Business using Azure Express Route with quality of service (QoS). Today, he is focused on SD-WAN, SASE, cloud-scale architectures, real-time media networks, Software Defined Networks (SDN), Network Function Virtualization (NFV) and Lifecycle Service Orchestration (LSO).
Pascal has led five startups with multiple successes, has received numerous industry global thought leadership awards and has presented extensively in numerous events worldwide. Pascal holds 30+ patents and patents pending and has co-authored many standards in the IETF, MEF, and Broadband Forum (MPLS).
He has also won numerous industry awards for his leadership and innovative drive, including:
SDN and Openflow 2015 World Congress Best of Show for UC SDN
ONF SDN North Bound Interface Leadership Award
ONF SDN 2014 Ping Pan Memorial Innovation Award
IMTC 2013 Technical Leadership Award
MEF 2012 Technical Leadership Award
Microsoft 2005 Gold Star Achievement Award
Best Built Network at Supercom 2002
Best ISP for Washington State 2001
Outstanding Contribution from Metro Ethernet Forum for 2001, 2002, and 2003
Capacity Magazine 2018 Top 20 Leaders in SDN
Telecom 2018 Top 25 Movers and Shakers in Telecom
Capacity Magazine Power 100 for 2019
Capacity Magazine 20 SDN Market Leaders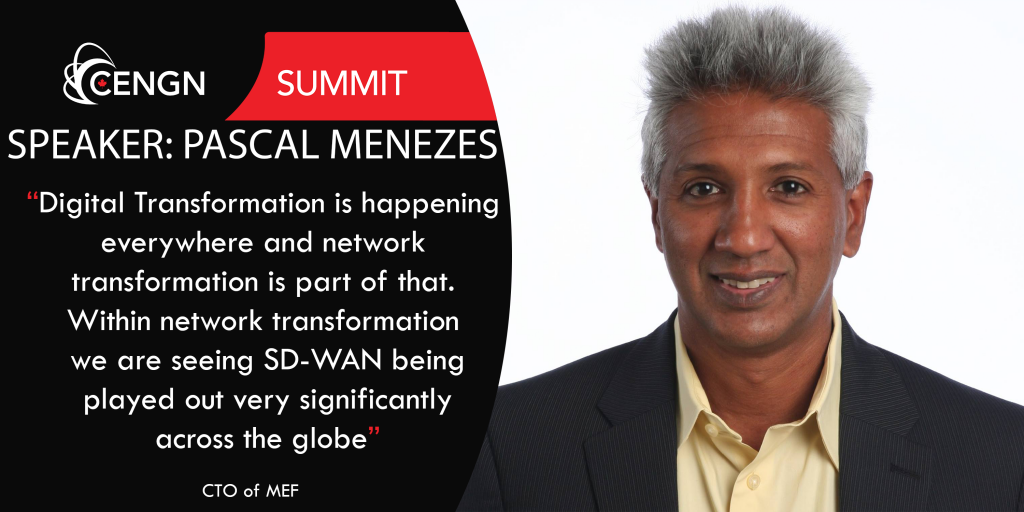 Being a pioneer and innovator in SDN and Unified Communications (UC), Pascal will be bringing his industry-leading expertise to CENGN's first virtual summit.
Pascal will also accompany Jack Waters, president of Zayo Networks and chief operating officer (COO) at Zayo Group, for this year's CENGN Summit. Jack was announced as the 1st keynote speaker in early August.
CENGN Summit isn't only Ottawa's most prominent tech event, but also Canada's leading network technology event. Created for tech professionals and businesses, the CENGN Summit provides networking opportunities and information on which technologies will revolutionize the industry. This year, the CENGN Summit is split into 2 tracks:
The Innovation track – For leadership and strategy-oriented speakers.
and
The Technical track – For detailed information on emerging technologies and their use cases.
The online event is hosted by CENGN, Canada's Centre of Excellence in Next Generation Networks. CENGN is a not-for-profit focused on increasing commercial growth and public adoption of innovative network technologies for economic gain across the nation.
Due to COVID-19, this year's summit is hosted virtually, giving you the ability to join from the comfort of your home anywhere across the nation.
CENGN Summit 2020 will take place on Thursday, November 12, 2020, from 8 am to 6 pm.
For more information, please contact Rick Penwarden at rick.penwarden@cengn.ca.
CENGN updates, in your inbox.