---
BluWave-ai is a cleantech company that is making an impact on how our planet uses renewable and clean energy sources. The Ottawa-based company optimizes renewable energy usage within the electrical grid with its distributed artificial intelligence (AI) software and Internet of Things (IoT) platform. With BluWave-ai's solution, municipalities and utility companies are able to reliably balance the available supply of renewable sources with user load on the grid, which translates to reduced reliance on traditional energy sources and associated cost-savings.
Utility distributed renewable energy deployments include a large number of IoT sensors, which produce volumes of data that are difficult to process efficiently and effectively. In addition, electrical grids are increasingly connected with digital sensors and monitoring devices, and employ advanced networking and automation technologies. While this modernized and connected smart grid is more reliable and efficient, its complexity also impacts a utility's ability to make timely optimized grid decisions.
BluWave-ai is a startup just over a year old, but company founder, Devashish Paul, is already making an electrifying impact on the energy sector. To date, the company has exceeded a pre-seed round of $1M in funding and has completed multiple pilots with utility companies and municipalities. Most notably, BluWave-ai tested their solution with the City of Summerside in Prince Edward Island, which is increasing its reliance on renewable energy resources like wind and solar. BluWave-ai's model is able to accurately predict the future supply of renewable energy allowing Summerside to determine the optimal amount of energy it needs to import from other sources.
Management of renewable energy sources and power loads within the smart grid is a major issue for utility companies. The main struggle comes from fluctuating weather patterns that affect the supply of renewable energy sources like wind and solar, leaving utilities unsure of how much other energy from sources such as hydro, nuclear, and coal is required to keep the electrical grid operational and reliable. Any miscalculations in forecasting the energy supply for the electrical grid and municipalities can be left paying a premium for other energy sources.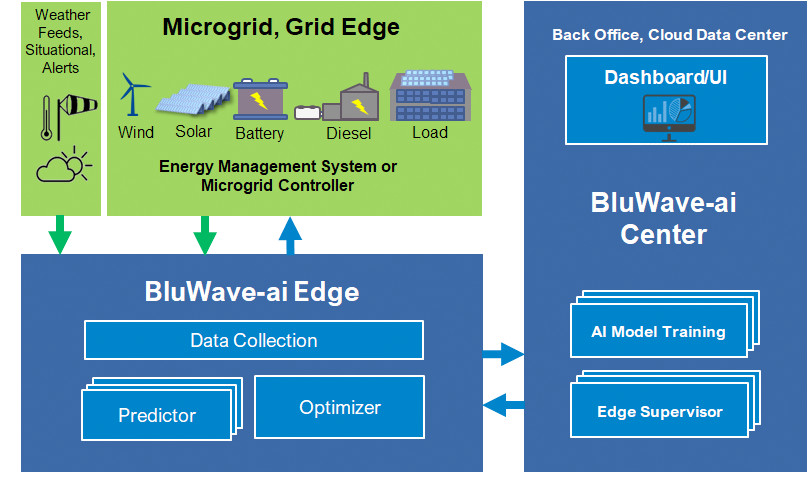 BluWave-ai operates at the intersection of power systems engineering, machine learning, control, and optimization to deliver an advanced SaaS-based platform for modern power and energy systems. The company's grid energy optimization platform, which consists of BluWave-ai Edge and BluWave-ai Center, can operate in either the public or private cloud. BluWave-ai Edge connects to IoT sensors and meters and uses historical and real-time data to provide AI assisted optimization of local energy generation and storage to its customers. BluWave-ai Center manages multiple BluWave-ai Edge locations, and applies machine learning to new data to continuously adapt and improve the AI models used by BluWave-ai Edge to predict, optimize, and dispatch control.
Following a successful pilot with Summerside, BluWave-ai is conducting a CENGN Project to complete similar tests on a simulated smart grid for a city with a population of approximately 1 million people. Using CENGN's infrastructure and CANARIE's Digital Accelerator for Innovation and Research (DAIR) cloud, BluWave-ai is simulating and testing the deployment of numerous BluWave-ai Edge servers, each connected to 1000 sensors, using data from past projects. This effort will be BluWave-ai's largest deployment to date, further validating the ability of the company's platform to optimize energy decisions for increased sustainability, reliability, and affordability.
Watch Devashish Paul, Bluwave-ai CEO, talk about the company's solution for renewable energy deployments in the video below:
With several successful pilots and growing market traction, BluWave-ai is keen to provide large municipalities and utility companies with further validation of the company's platform including testing in a live network with traffic. CENGN is extremely pleased to be able to provide BluWave-ai with the resources and technical expertise to offer this validation, helping to bring the company's product and business to the next level. Stay tuned for further developments on this project!
BluWave-ai is a growing Canadian business that is using the services at CENGN through the Next Generation Network Program (NGNP). The NGNP is a Government of Ontario program offered through a partnership between CENGN and the Ontario Centres of Excellence (OCE) that is providing small and medium-sized enterprises (SMEs) across Ontario access to the CENGN Testbed. CENGN's digital infrastructure is connecting SMEs like BluWave-ai to state-of-the-art equipment and network services, which will allow these companies to test and validate their solutions. Are you interested in completing a CENGN project? Learn more by clicking here.
CENGN updates, in your inbox.