---
Published: March 26, 2018
Martello, an Ottawa-based company, has been making headlines for all the right reasons. They've generated a lot of buzz from making the list of Ottawa tech firms to watch in 2018, there's been talk of the company going public, and of course the recent merger with Montreal-based Elfiq Networks. They're now about to take one more step in the right direction as they're set to begin a CENGN project to scale test Elfiq Networks Virtual Link Balancer (VLBX).
Martello & Elfiq Networks
Martello develops solutions that manage the performance of real-time services on cloud and enterprise in unified communications (UC). Martello's products detect problems and implement solutions that address network performance errors before service quality is impacted. By merging with Elfiq Networks, Martello is looking to leverage a world class team as they advance their network performance management business. Elfiq Networks' strength comes from their ability to improve network performance through innovative link balancing and bandwidth management. Elfiq Networks SD-WAN solutions are delivered to its clients across the globe and their VLBX product creates an economical hybrid WAN using smart bandwidth management. According to President and CEO John Proctor, the merger of Martello and Elfiq Networks will allow the two companies to grow faster and solve customer problems more effectively. Something that will be much needed as the challenges facing smart bandwidth management continue to evolve over the next few years.
Smart Bandwidth Management
People demand more and more from the internet as additional devices, applications, and services are introduced to the market. These growing internet demands take their toll on bandwidth capabilities. Consider a university, students roaming around from class to class with cell phones, laptops, taxing Netflix streaming, and other connected devices. The university needs to support the internet loads, especially at peak periods when traffic routing is sluggish and expensive.
Elfiq Networks' VLBX reduces the strain on organizations by sending traffic to the optimal ISP link. The VLBX mixes public and private links resulting in a stronger, more flexible SD-WAN that saves organizations on bandwidth costs while enhancing network performance. VLBX uses active-active deployment, which means if one ISP link fails to process traffic, other links will pick up the traffic processing duties to keep the network functioning properly and efficiently. Not only this, Elfiq Networks' solution gives Network Managers the opportunity to save money for their company. VLBXs can use less expensive ISP links such as DSL and cable to substitute for more costly ones such as DS3s, T1s, fiber and more. VLBXs can also be deployed in a series of environments including VMware, Hyper-v, OpenStack, and NFV infrastructures.

Testing Elfiq Networks' VLBX
Elfiq Networks brought their solution to CENGN to scale test the VLBX based on the number of sites within a WAN. By the end of the project, the company will have a measurement of the number of VLBXs an Elfiq Controller can support when scaled in a customer environment. Elfiq Networks has experience deploying their solution on older versions of OpenStack, however, this project will begin with a pre-tested deployment of the solution on our state-of-the-art OpenStack infrastructure. This will involve the deployment of 10-20 VLBXs along with the Elfiq controller into a dedicated CENGN project space. Martello is determined to work with CENGN to ramp up the number of VLBXs in their project from the initial 10-20 to over 500 in order to test the VLBXs ability to remain functional while being supported by a single Elfiq Controller. To put this in perspective, the average enterprise WAN can deploy approximately 300 link balancers. Scaling their SD-WAN solution to 500+ link balancers (double that of a competitor) will validate to customers and potential buyers that Elfiq products can support the needs of any sized business.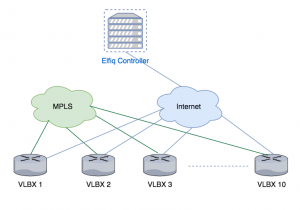 Completing a scalability project at CENGN will provide Martello Technologies and Elfiq Networks with the credibility that customers in the market are seeking. By bringing their solution to the CENGN Testbed, Elfiq Networks is now able to demonstrate the enterprise-grade scalability of their SD-WAN solution on an up-to-date third-party OpenStack infrastructure. This proves the versatility of their product as it can be deployed in different environments and scaled to meet the needs of their customers.
Stay tuned for developments on this project and others like it by signing up for our newsletter.
CENGN updates, in your inbox.