---
Published: May 9th, 2017
CENGN is excited to announce its most recent project working with member Wind River and small to medium enterprise (SME) named CloudOps. The project's main goal is to deploy Wind River's Titanium Edge cloud solution in the CENGN platform. The project will provide the opportunity for Wind River to demonstrate the high availability of the Titanium Edge, and showcase the product's versatility.
Beyond its high availability, the Titanium Edge provides many other features, like VNF migration and failover to name a few. Through its implementation on CENGN's platform, we will explore the possibilities of integrating Titanium Edge with CloudOps' CloudMC solution. But before we get into that, let's take a brief look at both companies involved and the technology that they're bringing to the table.
CloudOps and CloudMC
CloudOps, a leading cloud consulting and services company, focused on open source, cloud platforms and networking, has developed an orchestration solution called CloudMC. CloudMC is an on-premises or hosted software for cloud service management and provisioning, which unlike OpenStack Horizon, enables multi-cloud orchestration from a single control plane and API. It is a one-stop self-service portal including role-based access control, product catalogs, metering with showback, and chargeback reporting. CloudMC manages resource capacity, trial environments, and SDN integrations. All these features make CloudMC an exceptional new orchestration solution. The current project with CENGN and Wind River will help CloudOps evolve some of its solution's new features, especially in regards to managing VNF workloads.
The Advantages of the Titanium Edge
The Wind River Titanium Cloud Product Line includes both the Titanium Core and the Titanium Edge server. The Titanium Edge server is essentially the next generation of Wind River's Titanium Cloud products, and has many new features focusing on the areas of cellular infrastructure, enterprise edge, and service chaining enhancements. Examples of these new features are:
Dynamic CPU scaling
Increased system scalability
Support for "QinQ" tunneling
IPv6 support for all interfaces
Support for VNF access to hardware acceleration
Support for the latest high-performance NICs
Virtual switch packet trace tool
Bulk provisioning
Automated deployment capabilities
CENGN's Role
As a consortium, CENGN takes on many projects that involve collaboration between our members and small and medium enterprises (SMEs). This upcoming project with Wind River and CloudOps is another example of how CENGN's position as an innovation hub can facilitate collaboration and new opportunities for Canadian companies big and small.
How we are all working together
This project embodies the spirit of two plus two equaling five. Through working together, both CloudOps and Wind River will be able to propel their business forward in different ways. The project will allow CloudOps the opportunity to expand their delivery to market, both by helping to validate the CloudMC solution through its deployment on the Titanium Edge and by introducing the solution to key players in the market. Getting to know Wind River's solution will help CloudOps' future sales and service delivery and the project will deliver value to the CloudMC product team as they test different methods of addressing NFV workloads.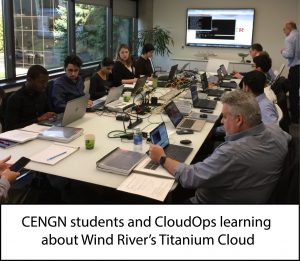 As for Wind River, this project will act as a launch pad for joint activities between Wind River and industry leaders. Wind River sees promising value in the exposure that CENGN will bring to the Titanium Cloud product family through this project and the subsequent marketing and demo activities that will follow. In addition, by supporting a joint activity between Wind River and CloudOps, CENGN is strengthening the bond between both companies, and building a good foundation for future business opportunities together.
One of the many great things about the collaboration between Wind River, CENGN and CloudOps is that it gives the companies a chance to learn even more about each other's products. By working on this project, CENGN and CloudOps will both be educated and trained on the Titanium Server and its deployment. CloudOps will also be able to train and educate CENGN and Wind River on their product capabilities as applicable to the Titanium Edge integration. CENGN is looking forward to carrying out this project and learning more about both of these innovative companies and the products they have to offer!
Interested in learning more about CloudOps? Click here
Want to learn more about Wind River's Titanum Edge? Click here
Click here to read about CloudOps and Wind River's second project!
[cherry_button text="Read About How the Project Went Here" url="https://www.cengn.ca/service-view/wind-river-cloudops-project-one/" style="default" centered="yes" color="#0a0a0a" target="_self"]
[cherry_button text="Submit your own project here" url="https://www.cengn.ca/projects/" style="default" centered="yes" icon_position="bottom" color="#000000″ min_width="69″ target="_self"]
CENGN updates, in your inbox.