---
As we say goodbye to the year 2020, we also say goodbye to our final group of outstanding students this year. These 8 students started their time at CENGN at the beginning of September. They were the second bunch to have their work terms entirely online due to the pandemic.
Despite the new challenges of virtual work, our students could seamlessly enter their roles, gain hands-on experience, and contribute their unique strengths.
This student cohort came to us from the University of Ottawa, Carleton University, Willis College, Algonquin College, Lambton College, and the University of Waterloo.
Technical Students
On the technical side of CENGN, we enjoyed working with Cloud Infrastructure Engineering Student Olukunle Ajao. In this role, Olu contributed to our organizational success by optimizing workforce deliverables on the CENGN Testbed's cloud infrastructure.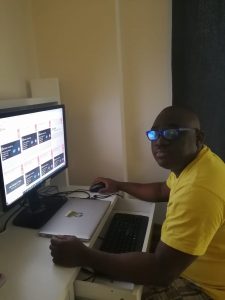 His responsibilities included running acceptance tests and burn-in tests on servers, running inventory scripts against new servers, running the Cisco UCS diagnostic tool, and evaluating user experiences with Desktop as a Service (DaaS).
Olu commends CENGN for their ease in onboarding –
"Everyone is always willing to assist a new employee. The on-the-job learning process is also well ordered, giving one time to fully understand the nitty-gritty of the task at hand. Also, despite the social gaps created by the pandemic, the virtual bi-weekly social gatherings have been an avenue to interact with staff from the other departments. I really enjoyed them." -Olukunle Ajao
This term, the Customer Solutions Engineering (CSE) team hosted two new Solutions Engineering Students, Julia Woodcock and Jiayang (Jon) Liu, as well as one returning student, Sahil Rahi.
Julia Woodcock spent her term supporting small and medium enterprise (SME) projects where she prepared public-facing final reports that highlighted the projects' high-level goals and achievements.
She also delivered presentations on these projects to the marketing team for the Innovation Highlights, one-page case studies providing an overview of the CENGN project companies and the outcomes of their validation projects. On the side, Julia was able to learn new skills while contributing to developing an organizational tool for her department.
"The team at CENGN is full of great people, and there are many opportunities here to learn something new – especially since CENGN works with so many unique Canadian companies. Working on different projects/tasks for each one challenged me to learn more. I am incredibly thankful for the opportunity to develop and refine my skills here." – Julia Woodcock
Julia will be returning to CENGN in Summer 2021.
Jon Liu developed his technical skills this term by seeing through Canadian tech start-up projects run on the CENGN Testbed. He was involved through the whole process by setting up, maintaining, and decommissioning servers.
Jon is most proud of creating a lasting impact on the CSE operations –
"The project that was the highlight of my term was to design and develop a new internal tool to automate a previously manual task. It'll help Solutions Engineering check on the progress of SME projects." – Jon Liu
Jon will be continuing his placement with us this Winter 2021 along with Sahil Rahi.
As a returning part-time student, Sahil Rahi took on greater responsibility from his management team. He dedicated his term to an intensive, complex, CENGN project that required a large-scale deployment.
"This is my second term with CENGN. I never imagined working as a part-time intern with CENGN would be so fruitful. In this term, I worked on one of my biggest projects in CENGN. The team is very supportive when it comes to your self-development. The responsibilities you get while working made me feel like I was part of something big. I can't wait to start my co-op term with CENGN in January." – Sahil Rahi.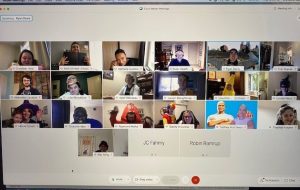 Business Students
Over on the business side, our Marketing team is saying goodbye to 2 students this semester, Sydney Hutchison and Noreen Qureshi.
Sydney Hutchison, Marketing Content Specialist student, was responsible for managing CENGN's social media platforms, writing blogs, and creating event and website content. Sydney collaborated with the CSE department to write Innovation Highlights that promote our project companies' successes.
"My favourite part about working at CENGN is writing the Innovation Highlights and learning about the cutting-edge technological products entering the Canadian market. I learn something new every day here, and the environment is so supportive. My team and all of CENGN's staff really made the experience memorable." – Sydney Hutchison.
As the Video and Design Marketing Specialist student, Noreen Qureshi spent her term developing brand strengthening content, including videos for the CENGN Summit, graphics, and marketing collateral.
"One of my favourite things about working at CENGN was being treated as an important addition to the team. I was given many tasks and great responsibility right from the beginning. I didn't feel like I was just another student, but a valuable member of the team! The social events that took place were also very memorable and fun, even if they were all virtual!" – Noreen Qureshi.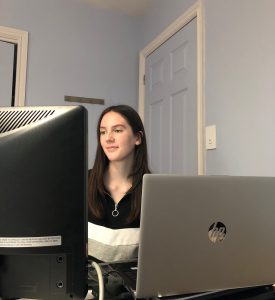 Finally, I, Lauryn MacGillivray, Human Resource Specialist student, had the opportunity to support future, past, and present employees of CENGN. I contributed to the Student Program by recruiting and coordinating the next term of students and leading all communication with student alumni.
"I am so grateful to CENGN for being such a social workplace, especially while working virtually. I connected with employees in each department through my daily responsibilities and social events. I'm also beyond impressed with my HR team; these women are welcoming and intelligent, which helped me feel more comfortable at CENGN and able to learn new skills." – Lauryn MacGillivray.
To see if hiring a CENGN student alum is right for your organization, click here! Hire-a-CENGN-Intern.pdf
Are you looking to complete a work term with CENGN in Summer 2021?
Summer 2021 will be CENGN's fourth virtual work term. After a prompt switch to remote work in response to news of the pandemic back in March, our HR Director, Nathalie Guthrie, encouraged the continuation of the Student Program, relying on the processes already in place to ensure the delivery of CENGN's mission, "CENGN is committed to enabling next-generation talent, and our students build the foundation of this initiative."
As the Student Program has continued to succeed, we're preparing to recruit 9 students for the upcoming Summer 2021 term and continuing to partner with schools from across Canada.
CENGN welcomes undergraduate and graduate students to check out the 6 open roles for the Summer 2021 term.
"Are you interested in working with cutting edge technologies?"
Cloud Infrastructure Engineering student
"Do you want to contribute to a company that puts its employees first?"
Human Resource Specialist student
"Interested in working with the latest Canadian tech products?"
"Are you a strong communicator seeking creativity in your work?"
Content Writer Marketing student
"Do you want to learn more about open-source tools?"
"Interested in producing high-quality visual content?"
Video and Design Marketing student
For more of an inside peek on what it's like to be a student at CENGN, watch the Student Spotlights from previous terms. https://www.cengn.ca/student-spotlight-videos/
Note that all our technical students undergo a 3-week boot camp to get up to speed on cutting-edge networking technologies before working on our commercial-grade infrastructure. The boot camp provides training on Linux, Docker, Kubernetes, OpenStack and other networking technologies to ensure you're ready to make an impact at CENGN and are employable for the most technical companies.
For more information about our boot camp, click here.
https://www.cengn.ca/cloud-system-specialist-certification/
Ready to join CENGN as a Summer 2021 student?
CENGN updates, in your inbox.