---
Published: March 8th, 2017
CENGN spent four days learning more about the newest innovations in the mobile industry!
From February 27th to March 2nd, the GSMA hosted the Mobile World Congress in Barcelona, Spain. The event was immense, with more than 100,000 attendees and 2,200 exhibitions, sponsors, and partners, from countries all around the world.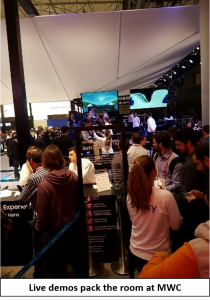 Being the world's largest exhibition in the mobile industry, the Mobile World Congress showcased technology providers, and vendors from across the globe to discuss the latest in this sector. This year's conference focused on CENGN member Nokia 5G and the Internet of things. Overall, the event drove home the fact that the mobile world is a force in all emerging innovation.
The mobile world is currently surrounded by a high degree of growth and opportunity. This conference set out to provide attendees with in-depth coverage of the current and future state of the mobile industry. From the latest in technological developments, next generation services as well as growth strategies, the GSMA made it clear that mobile technology can benefit any industry.
All four days had a wide arrangement of keynote speakers that were composed of the leading mobile operators, infrastructure providers, media companies, internet companies and influencers. Each speaker drove home what the expectations will be for mobile technology in the years to come.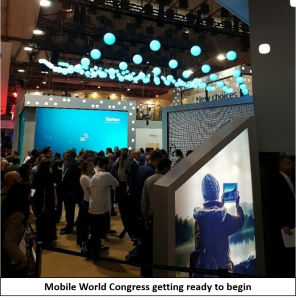 CENGN sent CEO and President, Ritch Dusome, as well as VP of Marketing and Business Development, Richard Waterhouse, to showcase CENGN and connect with mobile technologists.
Both executives spent these four days attending various keynote presentations, conferences, and networking periods. From a collection of approximately 322 speakers and collaborations from 29 mobile visionaries, the Mobile World Congress comprised of some of the largest names in the industry. One of these highly anticipated presenters included CEO and founder of Netflix – Reed Hastings. Reed shared his expertise about what we can expect to encounter in the next 20 years and how companies, like Netflix, will need to evolve in order to keep up with the changes.
Along with the numerous presentations and exhibitions, a large collection of awards were given out to forty of the most innovative and revolutionary applications and services of the
year. These awards were based on excellence and popularity of these products within the industry. The Mobile World Congress also had a great deal of interactive activities on the event's mobile app, which worked to connect the crowd through a more laid-back and personal approach.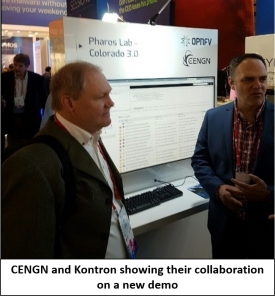 The Mobile World Congress offered CENGN the opportunity to meet with the entire global community of mobile leaders, innovators, and thinkers. CENGN took full advantage of this opportunity to connect with other attendees, providing information about CENGN's services and how they too can get involved. By gaining valuable knowledge, tons of new connections, and exposure to the latest cutting-edge technology in the mobile world, it's safe to say that CENGN collected valuable insight and relationships that will be beneficial for years to come!
A big congratulations goes out to GSMA for putting on another successful annual event with an outstanding turnout. The Mobile World Congress 2017 Barcelona did not disappoint, as it offered the audience exciting content and new product announcements, as well as a great line-up of influential speakers and much more! CENGN is looking forward to what this upcoming year has in store for the mobile industry, and is excited for GSMA's next annual event!
CENGN updates, in your inbox.