---
Published: October 30th, 2017
Last Thursday was all about learning in a fun environment as CENGN brought together members of the Open Source community for the fourth Open Source Networking Meetup.
In 2016, CENGN initiated a series of networking events in partnership with OPNFV, and Open Daylight, to facilitate discussions on the latest developments in the telecommunications industry. Since then, we've welcomed hundreds of industry professionals, students, and tech enthusiasts to our meetup community. At Ottawa Open Source Networking Meetups, attendees get to hear presentations from experts in the field, expand their professional network, and enjoy free food (Hey, we do invite hungry students after all)! Social gatherings like these embody the ideals of a truly open community and lay the foundation for industry innovation.

Yesterday's event took place at the Innovation Centre at Bayview Yards, home to CENGN member and event sponsor, Invest Ottawa. Doors opened at 5:30pm with a networking session over pizza and beer. The room filled up quickly with 50 people turning up from organizations like OPNFV, Inocybe Technologies, and Algonquin College. The event agenda featured presentations from Raymond Maika, Cloud Infrastructure Engineer at CENGN, Ragu Masilamany, VP and Head of ECOMP/ONAP at Amdocs, as well as a technical demo by Amdocs Software Architects, Mike Elliott and Mandeep Khinda.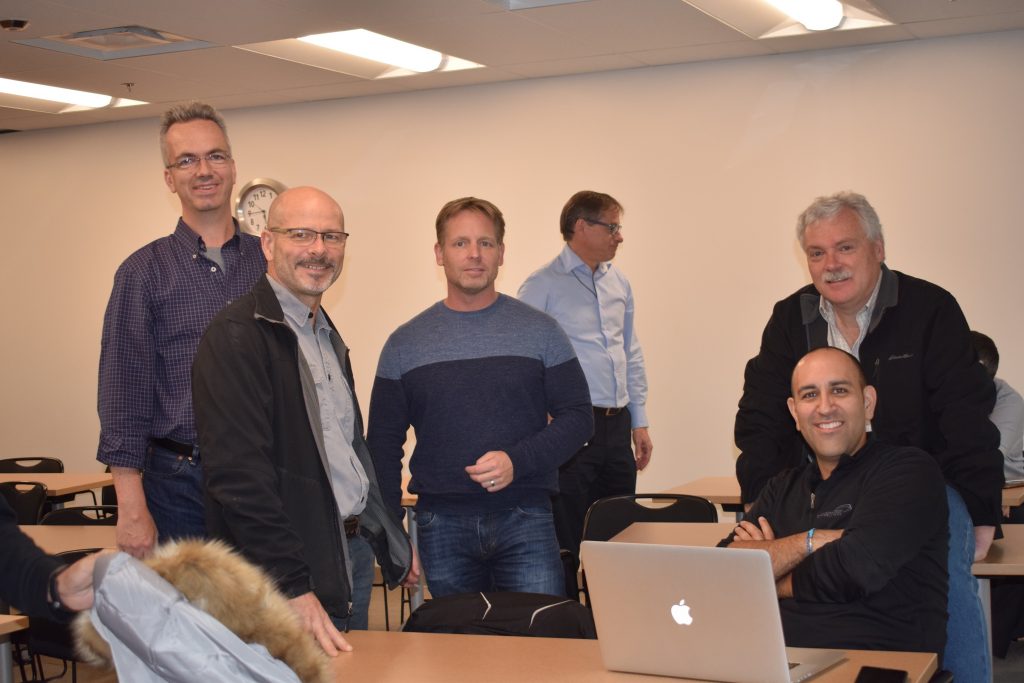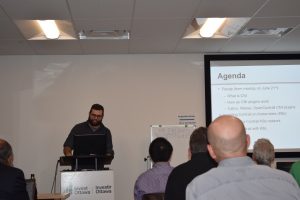 Raymond took the stage first to speak about OpenContrail on Kubernetes, explaining how it works as a Container Network Interface (CNI) plugin. In his presentation, he highlighted some of the distinguishing properties of Juniper Networks' OpenContrail and illustrated how it can be installed on Kubernetes. Ray ended by inviting the audience to attend the upcoming Kubernetes Meetup where he will be covering the K8s network in more detail.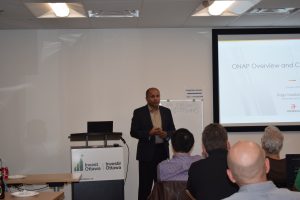 The second presenter for the night, Ragu Masilamany, gave an overview of the Linux Foundation's Open Network Automation Platform (ONAP) project, providing insights into the architecture, global carrier adoption, and major progress of the platform. According to him, one of the best attributes of open source is the simplicity of their platforms. Speaking about the architecture, he indicated that ONAP, like other projects, will go through a natural evolution process which will only retain key features needed by users.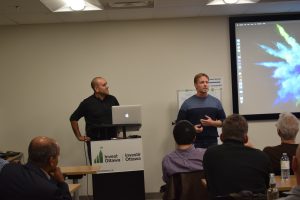 The two presentations were followed by a demo during which Mike and Mandeep deployed ONAP in 7 minutes using Kubernetes. This was an interactive session which gave attendees the opportunity to ask questions and make contributions to the discussion.
The talks ended just in time for people to mingle and have one-on-one discussions with the presenters. Overall, the Open Source Networking Meetup went off brilliantly.
As a consortium that works with different stakeholders in the tech sector, CENGN has an amazing time putting together events where community members can learn from each other, share ideas, and develop valuable business relationships. A core part of our mission is to create a solid knowledge base and pool of expertise that start-ups and small and medium enterprises (SMEs) can tap into. Ultimately, we strive to fill the gaps in the ICT industry to elevate Canada's tech sector globally.
We would like to thank sponsors OPNFV, Open Daylight, and Invest Ottawa for helping us make this event a pleasurable experience for everyone. Don't forget to mark your calendars for the last Open Source Networking Meetup of the year happening the night before CENGN Summit 2017!
Click here to register for the Open Source Networking Meetup.
Click here to register for the Kubernetes Meetup.
[cherry_button text="View other CENGN Events" url="https://www.cengn.ca/events/" style="default" icon_position="top" bg_color="#ffffff" color="#000000″ min_width="80″ target="_self"]Board of Directors [/cherry_button]
CENGN updates, in your inbox.