---
The Linux Foundation hosted its annual Open Networking Summit in Santa Clara, California this week! The main purpose of the event was to bring together leaders across the industry to share learnings, highlight innovation and discuss the future of open networking!
The Open Networking Summit was a three-day event, that brought together a collection of networking industry ecosystems to discuss the future and developmental steps for the networking industry! CENGN was there with its partners and members, attending many presentations from other established industry leaders. CENGN was also able to meet with the likes of Google, Dell, and LinkedIn who gave their two-cents on open networking and their role in the industry.
Also present at the event was CENGN's CEO and President, Ritch Dusome, along with VP of Product and Project Management, Bhavani Krishnan. Both Bhavani and Ritch had a blast networking with the large attendance of industry leaders and soaking in what the event had to offer.
On the second day, Ritch Dusome spoke on the panel "IoT in Action – Architecting, Securing & Scaling Applications." The panel was comprised of fellow leaders and friends of CENGN: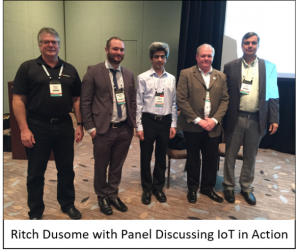 During the discussion, panelists focused heavily on smart cities, giving insight into the many factors needed to be considered when connecting devices and building infrastructure. Panelists were able to give the audience their professional experience dealing with both IoT and smart cities, as well as provide insight on the future opportunities and challenges facing innovation in this area.
Not only did Ritch participate on a panel discussion, but he also did a presentation discussing one of CENGN's industry partners, OPNFV. Ritch, being the an OPNFV Ambassador, gave his insight into OPNFV's objectives of facilitating the development and evolution of NFV components across various open source ecosystems.
At CENGN, a lot of attention is placed on understanding the open networking landscape and how it can advance SDN and NFV. The Open Networking Summit was a great opportunity for CENGN to collaborate and network with companies that share our goals and support our vision of fostering innovation in network engineering through partnerships and commercialization acceleration.
Thank you to the Linux Foundation for hosting another successful annual summit this past week! We were happy to be part of the vibrant ONS community of innovators working to help accelerate Open Source, SDN, NFV projects. CENGN is looking forward to being part of the next Summit, and many more to come!
---
To Read more blogs, Click Here!
CENGN updates, in your inbox.