---
Yesterday evening, CENGN hosted the first ever OpenStack Ottawa Meetup! In collaboration with both OpenStack and fellow sponsors Cloud Ops and Juniper Networks, CENGN opened its door to over 60 techies from the community. Being located at the core of Ottawa's technology industry, CENGN's headquarters was, without a doubt, the optimum site for the OpenStack hangout.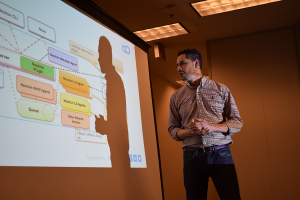 The evening began with introductions and an agenda overview from Stacy Veronneau –  CloudEvangelist and Technical Lead of Cloud Ops. This was followed by a warm welcome from Ritch Dusome – CEO and President of CENGN. Ritch welcomed the audience, giving an overview about what CENGN does, and setting the tone for the rest of the evening.
Following Ritch's words of welcome was Stacy Veronneau's presentation on OpenStack, introducing the topic to the audience, as well as expanding on the state of OpenStack itself. Stacy took the audience through the deployment of OpenStack, Workloads and touched on OpenStack Ocata's 15th release!
Between presentations were networking breaks, where attendees discussed their experience with OpenStack and were able to mingle with a crowd of likeminded OpenStack users. One of the main purposes of these Meetups are to learn from other Canadian professionals about the latest trends in the industry, while at the same time, make long-lasting connections. CENGN focuses a lot of attention on networking, as it helps to build a platform which allows Canada's tech talent to get their face out there to new companies and major players in the industry. Beyond this, the event gives CENGN the chance to meet new companies, both big and small, giving them a closer look into what CENGN has to offer them and how they can promote innovation in the Canadian ICT sector.
After the break, Carlos Rivera, who is an OpenStack Engineer at CloudOps, presented on Neutron. Carlos took us through a series of scenario's, including one called the 'Linux Bridge'. During the presentation, Carlos gave the audience a deeper look into neutron through a live demo, expanding on all its technicalities.
The last presentation of the night was from CENGN's own Michael Weir, who is the Vice President of Technology and Operations. Michael's presentation included an overview of CENGN's OpenStack infrastructure and deployment, as well as CENGN's proposal for expanding CENGN labs across Ontario. Michael emphasized CENGN's goal to have OpenStack accessible to small and medium enterprises across all of Ontario.
The Meetup concluded with a wrap-up from Stacy Veronneau and a final networking session for attendees to discuss their opinions on the presentations that were given throughout the night.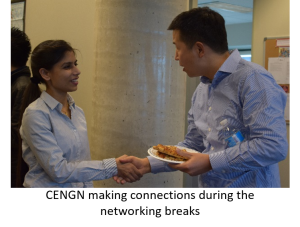 A big thanks to Cloud Ops for presenting, and organizing the event, and to all who attended and engaged in the dynamic discussion taking
place throughout the evening! CENGN has been busy hosting and running different professional events, like the Ottawa Open Source Meetups in partnership with OPNFV as well as OpenStack Meetups! We love organizing and hosting Meetups, as it helps to create a stronger community for local companies and professional talent within the ICT sector. Be sure to stay tuned for the next one to be scheduled soon!
---
 To become a Member of CENGN's Meetup Page, click here!
To see how the last Meetup event went, click here!
To RSVP for the next Meetup event, click here!
---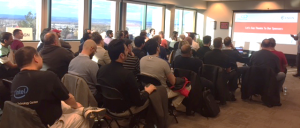 CENGN updates, in your inbox.