---
Last night, CENGN assembled Kubernauts from all over the region to close off 2017 with the Q4 Meetup – Data Paths and Policies with CNI Plugins and Rancher update.
The Kubernetes community in Ottawa has expanded significantly since the open source project was launched three years ago. As a response to the growing need for collaboration and resource-sharing among users, the Cloud Native Computing Foundation (CNCF) held Ottawa's first Kubernetes Meetup in 2016. The event has rolled out on a quarterly basis since then, bringing together scores of industry experts, students, researchers, and tech enthusiasts to discuss developments in the tech sector. Attendees also get the chance to meet and interact with each other, build connections and enjoy great food at these meetups.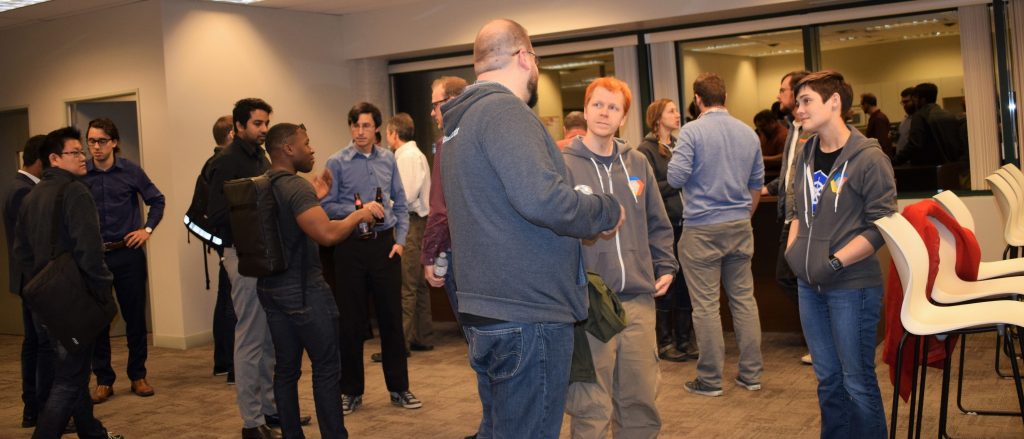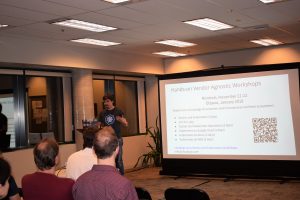 Kicking things off the meetup way, the first item on the agenda was a mingling session over pizza and beer. The room was buzzing as people gathered into small groups and exchanged ideas on everything from software development to career choices. After 30 minutes of networking, we jumped right into the presentations for the night with opening remarks by Ayrat Khayretdinov of CloudOps. Before introducing the speakers, William Jimenez, Solutions Architect at Rancher Labs, and Raymond Maika, CENGN Cloud Infrastructure Engineer, Ayrat gave a brief overview of the Kubernetes 1.8 update which was released in September.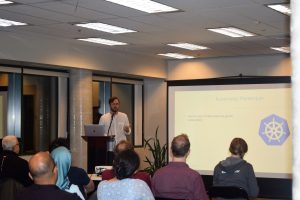 Taking the stage first, William examined the Kubernetes platform from a customer standpoint. According to him, many enterprises still prefer other solutions for managing containers over Kubernetes despite its advanced benefits. William elaborated on some of the reasons for this occurrence and disclosed the measures Rancher Labs is putting in place to resolve this. Among other things, he indicated that Rancher is looking to make the Kubernetes user experience as intuitive as Docker to attract more users.
As a follow up on his presentation at last month's Open Source Networking Meetup, Raymond spoke about network policy in Kubernetes, specifically touching on the different implementations of data path for pods that are provided by different CNI plugins. This talk was particularly beneficial to the technical people in the audience as he demonstrated the features of cloud native networking policy using Calico and Weave Net. Ray also looked at how these two plugins implement K8s policy on the created networks.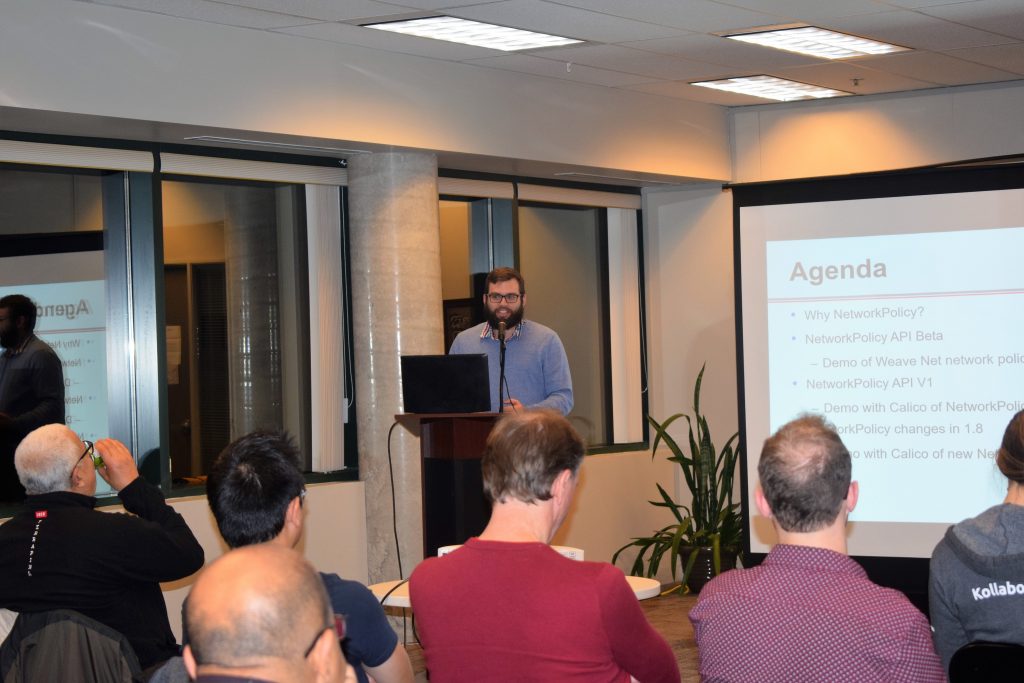 During the sessions, several people asked questions, shared their experiences and made suggestions for the project going forward. It was a great learning opportunity for everyone in attendance.
CENGN has a major focus on building a strong networking community.Whether its attending a community event or hosting one, we are always looking to engage with industry stakeholders in an environment which fosters continuous learning and teamwork. This is a core part of our mission to lower the barrier to entry for small and medium enterprises (SMEs) as well as build upon the professional talent in Canada's ICT and tech sector. Moreover, CENGN has a strong working relationship with Kubernetes which has produced many projects and demos including the CENGN demonstration of containerized vIMS using Kubernetes at the OPNFV Summit earlier this year. We were therefore delighted to open our doors to members of the community.
A big thanks to our fellow sponsors CloudOps, Rancher Labs, CoreOS, Deis, Mirantis, Apprenda, Red Hat, and Aqua Security for the parts they played in pulling off this meetup. With the 2017 CENGN Summit fast approaching, we're looking forward to showcasing the latest and greatest in the open source community.
[cherry_button text="View other CENGN Events" url="https://www.cengn.ca/events/" style="default" icon_position="top" bg_color="#ffffff" color="#000000″ min_width="80″ target="_self"]Board of Directors [/cherry_button]
CENGN updates, in your inbox.