---
JACK WATERS AT THE BIGGEST OTTAWA TECH EVENT
Jack Waters, president of Zayo Networks and chief operating officer (COO) at Zayo Group, will be CENGN's first keynote speaker for CENGN Summit 2020.
Jack oversees Zayo's Global Network business, including the Fiber Solutions, Transport, Enterprise and strategic networks businesses in addition to network operations and security. Prior to this role, Jack served as Zayo's president of Fiber Solutions and chief technology officer (CTO).
Jack will bring his expertise and experience in building and operating some of the world's largest fibre networks to this year's CENGN Summit, one of Canada's rising events.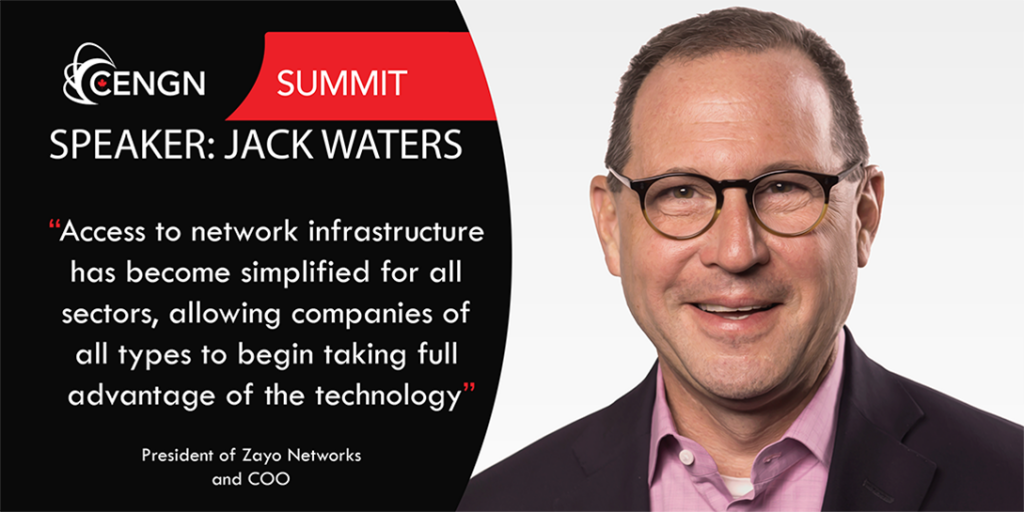 CENGN Summit is not only an Ottawa tech event but also the nation's leading conference devoted to promoting the commercial growth and adoption of disruptive networking technologies across Canada. The Ottawa tech event is hosted by CENGN, an organization that understands that facilitating the development of the tech communications sector will not only benefit the traditional telecom sector but all businesses and sectors that are growing increasingly dependent on networking advancements to optimize their processes.
Jack Waters is the first keynote announced out of what is sure to be a star-studded program. The Summit is no stranger to bringing in the highest calibre speakers the tech industry has to offer with some past keynote speakers including:
Bruce Ross – Group Head, Technology & Operations at RBC
Amy Radin – Digital, Marketing, Innovation Expert, and Author of The Change Maker's Playbook
Robert Bauer – Head of Sharing Economy & Mobility Group at Marsh
Terry Matthews – Chairman of Wesley Clover International and co-founder of Mitel.
CENGN Summit is the conference for tech professionals and businesses to network and learn which technologies are set to revolutionize the industry. This year will see the return of the split program, with the innovation track hosting leadership and strategy-oriented speakers, while the technical track focuses on deep dives into new technologies and their use cases. By splitting the tracks, CENGN Summit has truly broadened its scope to become a powerful event for both decision-makers and technical engineers alike.
One major change this year will be the move to an online virtual summit due to COVID-19. CENGN is still committed to providing an amazing event and will be invested in taking advantage of the benefits of a virtual event. Compared to previous events, a virtual tech event will allow a larger focus on a pan-Canadian attendee base outside of just Ottawa and enable the showcase of more innovative Canadian tech companies online.
CENGN Summit 2020 will take place on Thursday, November 12, 2020, from 8 am to 7 pm as a virtual event.
Watch last year's Ottawa tech event here!
For more information, please contact Rick Penwarden at rick.penwarden@cengn.ca
CENGN updates, in your inbox.