---
Published: September 28th, 2017
Last Tuesday, CENGN hosted the third Ottawa OpenStack Meetup at our Kanata North headquarters!
Earlier this year, CENGN kicked off a series of OpenStack Meetups which provide learning and networking opportunities for the next generation of tech innovators. Past Meetups have featured presentations on the evolution of OpenStack and operational challenges of cloud infrastructure, among many others. Read about our last OpenStack meetup here. Through these discussions, attendants are exposed to the latest developments in the ICT industry, giving them the tools to contribute to Canada's advancement on the global stage.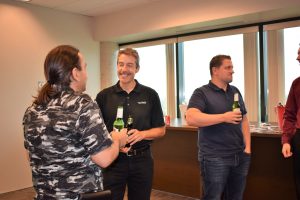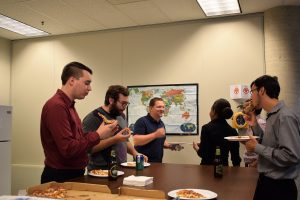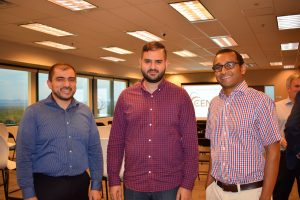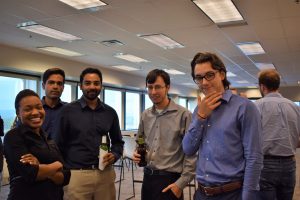 Yesterday's event brought together over 50 industry professionals from companies like Wind River, CloudOps and Juniper Networks, as well as students.  In proper meetup fashion, we welcomed guests with great food as they mingled, shared contacts and took photos. What better way to break the ice, share thoughts, and create meaningful connections than over pizza and beer!

Attendants networking over pizza and beer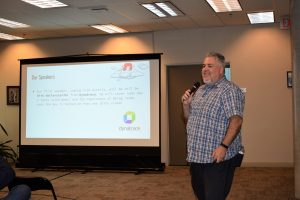 Before calling on the presenters for the event, CloudOps' Director of OpenStack Solutions, Stacy Véronneau, set the ball rolling with his opening remarks. In his introduction, he announced the release of Pike, OpenStack's latest software upgrade, as well as Luminous, a new LTS version of Ceph. Stacy also briefly reminded the audience about upcoming OpenStack events including the OpenStack Day Canada and Kubernetes Meetup.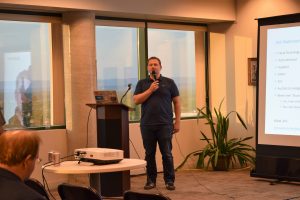 The first speaker for the night was Dirk Wallerstorfer, Cloud Technology Strategist at Dynatrace. Hailing from Austria, Dirk rebutted some myths about his home country before diving into his presentation. In his presentation, he covered some day 2 tools for monitoring the health of OpenStack. In particular, he spoke about Nagios, Elastic, Monasca and Dynatrace, using demos to illustrate the functionality of each tool. Dirk ended by emphasizing the strength of each tool and noted the need to select the most appropriate one based on desired outcomes.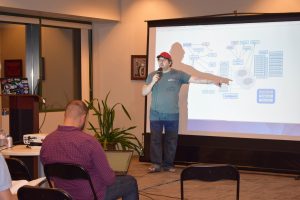 After a short break, our second speaker, Paul Belanger from Red Hat, took the stage to talk about his life as an upstreamer and OpenStack CI contributor. His presentation featured two cool OpenStack projects, namely Zuul and Ansible. Paul also elaborated on his experience working with open source software, shedding light on how public feedback is incorporated into solutions.
During each presentation, attendants had the opportunity to ask questions and make contributions. Presenters also stayed on after the event for one-on-one discussions with interested parties.
CENGN enjoys hosting and attending events like these which harness the collective capacity of members of the tech community. Kudos to our presenters, fellow sponsors CloudOps, Wind River, Dynatrace and Juniper Networks, as well as all attendants who helped make the event a memorable one. Next month, CENGN will be hosting the next Ottawa Open Source Networking Meetup at Innovation Centre at Bayview Yards. We look forward to seeing you there!
We'd like to extend an invite to other industry players and small-to-medium enterprises (SMEs) to participate in our mission to promote the commercialization of next generation technologies.
Click here to join the OpenStack Meetup Group!
Click here to register for the Ottawa Open Source Networking Meetup!
Check out CloudOps' and Wind River's latest project with CENGN here!
CENGN updates, in your inbox.