---
Published: July 9th, 2018
Building on our offerings aimed to accelerate the commercialization process for Canadian technology companies, we have launched our LoRa-Enabled Services. CENGN provides companies access to a next generation commercial-grade infrastructure comprised of different services for small to medium enterprises (SMEs) to validate their solutions and products. Today, we announce the addition of LoRa technology to the CENGN Testbed. Our LoRa-enabled services will help growing Canadian businesses develop their technology when completing an IoT project with us.
LoRa Technology
LoRa technology is an IoT communication technology designed to transmit data over areas ranging from 5-15km depending on the openness of the landscape. It's used in conjunction with a LoRa Wide Area Network (LoRaWAN) to provide connectivity using very little power, making it an ideal choice for battery powered devices and sensors.
The ability of the technology to transmit data from many end points across the network in a resourceful manner is the root of the growing popularity of LoRa-enabled services. With the proliferation of IoT and the growing reality of ultra-connected smart cities, it is essential for devices to have long lifespans, be relatively cheap, and require little power to send data. For example, to have a smart parking lot each parking space would need a sensor to detect and report on whether it is occupied. To make this a viable solution, the industry estimates that each sensor would need a shelf-life of around 10 years! Otherwise, the cost to maintain and replace sensors would be too great. LoRaWAN makes mass sensors at low power possible, enhancing the longevity and cost effectiveness of IoT devices.
eleven-x Network
In May 2017 it was announced that Waterloo-based eleven-x would join the CENGN consortium as a key partner offering their LoRa technology and LoRaWAN. eleven-x has an established LoRaWAN operating as Canada's first coast-to-coast public low-power network optimized for the Internet of Things.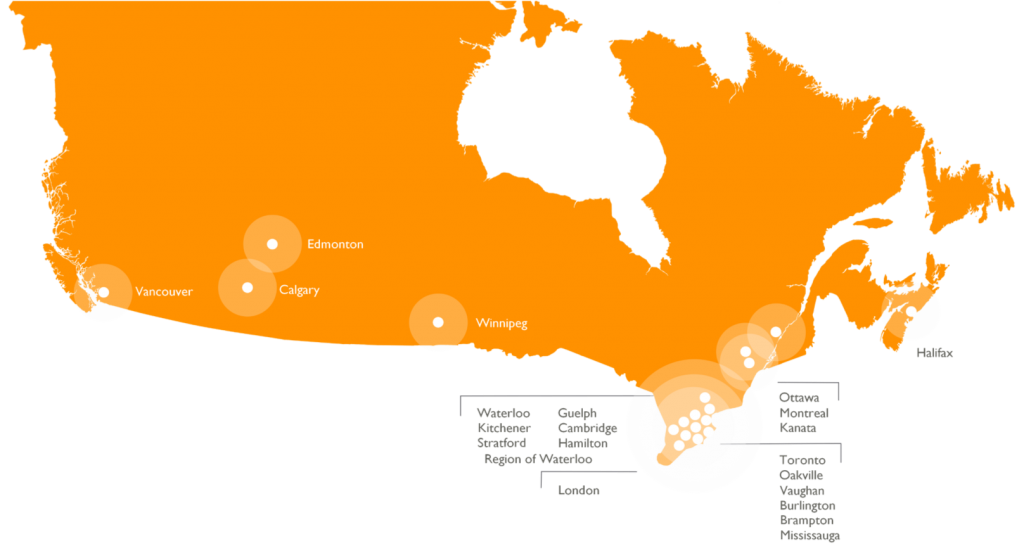 The partnership allows any growing Canadian company to carry out a CENGN project to test, validate, and scale their physical IoT devices using real or simulated data on eleven-x's LoRa technology and the CENGN Cloud. Paying directly for LoRa connectivity or building your own testing environment can be resource intensive, so having access to this technology is a big leg up for any organization pushing a product from test phase to market ready. What's more, CENGN IoT projects that use eleven-x's LoRa technology will have access to not only a LoRaWAN but also support from the LoRa technology experts at eleven-x while carrying out testing.
Ukko Agro and eleven-x Project
Ukko Agro, a Toronto-based smart agriculture company recently wrapped up their IoT project with CENGN, becoming the first company to take advantage of our LoRa-enabled services. Ukko Agro validated the operational performance of their solution, which uses sensors to alert farmers on the probability of pest and disease attacks, suggests optimum pesticides, and tracks usage. When needing assistance to configure the network, eleven-x was able to quickly provide support to keep the project running smoothly.
With a connection to eleven-x's network, Ukko Agro was able to validate their physical sensors in action, giving the innovative company a real-world benchmark of their solution that they can bring to future customers.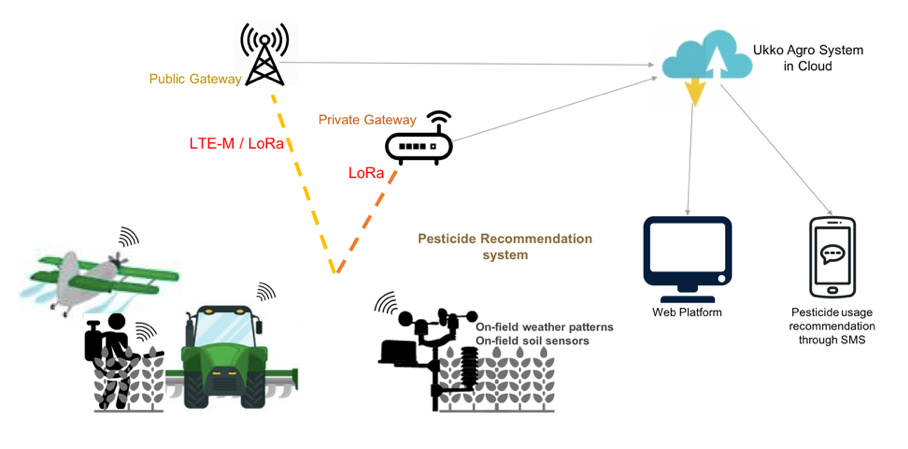 Get the full story on Ukko Agro's CENGN project by clicking here!
IoT Development
CENGN is committed to serving growing Canadian businesses by offering our infrastructure, services, and providing exposure to our members and partners. We look forward to continuing to help companies looking to develop their IoT products and services as well as those working on innovative networking solutions in one of our other project areas.
If you're a Canadian company with less than 500 employees or $50 million in revenue you can click the button below to submit a project application to gain access to the resources of CENGN.
[cherry_button text="Submit a Project" url="https://www.cengn.ca/projects/" style="default" fluid_position="right" icon_position="top" color="#000000″ min_width="80″ target="_self"][/cherry_button] [cherry_button text="View our LoRa-Enabled Services" url="https://www.cengn.ca/service-view/lora-enabled-services/" style="default" fluid_position="right" icon_position="top" color="#000000″ min_width="80″ target="_self"][/cherry_button]
CENGN updates, in your inbox.