---
April 23, 2020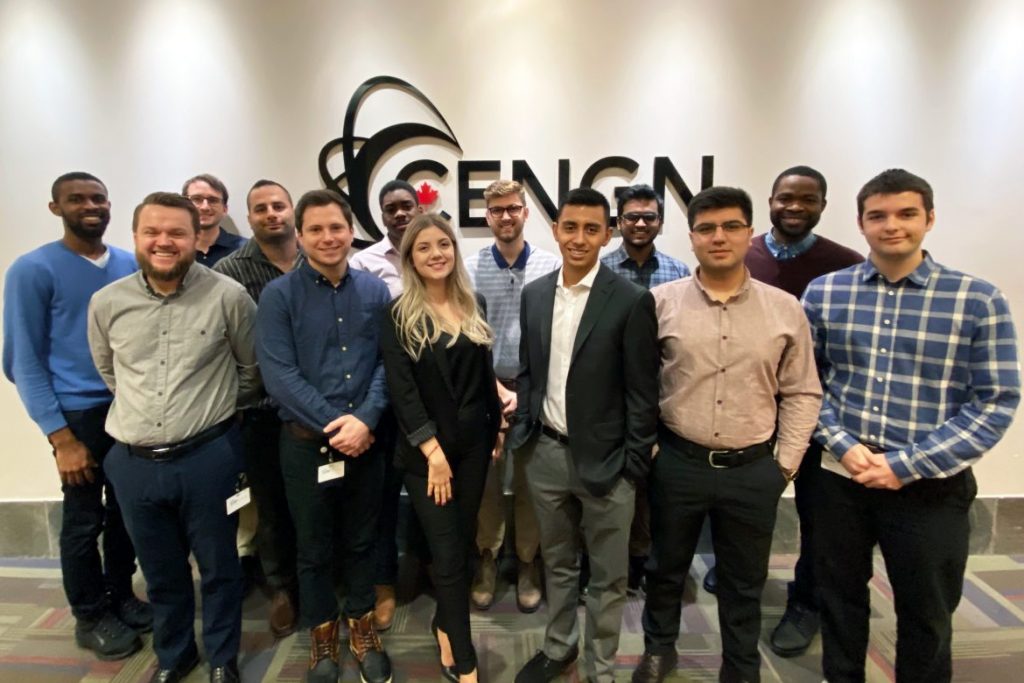 Back Row Left to Right: Chibuike Onuigwe, Ueli Haltner, Bashier Kaddoura, Richard Ozara, Kian Jones, Sravan Sajeev, Tolulope Olutade,
Front Row Left to Right: Josh Brawdy, Matthew Brady, Anna Maystruk, Jose Zidan, Emil Suleymanli, Tref Boucher
After an eventful year, we're saying farewell to the first CENGN Students of this decade. This term was a unique term for CENGN Students as they were presented with an unforeseen challenge due to COVID-19. With guidance from CENGN's HR Department, the students completed their term from home staying safe and productive as they completed their tasks.
We had an amazing group of students that came from schools all over Canada, like Algonquin College, Willis College, Carleton University, University of Ottawa, University of Victoria, University of Waterloo, and Dalhousie University. These students accomplished a lot during their time at CENGN.
Our Human Resource Specialist Student, Jose Badillo Zidan, lead the hiring process for new students and learned how to find skilled and valuable students that would work well in CENGN's work culture. Jose reflected on his experience as CENGN's Human Resource Specialist:
"As a Human Resource Specialist Student, I assisted in the coordination of CENGN's internship program. I got the opportunity to interact with over 35 of our academic partners with a mission to find great students. Moreover, collaborating with all internal departments allowed me to understand CENGN's operations from various perspectives, which were immense learning experiences. It was extremely rewarding and motivating to know my work had a direct impact on the organization."
Jose also was featured in one of CENGN's Student Spotlights watch here!
Kian Jones, Joshua Brawdy, and Chibuike Onuigwe got to work on impactful projects that helped CENGN continue to move tech innovation forward. Chibiuike Onuiqwe got the opportunity to work on the CENGN Testbed through the pen-test environment setup, improving security in our data centres and cloud platform. Kian Jones helped create a better monitor on CENGN Infrastructure and services through the Elasticsearch program. Reflecting on his time at CENGN, Kian Jones said:
"CENGN gives their students the opportunity to contribute to the organization in a meaningful way. Our work as students is no different than the work done by full-time employees, and is equally important to the organization."
Joshua Brawdy helped our "out of band" switch replacement increasing performance times and reducing chances for human error during switch overs. Joshua Brawdy also had this to say about his time at CENGN:
"I have thoroughly enjoyed my time at CENGN. It is a great work environment that allows for productivity and learning. I couldn't ask for more in a co-op experience. I have learned more than I ever thought possible in 4 months. And I was able to work on projects with more importance than I thought I would be able to. I did not feel like I was only a student that couldn't be trusted. I felt like a member of the team that is contributing to the larger goals."
In the training department, CENGN interns Bashier Kaddoura and Matthew Brady worked to improve CENGN Academy. Both students focused on building up CENGN Academy's foundations for a strong launch coming in the near future.
Customer Solution Engineers Emil Suleymanli, Sravan Sajeev, Tolulope Olutade, Ueli Haltner had a productive work experience assisting CENGN's Project Companies in their efforts to commercialization.
Tolulope Olutade said this about his CENGN Experience
"Working at CENGN has been a rewarding experience. I was exposed to a broad range of cutting edge technologies and carried out interesting research in IoT and broadband technologies. In addition to learning and working in a collaborative environment, I did meaningful work and my contributions were valued."
The CSE Engineering Student experience allowed them to gain a deeper understanding of the wide range of new cutting edge technology that'll give them the most up-to-date knowledge leaving CENGN.
Ueli Haltner had this to say about his experience as a CSE Engineer at CENGN
"My experience at CENGN is one that I will cherish as I continue to grow and shape my career. I found immense value and satisfaction in contributing to the Canadian tech industry by joining the Customer Solutions Engineering team and being in a customer-facing role. It allowed me to expand my knowledge in a variety of different technologies while also building the essential soft skills required to succeed in future roles. I am truly grateful for the opportunity to have been part of this collaborative environment and am excited for the future of the Canadian tech industry as CENGN continues to grow."
Marketing Students Anna Maystruk and Tref Boucher joined CENGN's Marketing Team and have had a real impact on CENGN and CENGN's Branding. Anna Maystruk put together CENGN's monthly newsletters, getting the word out about various highlights like videos, blog posts, and press releases. Anna also supported CENGN through building various collateral material like graphics for events, slideshows for presentations, and brand new business cards for all CENGN Employees.
During Tref's time at CENGN, he developed a new design for promoting SME Content that is now a part of CENGN's new brand. During his time, he also filmed and produced an Innovation Spotlight of CENGN project company Welbi. It was an informative video about the company's journey and growth. Reflecting on his time at CENGN he said:
"While I was at CENGN I got to flourish and learn a multitude of skills. Through CENGN I was able to get real work experience in a role that actually impacted the company and the innovation it's pushing. Through this I was able to develop a better understanding of the industry and how to operate in a professional work setting. Thanks CENGN!"
CENGN takes pride in relying on its interns to do real work that impacts innovation and growth in Canada. Through this, our Students get more accurate work experience, connections in the industry, and support from mentors and managers to develop stronger skills.
Learn more about Student roles and positions by clicking on the button below.
CENGN updates, in your inbox.