---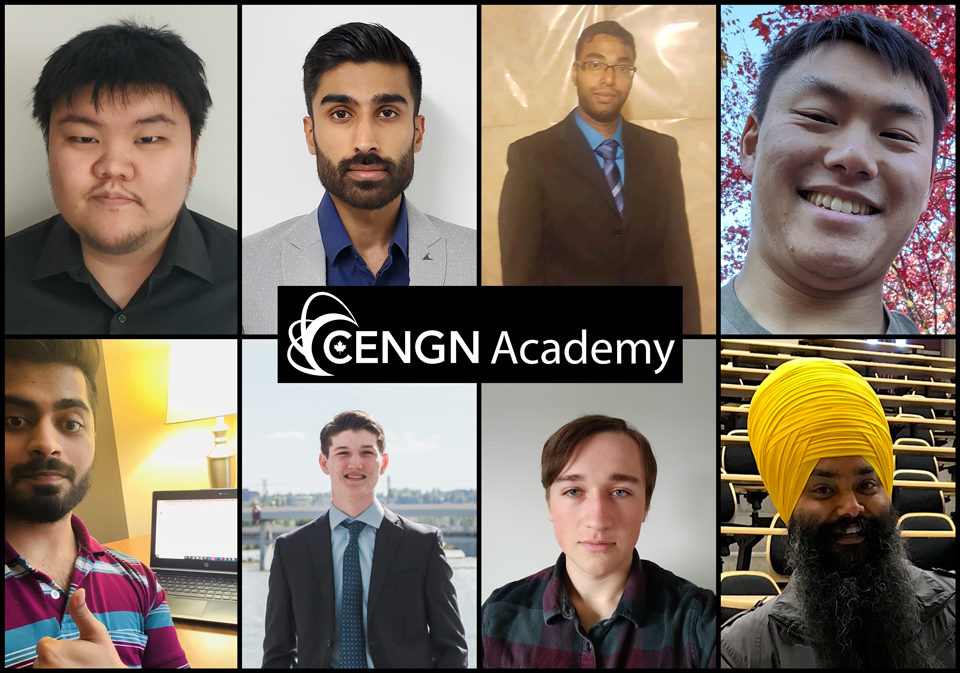 First Row Left to Right: Tommy Xu, Varsh Thaker, Sharusshan Sinnadurai, Matthew Tung
Second Row Left to Right: Sahil Rahi, Adam Coyte, Mark Mckessock, Jaspal Singh
Students not in the picture: David Toth, Nishad Shubham
CENGN continues to grow the next generation talent pool as it congratulates 10 new engineering students on obtaining their CENGN Cloud System Specialist (CCSS) certifications! Delivered through CENGN Academy, all summer engineering interns completed their training and examination. In the spirit of social distancing, students underwent the complete Bootcamp experience from home making use of CENGN Academy's fully online course offerings.
As part of CENGN's mission to develop the next generation workforce in the Canadian ICT sector, we provide each of our technical interns with complete in-depth training in the latest cutting-edge technologies to ensure their skills and abilities meet the industry standards required to successfully work in an advanced cloud systems environment. The CCSS Certification complements the student's academic learning while introducing them to new emerging technologies such as 5G and IoT which require a deep understanding of networking fundamentals and cloud technologies.
These now certified students spent the last two weeks learning about essential theoretical concepts and gained hands-on lab experience on CENGN's commercial grade-infrastructure. The CCSS certification provides tangible proof of the student's understanding of Linux fundamentals, container orchestration with Docker and Kubernetes, network fundamentals, and cloud computing with OpenStack & NFV. Never has it been more critical to adapt to evolving IT technologies. The knowledge and skills learned throughout the Bootcamp are in high demand inside the Canadian Tech sector, making any CENGN Academy graduate a competitive and skilled prospect for any organization looking to stay on the cutting edge of technology.
While the course learning provides students with the necessary skills and concrete experience to be worker ready in the ICT sector's most tech-forward companies, earning the certification equips them with tangible proof of their repertoire of skills and of their ability to learn in a self-driven environment. Thereby giving CCSS certified students the ability to accelerate their career and make a greater impact on the Canadian innovation economy.Check out the video below to hear from previous students on how the CCSS is impacting their career:
eRAID provides users with parallel access to Hard Disk Drives, Solid-State Drives, and Random Access Memory resources, and presents them as a unified accelerated network storage array. This provides a cost-effective, better performing solution to retrieving big data. Read more on the project below:
CENGN's Boot Camp provides skills to work in cloud systems environment
Interested in hiring CENGN student alumni? Click here for more information.
CENGN Academy is not only for our interns, our courses are available to the public. In fact, CENGN Academy is aimed to help students, new grads, and mid-career IT professionals rapidly adapt to cloud technologies. Being a CENGN Academy graduate is evidence of your ability to research, adapt, and expand your skillset to the ever-growing cloud technologies. It is a recognition of knowledge, dedication, and skill.
Want to boost up your resume?
This Summer, CENGN Academy is offering a free online Docker and Kubernetes course open to 30 Ontario post-secondary students. In this self-paced course, you will learn key concepts and skills in containerization and work in a live lab environment to gain real hands-on experience. After completing the course, you will acquire a Level 1 digital badge for your resume.
CENGN Academy is happy to continue supporting students during the epidemic and remains focused on talent development through CENGN's student program. We wish our CENGN Academy graduates a successful term with us this Summer!
CENGN updates, in your inbox.