---
Published: September 26th, 2018
Aditum Health from Markham, Ontario is a healthcare technology company that allows patients, caregivers, and emergency personnel to have access to real-time patient health information. Through their platform, MyConnectedHealthCare, each party is permitted access to health records, medications, and other statistics they need to know to ensure the patient is being properly taken care of. Their platform empowers elderly patients and those with visual and print disabilities to manage their health, while at the same time creating transparency by providing caregivers and healthcare personnel access to the most current patient health data.
Aditum Health came to CENGN to ensure the authentication process of MyConnectedHealthCare is compliant with the Personal Information Protection and Electronic Documents Act (PIPEDA). PIPEDA is a Canadian Act that governs private organizations on the collection, use, and disclosure of personal health information in the health industry. Before we get into the project, let's take a look at the story behind Aditum Health.
Solving a Personal Problem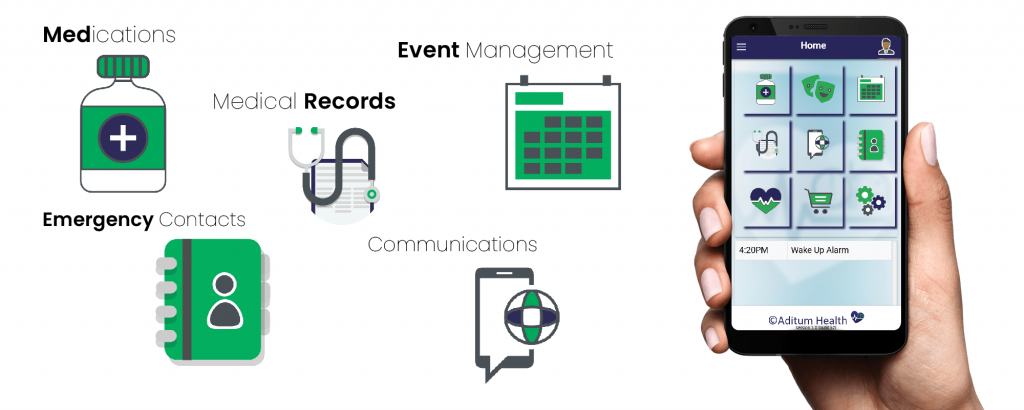 Tamer Mikhail had an all too common problem. He was looking for a solution to help a family member ease the pain of managing their medication. Noticing the lack of options available, Tamer formed Aditum Health with the mission of making healthcare management for seniors and people with disabilities more accessible and affordable. 90% of seniors want to age in their own homes but are concerned about making mistakes while taking their medicine as well as dealing with isolation.
Connecting the Right People
The MyConnectedHealthCare platform is a virtual caregiver called "Laila" that can be installed on an Android tablet or smartphone. Seniors or those with visual and print disabilities want to remain independent but may need a little help to take the right medication and dosage. By collecting patient health information through Laila's conversation interface and storing it in the MyConnectedHealthCare secure cloud, Laila provides verbal notifications about health, medication and doctor appointments. Laila also makes wakeup call, asks how the patient is feeling, and offers to play music or games. Laila will alert the caregiver if anything goes wrong. The platform is a leader in accessible and intuitive design and includes a medical adverse reactions database to relay up to date information to the patient and/or their caregiver. In addition, emergency medical personnel are able to retrieve information about a patient's medications from MyConnectedHealthCare by retrieving the identification number from a patient's bracelet.
Testing the MyConnectedHealthCare platform at CENGN
Healthcare standards, like PIPEDA, limit the information that emergency personnel or physicians can see compared to care givers or patient family members. In order to prove their solution is compliant with these standards, Aditum Health conducted a CENGN IoT project that tested the authentication process and identity verification of MyConnectedHealthCare.
To do this, Aditum Health was given a dedicated cloud tenancy on the CENGN Testbed. Access to MyConnectedHealthCare was then simulated for the different users including the patient, caregiver, and emergency personnel. A number of security tests were ran against their solution in order to confirm that each user group has restricted access to only the information they're allowed to see in compliance with PIPEDA.
Validating the authentication process of the Aditum Health MyConnectedHealthCare is an integral step ensuring that their solution functions properly and is complaint with regulatory standards such as PIPEDA. The security tests performed at CENGN and resulting documentation is proof to regulatory agencies as well as potential clients, showing the performance and ability of the solution to keep patient information confidential. Stay tuned for the Aditum Health success story in the coming weeks to view the outcome and results of their CENGN Project.
Aditum Health is a growing Canadian business that is using the services at CENGN through the Next Generation Network Program (NGNP). The NGNP is a Government of Ontario program offered through a partnership between CENGN and the Ontario Centres of Excellence (OCE) that is providing small and medium-sized enterprises (SMEs) across Ontario access to the CENGN Testbed. CENGN's digital infrastructure is connecting SMEs like Aditum Health to state-of-the-art equipment and network services, which will allow these companies to test and validate their solutions. Interested in completing a CENGN project? Contact us at services@cengn.ca.
Sign up for our newsletter to stay in the loop on ICT news, CENGN projects, and upcoming events
[cherry_button text="Find out the results of the project here" url="https://www.cengn.ca/aditum-health-myconnectedhealthcare-data-privacy/" style="default" centered="yes" fluid_position="right" icon_position="top" color="#000000″ min_width="80″ target="_self"][/cherry_button]
CENGN updates, in your inbox.