---
Published: September 27th, 2017
CENGN has concluded the second project of a multi-step collaboration with member, Wind River and rapidly growing Canadian business, CloudOps.
This July, CENGN announced the completion of Wind River's and CloudOps' first cloud project, which successfully deployed Wind River's Titanium Edge solution onto CENGN's Infrastructure (To read the results of this project, click here). Having recognized the added value of Wind River's solution for CloudOps' Infrastructure as a Service (Iaas) portal, CloudMC, a second project was initiated to integrate CloudMC with Titanium Edge. Going into the project, each party had a significant role to play, and more importantly, a great deal to benefit from its successful completion. In the interest of anyone new to the Wind River/CloudOps collaboration, here's a brief background about each company and the products they brought to the table.
What You Need to Know about CloudOps and Wind River
The first party to this project, CloudOps, is a cloud consulting and services company that helps businesses migrate data and operations onto open source cloud platforms. With their flagship product, CloudMC, CloudOps offers service providers an on-premise or hosted IaaS business platform designed to orchestrate multiple cloud infrastructure services including licensing, billing and metering. CloudOps has become more and more relevant as an industry player as businesses strive to flourish in a software-defined era.
CENGN was excited to work on CloudOps' first project with us. Over the past year, we have collaborated with them on many occasions including the 2016 CENGN Summit, during which they participated as a sponsor and featured speaker on our Innovation Across Canada panel (Click here to watch the video recording!) We also team up with CloudOps to organize quarterly OpenStack and Kubernetes Meetups. This project therefore strengthened our long working relationship with this innovative company.
Interested in attending our meetups? Check out the OpenStack Ottawa Meetup page or Open Source Networking Meetup page to join our groups and let us know you're planning to attend.
On the other end of this project is Wind River, a global leader with over 30 years of experience delivering transformative Internet of Things (IoT) solutions to various industries from aerospace to consumer networking. A state-of-the-art product among the company's portfolio of virtualization software products, Titanium Edge is a dual server cloud platform which allows service providers to deploy cost-friendly and reliable NFV applications such as a virtual Business CPE. Currently, Wind River offers their Titanium Edge as an all-inclusive package for a ready-to-deploy cloud platform.
Wind River joined CENGN as a Tier 2 member in June 2016. Beyond providing us with the Titanium Edge for our small to medium enterprise (SME) projects, this industry influencer has consistently supported CENGN's vision. Wind River was a strong sponsor of last year's CENGN Summit, with Wind River's VP and General Manager of Networking Solutions, Paul Senyshyn, presenting on Open Networking in Canada alongside other panel members at the event. Check out the panel video here.
What this Project Was About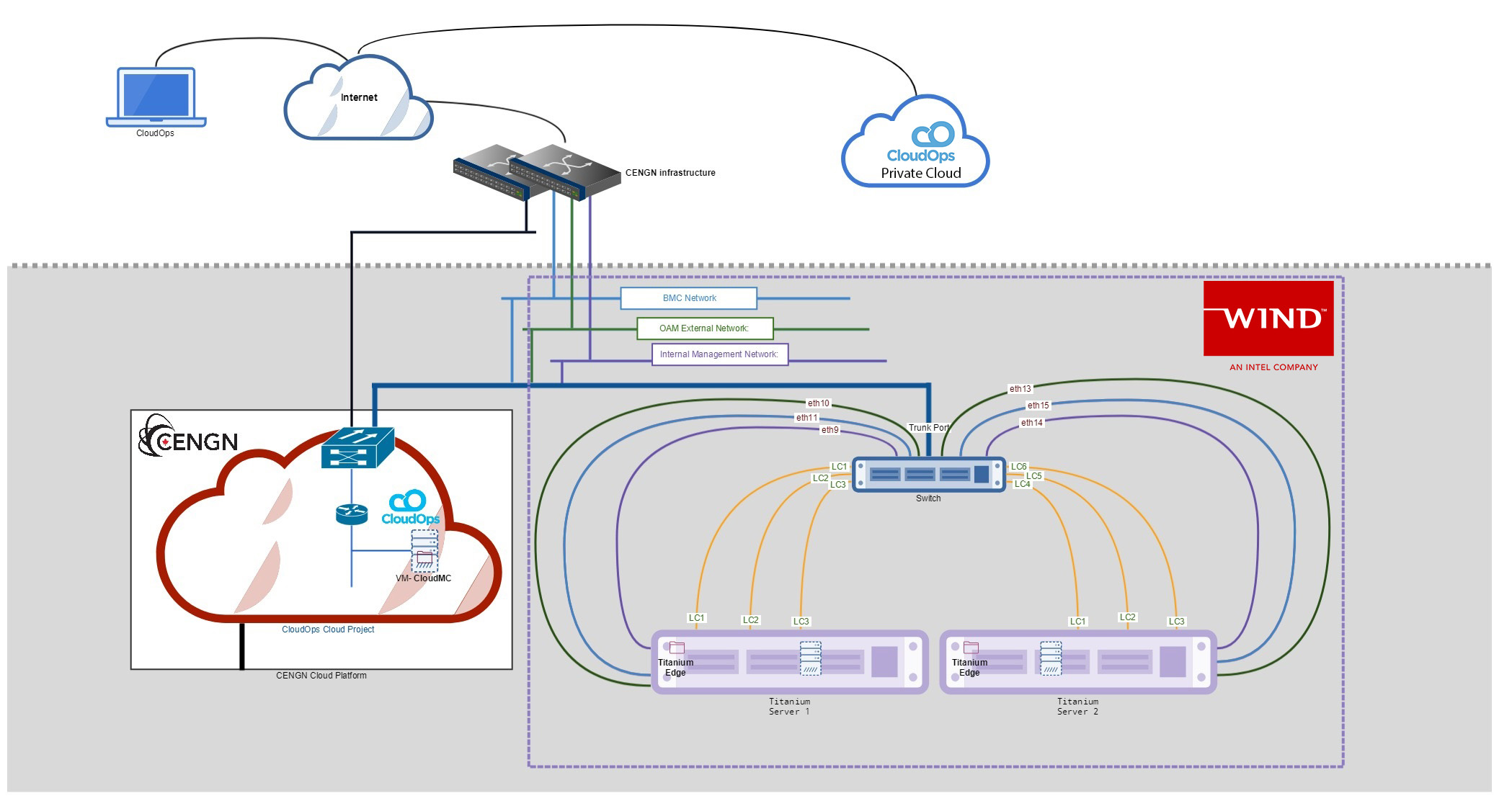 After the first collaborative project saw CENGN and CloudOps receive training on Wind River's Titanium Edge solution it was time for CloudOps to show off its solution. In the second project, CloudOps tested the CloudMC OpenStack integration functionality with Wind River's Titanium Edge. By means of CENGN's multi-vendor open platform, we were able to provide network connectivity between CloudMC and the CENGN-validated Titanium Edge to facilitate this process.
What Each Party Gained From this Project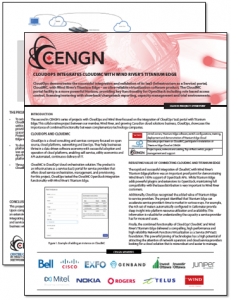 Given that both parties serve network operators and service providers, the ability to deliver a high-performing, highly reliable and easy to manage cloud solution service is of the utmost importance. For CloudOps, the integration of CloudMC with Titanium Edge strengthened their value proposition to telecommunication companies and service providers including a faster time to market and a readily-available software platform. Wind River, on the other hand, was able to validate that their platform is fully compatible with OpenStack Application Programming Interfaces (APIS) like CloudMC, which makes a great selling point for their customers.
With CENGN's help, CloudOps and Wind River brought together two complementary innovative technologies, whose combined functionality provides an improved Network Functions Virtualization as a Service (NFVaaS) foundation for end users of CloudOps and Wind River solutions. It is our hope and belief that this collaboration will generate new possibilities for shared business with service providers.
It has been our pleasure to host this collaborative series of projects. Once again, we demonstrated the significant gains which companies stand to obtain from teaming up on next generation technologies. As an NCE (Networks of Centres of Excellence) funded organization, we will continue to advocate for and facilitate co-operation between multinational companies and growing Canadian businesses to support commercialization within the ICT industry and collaborative gains.
[cherry_button text="Learn About How the Project Turned Out Here" url="https://www.cengn.ca/service-view/cloudops-and-wind-river/" style="default" centered="yes" color="#0a0a0a" target="_self"]
[cherry_button text="Submit your own project here" url="https://www.cengn.ca/projects/" style="default" centered="yes" color="#0a0a0a" target="_self"]
CENGN updates, in your inbox.