---
CENGN is Canada's Centre of Excellence in Next Generation Networks, an industry-led consortium of corporate, academic and research members committed to ensuring that Canada is a global leader in the commercialization of technologies that will underpin the next generation of converged global communication networks.
Passwords have become a frustrating inconvenience for the online community. Multiple user identifications and passwords are required for many websites to login, and subscribe to services. This has led to mass password fatigue where users are registering the same password for every site, device and service. This has resulted in the use of simple passwords that are easyto- decrypt or passwords being written down in unsafe places. As an answer, inBay provides a new generation of password-less security authentication and authorization, through idQ technology.
Challenge – Secure Authentication: "I am who I say I am"
Usernames and passwords are no longer enough to secure classified information. Over time the technology possessed by hackers has improved, making it easier for passwords to be stolen, compromised, and decrypted. The current overreliance on passwords has made enterprises more susceptible to cyber attacks and infiltration and less capable of governing those entering their datacenters and infrastructure.
Challenge – Secure Authorization: "You are allowed to access this"
The complexity of today's enterprises has led to an increased number of employees with special roles and needs. With each of these roles comes a different level of access and restriction
requirements. The growing intricacy of access requirements has necessitated the ability to manage who can access each resource in a more efficient and controlled manner.
Solution – Multi-Factor Authentication
inBay has created a secure authentication and authorization TaaS that goes beyond password protection, by allowing users to login with a registered Trusted Device. With inBay TaaS, individuals are granted access by using their Trusted Device to scan a QR code that is sent out of band to inBay's idQ Server for authentication. inBay's idQ patented multi-level and multi-factor authentication system provides enhanced security over password-based and shared secret login systems. Unlike antiquated password-based and shared secret systems, the idQ platform enhances the rules for secure login, identity breach prevention and delegated authorization.
CENGN Showcase for Multi-factor Authentication
The CENGN showcase leverages inBay Technologies' password-less solution by interconnecting it with CENGN's currently implemented SSH-based Remote Accesss Server.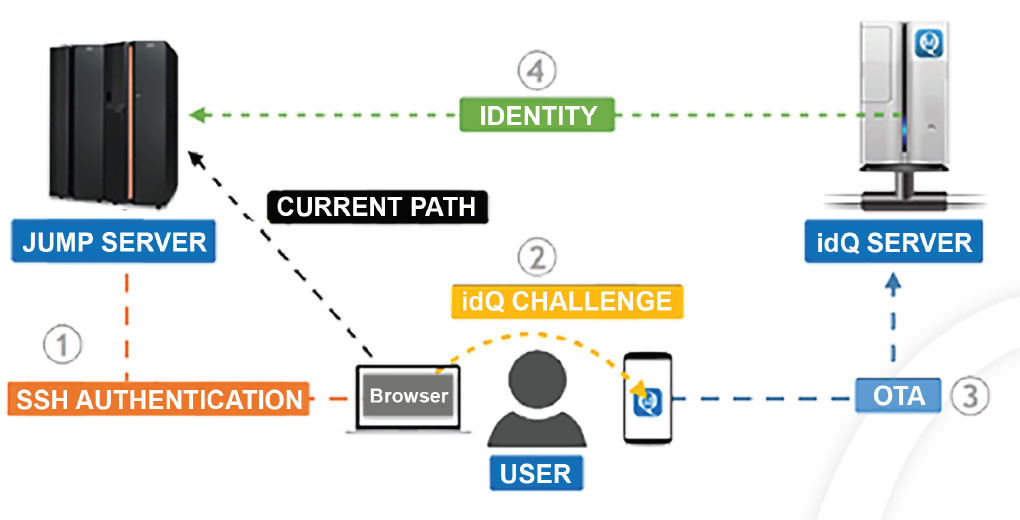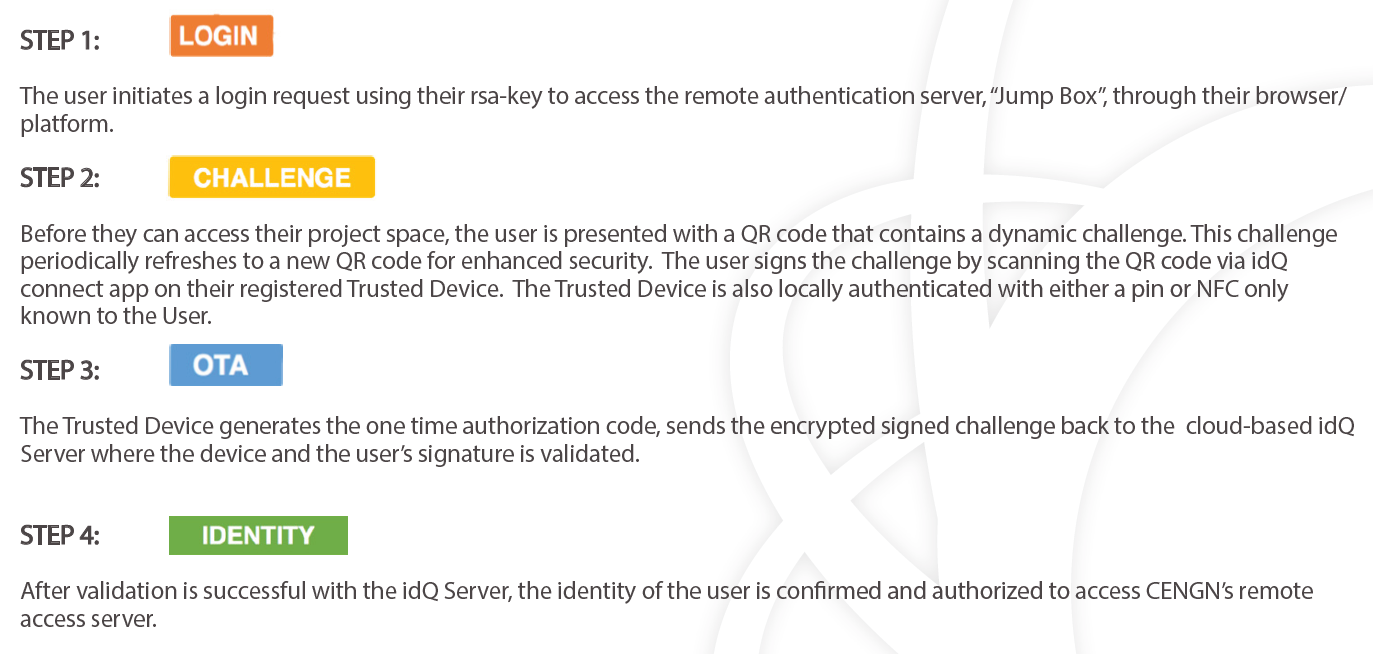 Click here to see inBay Technologies' latest project: idQ Trust as a Service Validation for Linux!
[cherry_button text="Learn More About InBay" url="https://www.cengn.ca/companies-inbay-technologies/" style="default" centered="yes" color="#0a0a0a" target="_self"]
[cherry_button text="View More Projects" url="https://www.cengn.ca/service-view/past-projects/" style="default" centered="yes" color="#0a0a0a" target="_self"]
CENGN updates, in your inbox.