---
Published August 24th, 2018:
There was no better way to start off summer than by welcoming nine eager students to the CENGN team. In four quick months we watched these new faces develop their skills and showcase their talents through their unique contributions to the organization.
From Algonquin College, Carleton University, Dalhousie University, University of Guelph, University of Ottawa, Queens University and University of Toronto, these students brought their bright personalities to each area of the organization.
Our engineering students arrived ready to conquer the 3-week bootcamp that lays the groundwork for their technical roles at CENGN. The bootcamp introduced next-generation networking principles like Software Defined Networking (SDN) and Network Function Virtualization (NFV), and the most relevant cloud technologies like OpenStack, Docker and Kubernetes. As a testament of the technical knowledge the students gained in their training, each of the new engineers successfully passed CENGN's Cloud Administration and Networking Certification exam. This feat meant that they would begin applying their understanding and new skills to CENGN's commercial-grade infrastructure. Their certification and work term experiences are both great accomplishments that they will be able to carry with them through their future academic and career endeavours.
As a Cloud Services Engineer this term, Patrick Watson had the opportunity to work with Linux Foundation networking technology like Ubuntu. He also completed upgrades, testing and restoration of WindRiver's Titanium Cloud and corresponded with various small and medium enterprises currently conducting projects on the CENGN Testbed.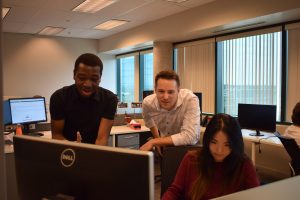 Our finance and marketing departments also had busy and successful terms. Our Finance Student, Sam Kronick, had the opportunity to advance his technical skills as he learned the intricacies of CENGN's accounting software, and meaningfully participated in the company's year-end audit.
Between the approaching Annual General Meeting in September and on-going preparation for the 3rd annual CENGN Summit, Marketing Specialist Student, Michelle Hudson, also had a busy semester. In addition to these events, she was frequently planning meetups, updating website content, creating videos, designing marketing collateral and helping to maintain CENGN's presence on social media. "I'm so lucky to have had the opportunity to work on such a broad range of projects and develop my skills in many different areas. It's been a pleasure working with such an enthusiastic team where the value and importance of my contribution is truly evident."
Our mission to help create a pool of talented individuals who are both passionate about and experienced in next-generation networks is continually justified as we watch successful groups of students become integral contributors to Canada's ICT sector. We strive to connect these bright minds with growing Canadian companies and large businesses, like our members and partners, that are continually looking to add to their expanding team of talented professionals. This influx of knowledgeable individuals helps drive the Canadian tech economy and reinforce the country's position in the ICT industry.
The students that have been part of our team for the last 4 months have experienced outstanding personal achievements and made a tremendous contribution to CENGN. While the end of the semester is always bittersweet – we look forward to seeing the great things that these driven individuals will accomplish as they continue their journeys.
Are you a high-tech company looking to recruit talented young professionals? Click here to learn more about hiring a former CENGN intern!
As one semester comes to a close, another is seen on the horizon. Stay tuned to our newsletter to see how the incoming students are doing. Want to join the CENGN ranks? We'll be placing new interns for the Winter semester soon! Click the button below to check out our student page, and view the internship opportunities we have available:
[cherry_button text="Students and Academia" url="https://www.cengn.ca/service-view/academia-students/" style="default" fluid_position="right" icon_position="top" color="#828282″ min_width="80″ target="_self"][/cherry_button]
CENGN updates, in your inbox.