---
Updated: November 18, 2021
The COVID-19 pandemic arrived suddenly almost a year ago and is still the heaviest impact on our society today. Life as we know it is mostly experienced through a computer screen now, and as much fun as watching Netflix can be, not everyone has access to those types of novelties.
Since the COVID-19 pandemic happened in March 2020, these Canadian households have had even more trouble, making life in rural areas that much more challenging.
Through Project Looking Glass, computing power is being used to track the future spread of COVID-19. Read more in our article: Using Computer Power to Track and Project COVID-19's Spread.
The pandemic has officially placed a spotlight on the digital divide in Canada.
What is the Digital Divide?
The term "digital divide" was coined in the mid-'90s to highlight the inequalities arising from differing access to digital information and technologies. (Source: Johnson Shoyama) When cars first came out, it was a luxury to own one. Today, however, having a vehicle can be seen as a necessity for many. Similar to that idea, having high-speed internet used to be a luxury. Now, if you don't have a digital device and access to the internet, your communication lines and resources are minimal.
As if it wasn't difficult enough to navigate through a digital divide, the COVID-19 pandemic highlighted the problem even more. The new health guidelines introduced in March 2020 forced millions of Canadians to begin working, studying, and operating at home full-time. And as if working from home wasn't already a stressful transition, Canadians living in rural and northern areas now have to navigate a household of multiple people while praying their internet connection can survive the workday.
Internet connectivity isn't a privilege anymore; it's essential.
Why is this a Prominent Issue?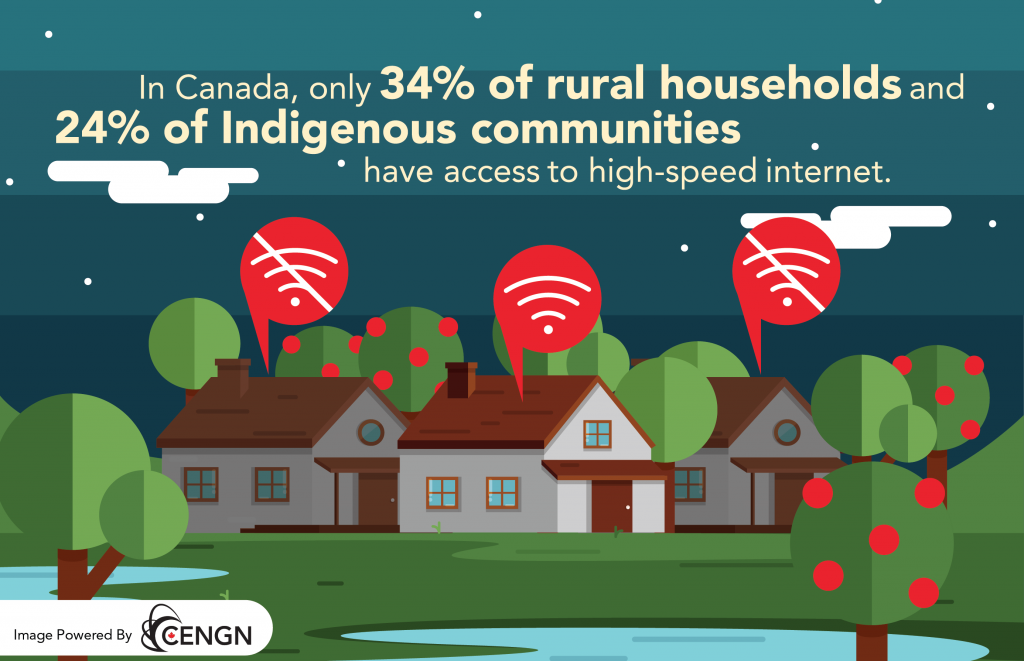 When the government enforced the first COVID-19 lockdown during the spring of 2020, it forced most of us to transfer from a physical environment to a virtual one. Office employees are at home using Zoom to meet with coworkers. Students of all levels are navigating online learning environments. Health systems now offer virtual care over the phone or internet, and delivery services by digital means have significantly increased. As a new way of life is forced upon us, those in rural households and Indigenous communities don't have the resources that urban areas do. (Source: Johnson Shoyama)
In Canada, only 34% of rural households and 24% of Indigenous communities have access to high-speed internet. (Source: Future of Good) The digital divide makes it especially difficult for these underserved populations to stay connected during the pandemic, forcing more than one-third of Canadians to make sacrifices to afford home internet. A resident of Ryder Lake, BC, stated that she had to sit down with her kids and create a schedule for internet use since their plan could only hold one person's activities online at a time. (Source: FR24 News)
The pandemic widened the digital divide as Canadians in rural areas are experiencing download speeds 12 times slower and upload speeds 10 times slower than those in urban areas. (Source: CIRA) To close the digital divide, rural broadband programs need to advance, and connectivity needs to improve, but exactly how much does it need to improve?
Need for Speed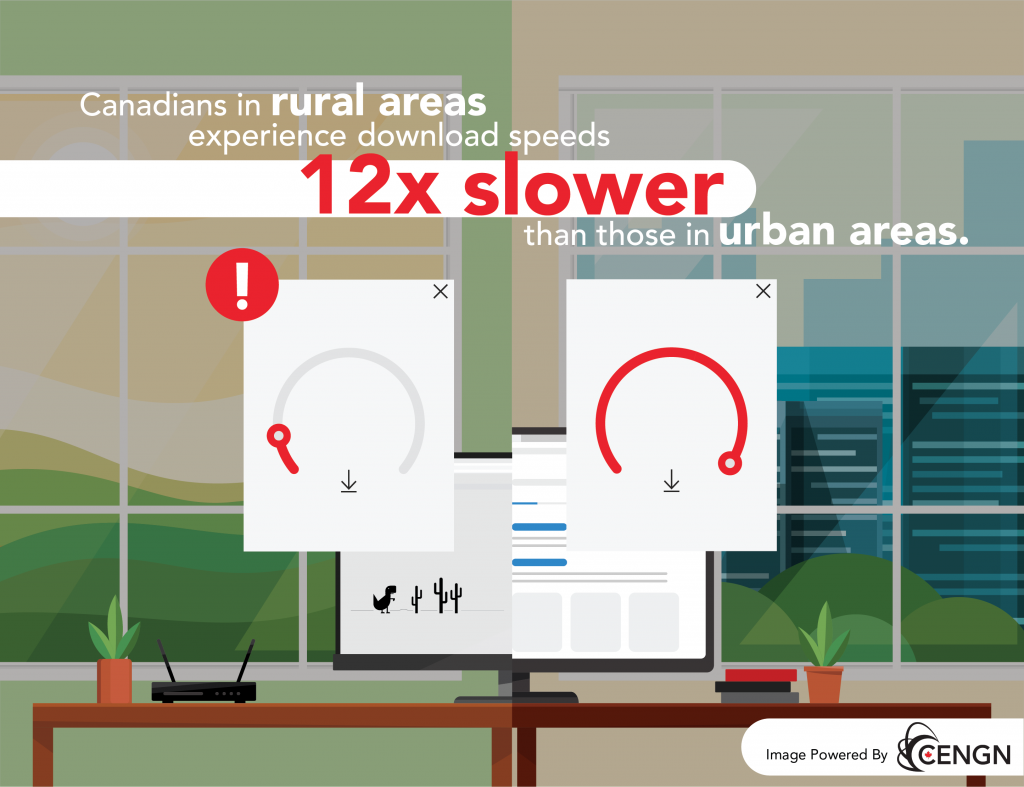 Simply put, broadband is wide bandwidth data transmission that transports multiple signals and traffic types. The Canadian Radio-television and Telecommunications Commission (CRTC) considers the necessary internet speeds everyone should have access to is a minimum of 50 megabits per second (Mbps) download speed, and 10 Mbps upload speed. According to CRTC's estimates, only 46% of rural households have access to high-quality internet speed. (Source: CRTC)
The minimum required broadband capacity needed to stream a movie and support a Zoom call concurrently is 7 Mbps. Kirby Koster, Senior Manager of CENGN's Broadband program, notes the broadband capacity available at his own home, realizing that with 18 Mbps down and 0.5 Mbps up, they could only support two Zoom calls concurrently.
Even then, only one of the two Zoom calls could have the camera turned on to send video images back on the call. It's easy to see why a household with more than two people can't survive multiple operations running simultaneously.
In First Nation communities, it's estimated that only 30% of households have internet connections with the recommended 50/10 Mbps speeds. 600 yards north of the trans-Canada highway in southwestern British Columbia, the CFO of the Chawathil First Nation attempted to run an online speed test to measure the dial-up connection. (Source: FR24 News)
The testing result showed the page took almost two minutes to load, and once loaded, it showed that the download speed was only 1 Mbps! On top of that, connections are not only slower in remote areas, but the service is also more expensive because of the lack of internet service providers (ISPs).
Your location shouldn't be a barrier to completing work successfully or having proper education and health services for your family.
The digital divide needs a brighter spotlight.
The Impact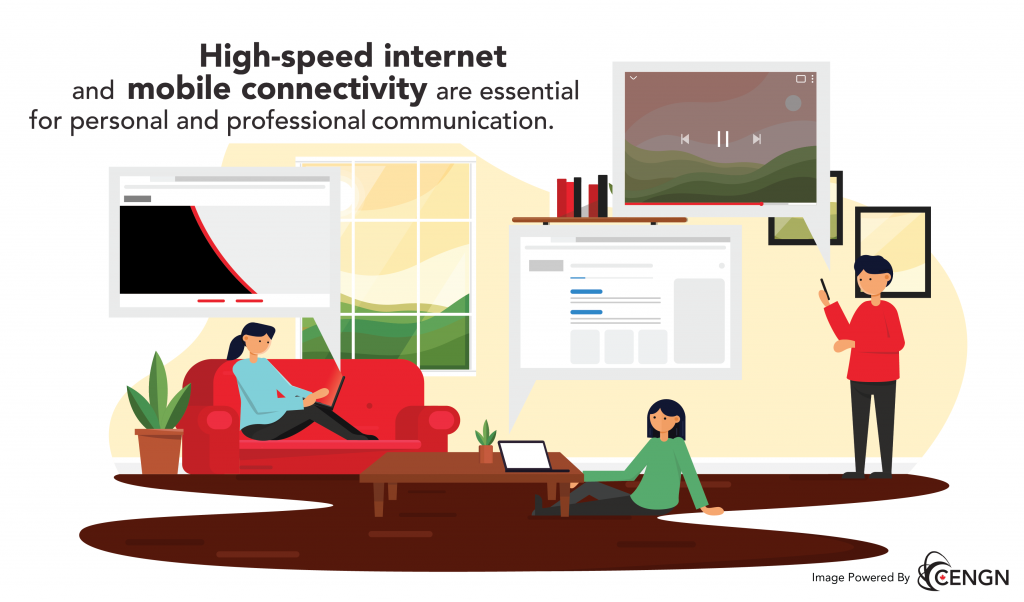 High-speed internet and mobile connectivity are essential for personal and professional communications, applying to jobs, growing a business, doing homework, and accessing government services. During the pandemic, family members in rural areas have been struggling to complete work in shared spaces, resulting in sharing devices and bandwidth. After all, only 65-75% of families in the lowest income group own a 'home computer.' (Source: Johnson Shoyama)
Some family members resorted to driving after work hours finding wireless hotspots to complete online tasks. School boards across the country have struggled to connect with students living in homes with little to no internet access. In most residential networking environments, households are forced to share bandwidth with other neighbours in the community.
If households are struggling to manage their internet with a family – sharing with a community is almost impossible. (Source: Johnson Shoyama)
The results from these issues have become increasingly apparent over the past years and have only grown worse with COVID-19. Rural areas without sufficient internet access and services face a brain drain in talent and development, loss of jobs, lack of access to telemedicine, and limitations to distance learning. (Source: Wiley)
The journey to better internet connectivity across Canada is an ongoing one, and it's important to understand why slow connectivity occurs.
The Disconnect – What Causes the Digital Divide?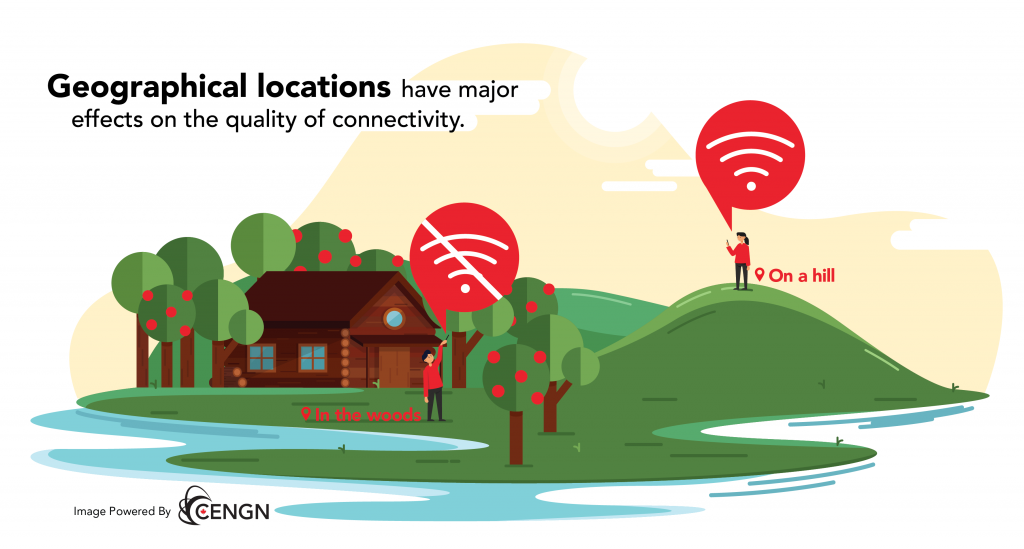 The advertised speeds of internet services and the actual speeds received by rural communities tend to differ due to various factors. Internet services in these locations are usually limited at best due to the lack of a business case for service providers to offer robust network connectivity. Populations are less dense and far too small for businesses to receive the same return on investment they would receive in an urban centre.
This results in a much less reliable internet service.
Surges in access during peak usage times slow connectivity, subscriber hardware, provider infrastructure, and servers' distance (Source: Wiley). Not to mention the unique geographical challenges of providing equal connectivity in the country. Things like mountains, lakes and forests can have major effects on the quality of connectivity available. With less access to service and more people operating on the same network, speeds are bound to vary from household to household and have major slowdowns throughout the day.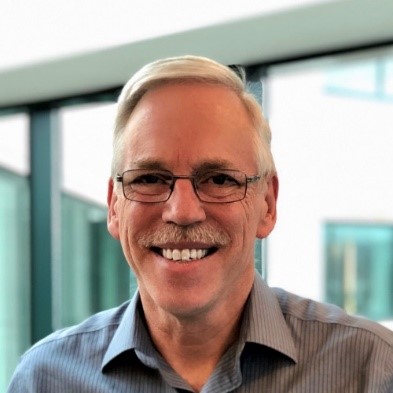 CENGN is currently teaming up with Canadian service providers to develop innovative solutions to overcome broadband internet barriers and close the digital divide. "CENGN is currently driving nine innovative residential broadband projects (with more to come) across rural and northern Ontario to help generate detailed blueprints from successful community examples that other small communities can use to gain inspiration, direction, proven technology solutions, and highlight strong technology partners to address broadband internet access barriers in their community," said Kirby Koster, Senior Manager – Broadband Programs at CENGN.
"Residential broadband micro-projects like CENGN supports up to $500,000 from CENGN and matching funding from a technology partner, can make a huge internet access performance impact for communities with up to 300 – 500 homes through new and improved service offerings."
A Connected Future
In 2019, the Government of Canada introduced new broadband commitments, committing $1.7 billion in the budget to go towards new broadband infrastructures for all Canadians. This commitment aims to provide 50 Mbps download speeds and 10 Mbps upload speeds to 90% of Canadians by the end of 2021. Even further, 95% of Canadians should have this access by 2026, and 100% of Canadians should have it by the year 2030 (Source: CRTC).
Under the Government of Ontario's Next Generation Network Program (NGNP), CENGN is continuing to fund innovative projects that demonstrate technology solutions that offer flexible, lower cost, higher performance residential broadband access for Rural Ontario communities. With numerous projects already in the works, CENGN is doing what it can to play its part in closing the digital divide and providing Canadians with a connected future.
Want to learn more about CENGN's Broadband services?
Read more about the impact of the CENGN Residential Broadband Program.
CENGN updates, in your inbox.