---
CENGN is proud to become the first associate member of FD.io (fast data – input/output) or the "Universal Dataplane." FD.io is a collaborative open source project that fosters innovation in software-based packet processing towards input/output (IO) services and deployment environments. The organization focuses its efforts on leveraging data plane development kit (DPDK) and vector packet processing (VPP) to accelerate network functions virtualization (NFV) data planes.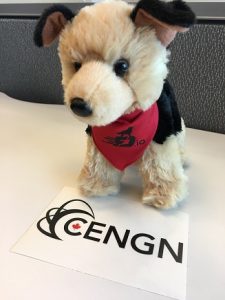 It's important to CENGN to be part of the open source community because open source development drives more flexible technology and speedier commercialization, which is key to the acceleration of innovation in Canada. In fact, over the past year, CENGN has begun stepping up its involvement in the open source networking environment. Currently, CENGN hosts Ottawa's Open Source Networking Meetups and OpenStack Meetups, which are amazing ways to initiate conversation between techies, create a technical dialogue between students and professionals, and bring the local open source community closer together. As an open forum for community members to contribute their solutions and ideas, these meetups are at the core of what open source is all about. See what happened at CENGN's latest meetup here!
Beyond supporting the local open source community, CENGN has stepped up to the plate in many other tangible ways. In fact, CENGN's Infrastructure is home to Canada's only Pharos Community Lab. Pharos is an NFV testing infrastructure designed for hosting continuous integration, deployment, and testing of the OPNFV platform. Not only this, CENGN makes it a priority to facilitate student internships in open source network engineering. Last year CENGN had 42 interns, three of which were Open Platform NFV interns. You can learn about their experiences here!
Solidifying this relationship with FD.io is really exciting since their vision aligns with CENGN's other industry associations OPNFV, OpenStack, and OpenDaylight.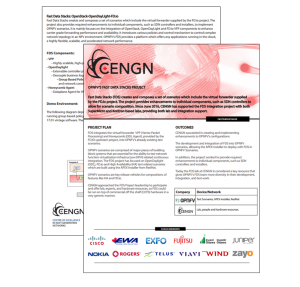 This is not to say CENGN is new to FD.io. In fact, CENGN's associate membership is a continuation of the organization's strong relationship with the open source project. CENGN worked with FD.io on OPNFV's Fast Data Stacks (FDS) project, where FD.io provided their VPP, a high scalability, high-performance, extensible virtual forwarder. The FDS project focused on the integration of OpenStack, OpenDaylight, and FD.io's VPP to enhance carrier grade forwarding performance and availability. Learn more about the project here!
FD.io's place in open source technology opens doors for more innovation in data IO speed and modular environment efficiency. On behalf of the CENGN team, we are excited to be a part of the FD.io community's role in open source and are looking forward to new ways to participate in future FD.io developments!
If you want to learn more about FD.io, read the press release: FD.io Announcements
CENGN updates, in your inbox.