---
Published: September 24th, 2018
Looking forward to the future here at CENGN!
Last week, we invited the CENGN community to our fourth Annual General Meeting (AGM). This event included a guest list of our members, partners, CENGN project companies, and other key representatives and companies of the CENGN ecosystem. The purpose of the meeting is to reflect and share CENGN's accomplishments throughout the year with those who contributed to our success. This year, we did more than review CENGN's progression towards our company's objectives. We discussed our vision for the future and how we plan to exceed our target goals in order to continue making a difference within the Canadian ICT sector.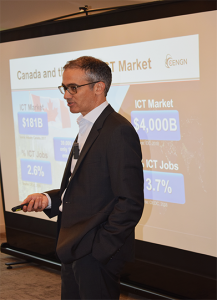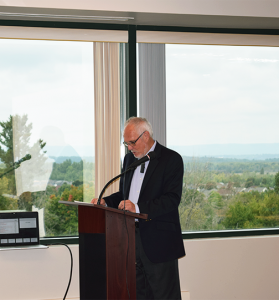 The meeting began with a warm welcome from Mike Scott, our Chairman of the Board. Mike provided us with a brief overview of CENGN's 2018 fiscal year, as well as our current standing as an organization. He highlighted that in FY2018, we began a new chapter by welcoming Jean-Charles (JC) Fahmy as our new president and CEO. Mike continued to share how CENGN has matured its services, amplified its brand, and increased its impact on the Canadian ICT sector. CENGN had more than doubled the accumulated metrics for CENGN projects and trained personnel over the course of FY2018, an accomplishment we plan to use as momentum in the coming years. Additionally, CENGN initiated a partnership with the Ontario Centres of Excellence (OCE) to carry out the $63 million Next Generation Networks Program (NGNP) on behalf of the Government of Ontario. Earning this 5-year program is a testament to our achievements and will allow us to expand our services across Ontario to continue assisting small and medium enterprises (SMEs) overcome commercialization barriers. Mike wrapped up by acknowledging and giving a large thank you to all those who have contributed to the success of CENGN, from the staff to the overall tech community, as they are what make CENGN an effective force in advancing Canada's networking technology and the economic strength of the sector.
Following Mike's comments, JC, our CEO, addressed our guests with his vision of CENGN. JC began by showcasing how far CENGN has come and identified the key contributions CENGN has provided to Canada's ICT community and economy. He went on to highlight the work still needed for Canada to reach its true potential in the networking sector. Although CENGN and its partners have made significant impacts on the sector, it is clear there is a lot of work ahead for us and for Canada as a whole. As JC later pointed out, Canada only ranks 18th in the global innovation index. CENGN is dedicated to improving this reality to solidify Canada's leadership as a well-developed country that leads the way in networking technology.
Part of the issue is that Canada currently only contributes $181 billion out of a $4-trillion market. Our objective is to grow the Canadian market by creating a strong, competitive networking ecosystem that not only accelerates the growth of the Canadian ICT sector but unlocks the potential of Canada's economy across sectors. The work we do makes a strong, competitive networking ecosystem that not only accelerates the growth of the Canadian ICT sector but unlocks the potential of Canada's economy across sectors. The work we do makes a big impact on accelerating ICT knowledge/skills in Canada, increasing jobs, creating more growth and services in the Canadian marketplace, and of course, continuing to advance technology. But we also see networking technology improving sectors like agriculture, mining, manufacturing, and autonomous vehicles to name a few.
Ultimately, guests left the AGM with the knowledge that CENGN is making an impact in this battle for more advanced networking in Canada. In fact, the organization was able to show off its tangible benefit to the ICT sector, training 1014 people, creating 1500 jobs, delivering 129 student internships, completing 55 projects with growing Canadian businesses, and contributing $140M towards GDP. JC speaks on behalf of the entire company by saying that we are really looking forward to how much more we can accomplish moving forward.
Prior to the presentations, our guests had the opportunity to explore multiple booths to see our breakout presentations. Each session was hosted by a 'CENGNeer' who showcased a key point about our company, including a demonstration of the technology in our infrastructure, a sneak peek at the development of our training program, as well as the services we provide to SMEs and a highlight reel of past commercialization projects. The breakout presentations put on display exactly how we go about completing these projects and why they are beneficial to both the SMEs, as well as the Canadian economy.
All in all, CENGN has made tremendous progress, and continues to increase its output and effectiveness with time. With FY2018 as a main indicator, we will continue to excel on our commitment to strategically fill the gaps within the ICT ecosystem and advance Canada in all aspect of our economy. We would like to give a huge thank you to everyone who attended our AGM, as well as the many individuals that have contributed to the success of CENGN over the past year. We cannot wait to see what will be accomplished in FY2019.
For an overview on CENGN's FY2018, download the 2018 annual report by clicking the button below:
[cherry_button text=" CENGN 2018 Annual Report " url="https://www.cengn.ca/wp-content/uploads/2018/09/CENGN-Annual-Report-2018-.pdf" style="default" size="large" centered="yes" fluid_position="right" icon_position="top" color="#000000″ min_width="80″ target="_blank"]Board of Directors [/cherry_button]
Want to learn more about our vision for the Canadian ICT Sector? CENGN will be hosting its annual summit on November 27th where we will be looking at how Canada can solidify its leadership in the next generation of networking.

CENGN updates, in your inbox.