---
We went deep into the opportunities facing the future of the Ontario mining industry this week at the BDT Mining Conference hosted at NORCAT, in Sudbury. NORCAT works to encourage, educate, and support local entrepreneurs, tech innovators and skilled labour workers to promote economic and social successes for Northern Ontario.
At this conference, attendees had the opportunity to engage with leaders from the mining industry and together explore questions relating to how the mining sector plans to successfully transform with the current digital age. The conference aimed to educate attendees on the emerging technology trends in mining, showcasing the evolution of the industry through disruptive solutions.
In the latter portion of each day, guests were able to get up close and personal with Ontario mining as they were transported to the NORCAT Underground Centre! Here, they explored an underground operating mine where NORCAT provides technology development, testing, and demonstration, as well as hands-on learning for professionals.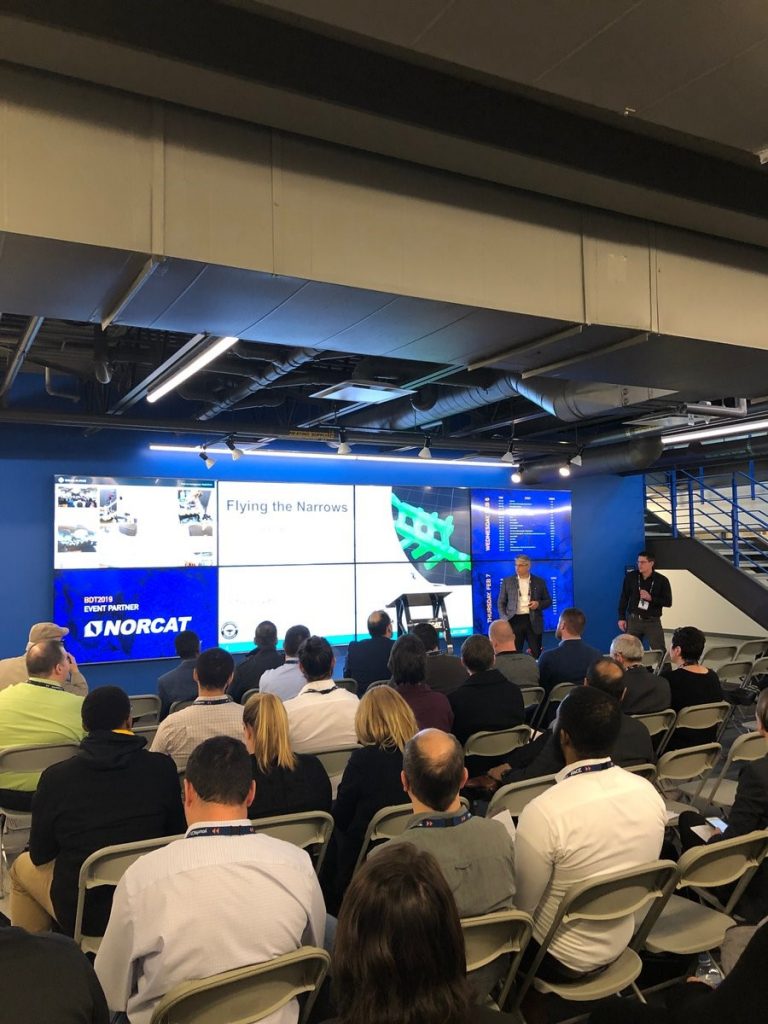 The emerging tech showcased and explored at this event are a couple of the many solutions that will help Canadian mining companies overcome innovative barriers. Being able to test and develop mining innovations with CENGN's infrastructure and services will make CENGN an important piece in the success of Ontario mining companies. With our help, the Canadian mining industry can successfully gain a competitive advantage, and optimize in terms of efficiency, revenue, safety, and the environment.
This is critical in promoting growth in this crucial part of Canada's economy, contributing to $57.6B of our country's GDP. In fact, Canada ranks in the top 5 countries in the global production of 13 major minerals and metals. Ontario specifically is one of the main leading provinces in Canada with the most active mining projects in the country.
The BDT Mining Conference was an amazing chance for us to add to our knowledge and learn more about the innovative tech taking the mining world by storm! Engaging events like these will continue to help us shape the path of Ontario's competitiveness and push Canada to the forefront in smart mining.
Currently, under our Next Generation Network Program (NGNP), a joint collaboration between CENGN and the Ontario Centres of Excellence (OCE), we are looking to fund innovative projects that demonstrate flexible, cost-effective, enhanced communication systems for mining. Our infrastructure services can provide smart mining initiatives the network testing required to accelerate the implementation of real-time videos, voice communications, autonomous equipment, Internet of Things (IoT) devices, big data, and AI applications. As we learned at the BDT Mining Conference, advancements in these areas are currently required to optimize the efficiency, revenue, safety, and environmental friendliness of the Canadian mining sector.
With NGNP, we focus our attention not only on transformative technology for mining, but on other traditional Canadian sectors like rural and northern broadband, as well as smart agriculture. The end goal of our new partnerships, like this one with NORCAT, is to make sure all regions, even beyond urban centres, benefit from enhanced connectivity and the solutions that come with it.
CENGN Summit 2018 hosted a panel specific to the opportunities and challenges facing network technology in different sectors called "Transforming Vertical Markets Through Connectivity". Check out the video recording below, and see what NORCAT's own CEO, Don Duval had to say about advancements in the mining industry:
A big thank you to NORCAT for having us at the BDT Mining Conference! We can't wait to continue collaborating with your team to drive the smart mining sector forward and make a positive impact on Northern Ontario's innovation economy.
To learn how your business can benefit from NORCAT and CENGN services at the NORCAT Underground Centre, click the button below!
To submit a project to CENGN click here!
CENGN updates, in your inbox.