---
Published: October 24th, 2016
At CENGN, we  pride ourselves on our student immersion, and involvement in providing tools and experience to better prepare and position students for success. Last week, CENGN was able to showcase our student program at the Education and Economy Summit
The Summit took place at Ottawa City Hall on Friday October 21st, 2016 and was a collaboration between local school boards, post-secondary institutions, government, private sector, NGOs, and students, for the purpose of creating more opportunities for students. A main focus of the event was identifying how to foster a significant increase in start-ups in order to secure more jobs for those entering the workforce and ensure the long-term growth of the city.
It was a full day event comprised of keynote presentations, workshops, a networking lunch, and panel discussion. The busy day remained on theme though, discussing how the Ottawa work ecosystem can strive towards providing students with more opportunities to develop the skills and experience they need to excel once they enter the workforce.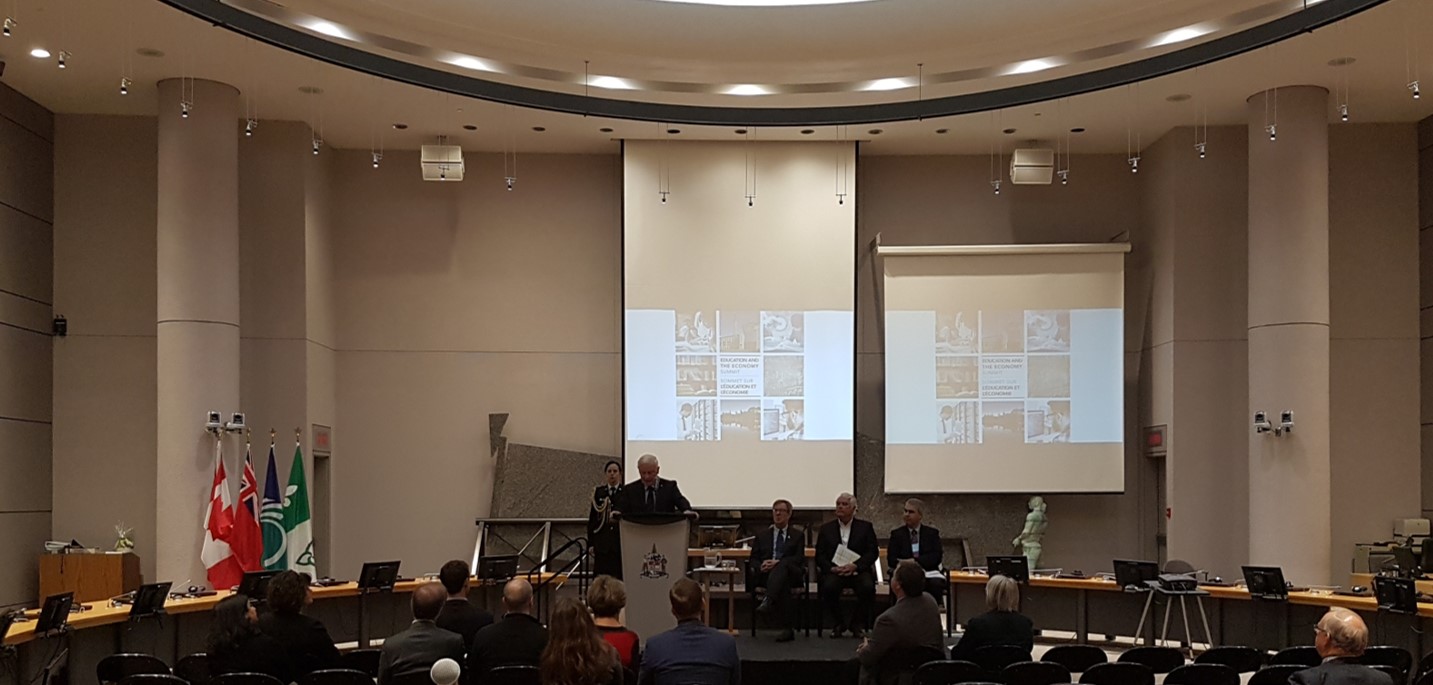 The one-day Summit had a strong turnout of students and stakeholders, with the total attendance nearing 250, and featured remarks by His Excellency the Right Honorable David Johnston, Governor General of Canada, Mayor Jim Watson, City Councilor Riley Brockington, and Jonathan Lister, VP Americas, Sales Solutions and Canada Country Manager at LinkedIn.
At the first workshop session of the day, Ritch Dusome– CENGN's President and CEO. spoke about the Pathways to Employment. Ritch covered how to communicate opportunities to attract students, including how to make the most of popular social media channels. He also spoke about the requirements needed for a student to have a valuable placement, highlighting key factors like environment, job function, and end outcomes that have tangible impacts on the company.
Ritch was able to provide concrete examples, drawing on his personal experience leading CENGN and its strong student involvement. Every year CENGN brings in 40 students from a variety of fields to give them the opportunity to gather real world experiences, make an impact on the organization, and to expose them to cutting-edge technology. Ritch also touched on some of the potential challenges that may be encountered, like cost, student availability and other coordination needed from various Government, Industry, and Academia segments. But emphasized that, with the right strategy, the benefits of hiring students are significantly superior to the cost!
Overall, the Education and Economy Summit experienced a great reception from its attendants. The Event successfully provided the opportunity for the City to engage with key partners from the education and economic sectors to discuss how working together can better prepare and position students for success in the local job market. CENGN is very appreciative to have had the opportunity to collaborate on strategies to maximize Ottawa's educational and economic potential, and we are looking forward to continuing our role in the creation of employment and start-up opportunities for students throughout Ottawa and the country!
CENGN updates, in your inbox.