---
Published: June 23rd, 2017
CENGN hosted the third Open Source Networking Meetup on the evening of June 21st, 2017!
The event was held at the Innovation Centre at Bayview Yards, home to Invest Ottawa who sponsored the meetup alongside OPNFV. With over 40 students, professionals, and CENGN employees in attendance, participants got the chance to network over beer and pizza, enter their business cards into a door prize raffle, and hear two awesome presentations from industry professionals.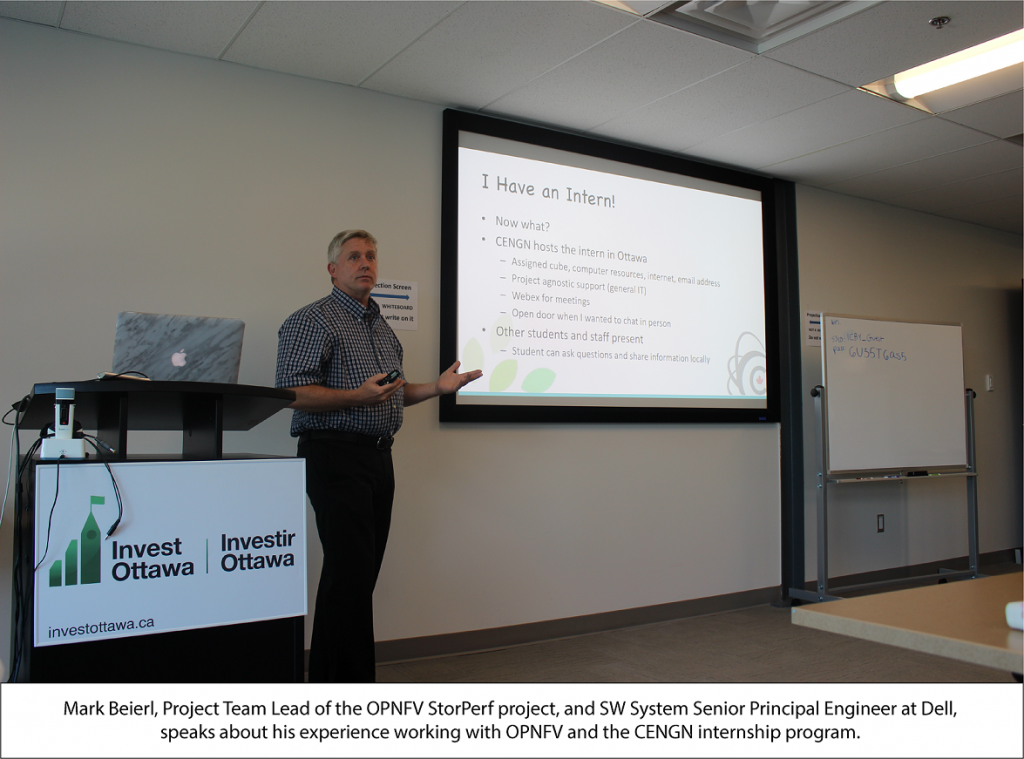 Mark Beierl, Project Team Lead of the OPNFV StorPerf project, and SW System Senior Principal Engineer at Dell, spoke about his experiences working with OPNFV and CENGN internship programs. Mark spoke highly of both programs, emphasizing the importance of these resources to both small and medium enterprises (SMEs), and students.
Attendants of the Open Source Networking Meetup also got the opportunity to hear from Ray Maika, Cloud Infrastructure Engineer at CENGN, talk about container-based applications, CNI, and its most common plug-ins. Ray's engaging presentation even featured a live demo of CNI applications. During this presentation, students and professionals got the chance to learn and chat about topics such as SDN/NFV, network architecture, OpenDaylight, cloud computing, and much more!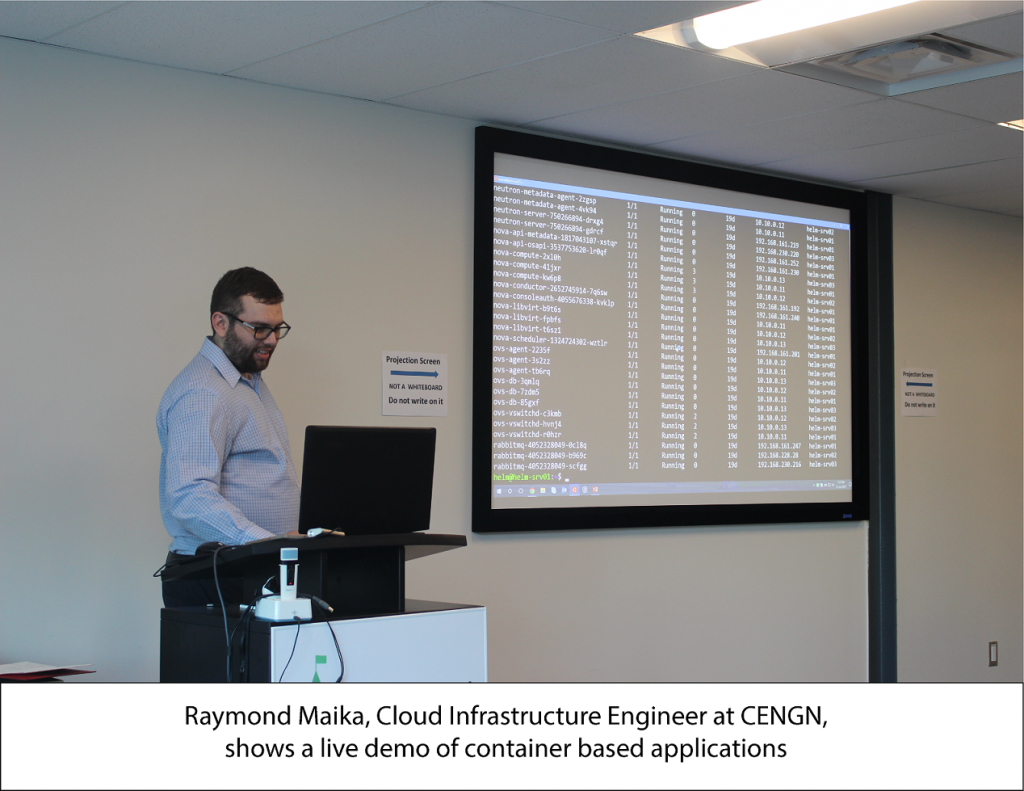 The Open Source Ottawa Networking Meetups are a great way for students to learn technical skills, and network with professionals in the ICT industry to find co-op or employment opportunities. These meetups are also a great way for businesses and SMEs to find students in a variety of fields to work with on short term projects, hire for an internship, or even full-time.
CENGN loves participating in the Ottawa Open Source Networking meetups! As one of CENGN's missions, we strive to connect the brightest minds in ICT to help rapidly commercialize the industry in Canada. Ottawa's Open Source Networking Meetups are an amazing way to initiate conversation between techies, create a technical dialogue between students and professionals, and bring the open source community together. As an open forum for community members to contribute their solutions and ideas, these meetups are at the core of what open source is all about.
At OPNFV's recent summit, several presenters gave shout outs to Open Source Networking Meetup organizers and sponsors who are actively supporting the growth of the open source community. To read more about how the summit went, click here.
These meetups have been growing in popularity across the world as a global phenomenon, connecting the world's top innovators in a common goal. To get involved in expanding the open source community, and continuing innovation in Canada's ICT industry, CENGN wants to see you at the next Open Source Networking meetup! Stay tuned to our events page for more details.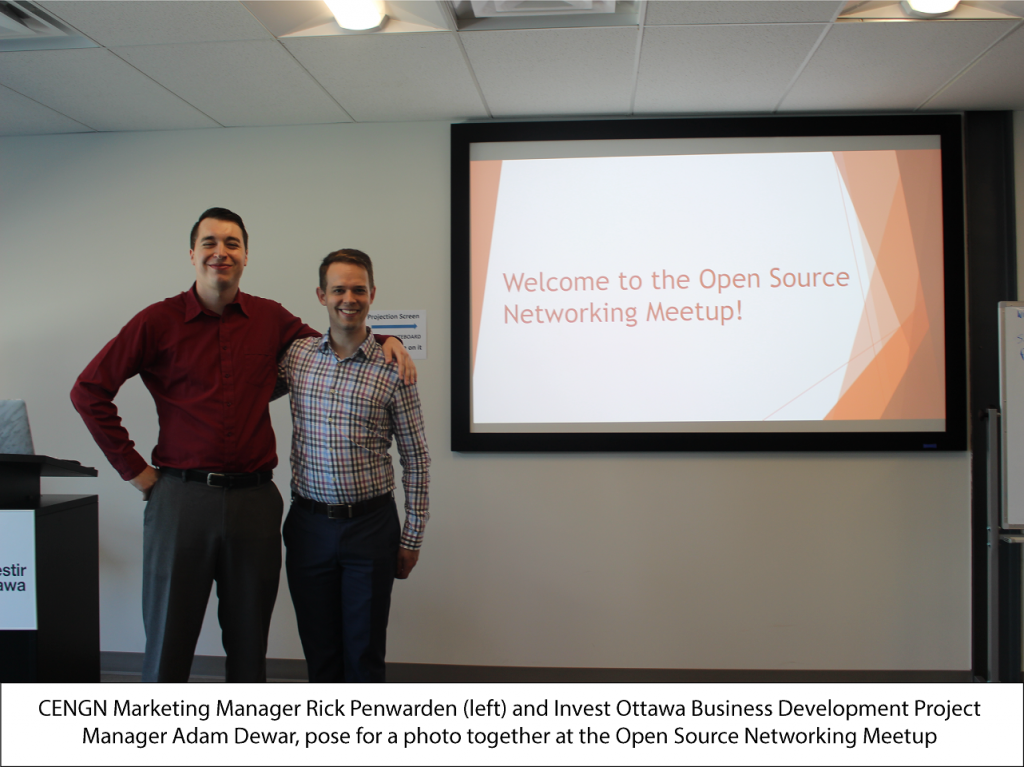 Last but certainly not least, a huge shout out goes to OPNFV, OpenDaylight, and Invest Ottawa for helping CENGN facilitate the event! With the welcome support from our members and partners, these awesome open source meetups are always a smashing success!
To view more photos from the event, check out our meetup page here.
To join our meetup page and stay in the loop with upcoming events, click here!
CENGN updates, in your inbox.