---
Last night, we hosted the second Ottawa OpenStack Meetup at CENGN's very own headquarters!
CENGN loves hosting and attending events that propel Canada's place as a world leader in ICT. OpenStack Meetups are an amazing way to get members of the tech community, small-to-medium enterprises (SMEs), and students learning and networking together in an informal and positive setting. To check out how our last OpenStack Meetup went, you can read our blog here.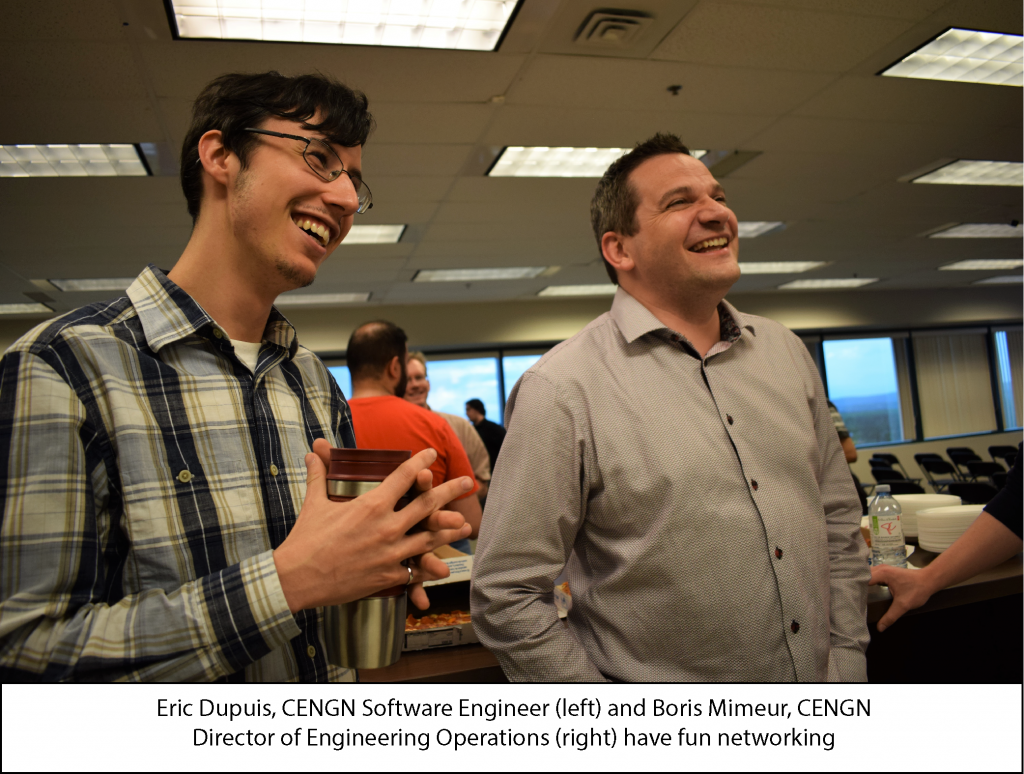 Over 60 people attended this month's event, including members of CloudOps, Wind River, Juniper Networks, CENGN, Kanata North techies, and students. And the fun is not stopping with last night! CENGN will be hosting another meetup this June, which will provide networking and training opportunities for all members of ICT.
CENGN's Ottawa Open Source Networking Meetup will be held at the Innovation Centre in Bayview Yards on Wednesday, June 21st from 5:30-8:30pm, and will feature Mark Beierl, Project Team Lead of the OPNFV StorPerf project and SW System Senior Principal Engineer at Dell. But before we get side tracked, you'll want to know a little bit more about the success of our most recent meetup!
It was great to see so many eager ICT industry leaders sharing their ideas, and enjoying a night of networking fueled by tasty pizza and beer at OpenStack's Q2 meeting! The event was generously sponsored by CloudOps, Wind River, and Juniper Networks, who all attended in bright spirits to help make the Meetup a smashing success.
To provide some background, CloudOps is a Canadian SME that provides both public and private cloud solutions for businesses seeking scalability, or for companies seeking to transition to cloud infrastructure. Wind River is a member of CENGN and a global leader in delivering software for intelligent connected systems. Recently, we announced our new collaborative project with both Wind River and CloudOps to implement Wind River's Titanium edge into CENGN's infrastructure, and explore the possibilities of integrating Titanium Edge with CloudOps' CloudMC solution. Click here to learn more about it.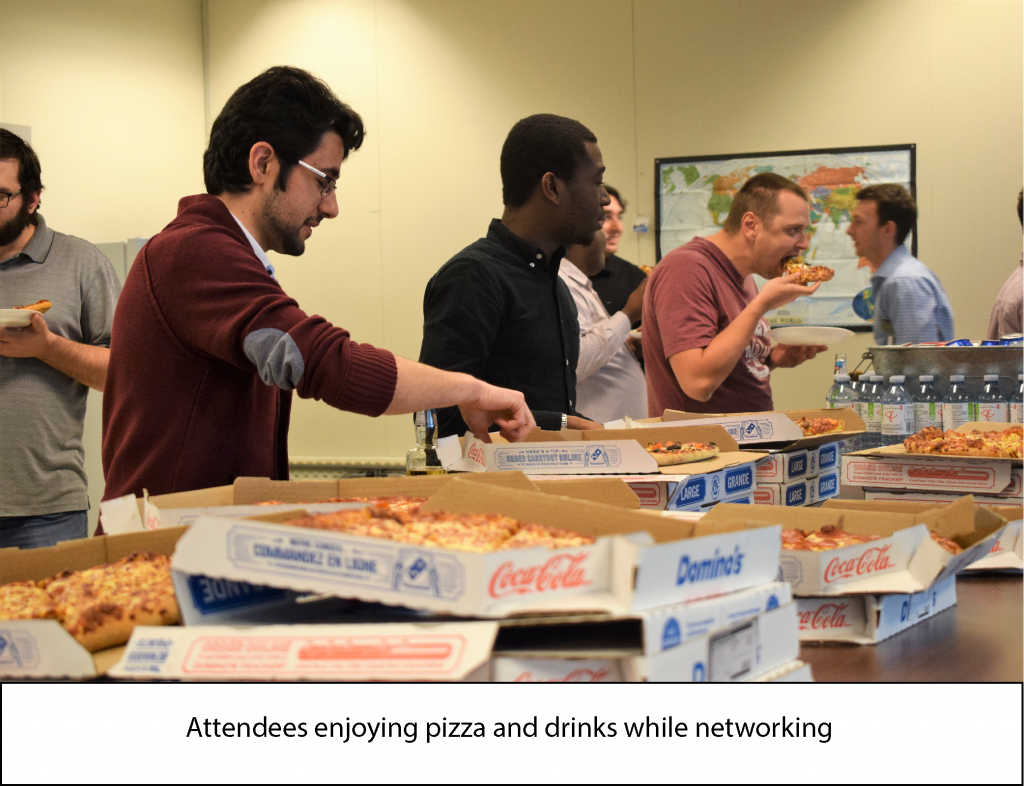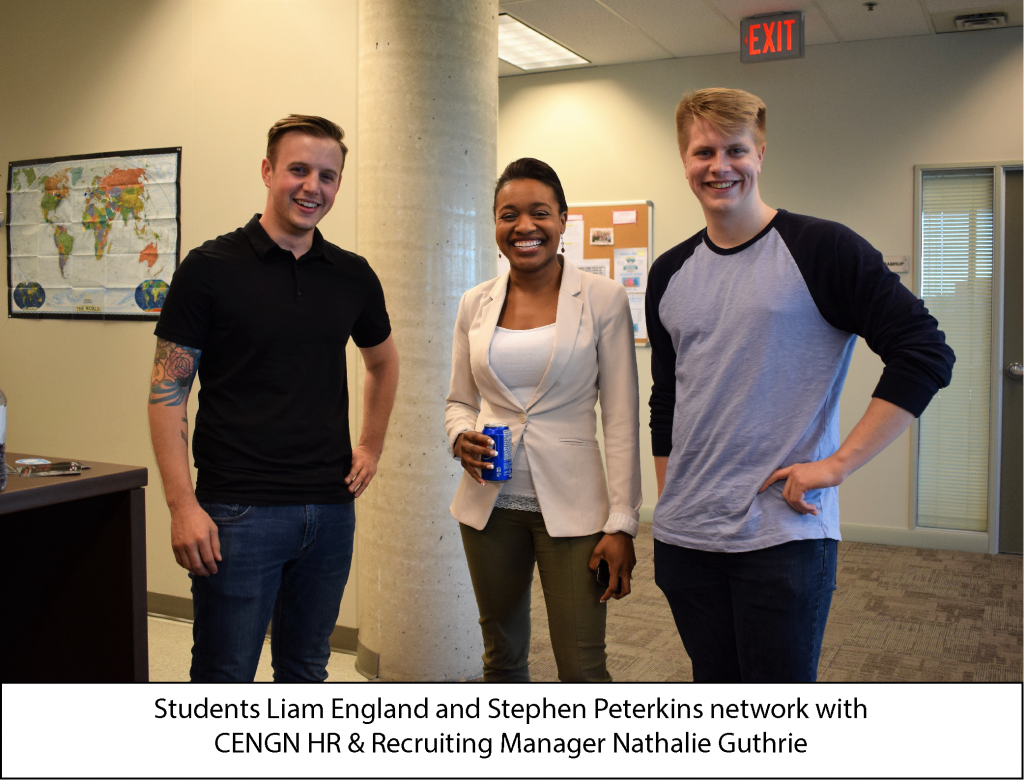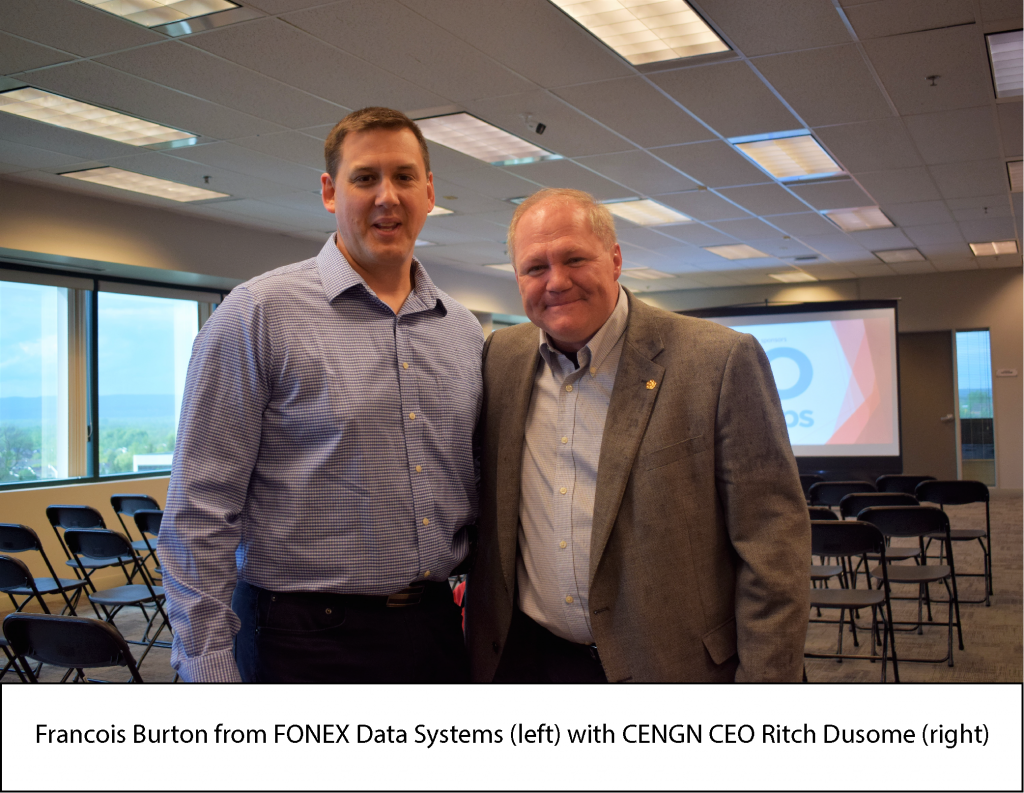 Juniper Networks is a member of CENGN that focuses on uplifting the world's networks by finding solutions for the most critical challenges in ICT today. In fact, one of our flagship projects is our Smart City validation where CENGN worked closely with Juniper Networks and Inocybe Technologies in a project to implement dual layer software-defined networks that securely accommodate service providers through network layers. To learn more about CENGN's collaboration with SMEs, click here.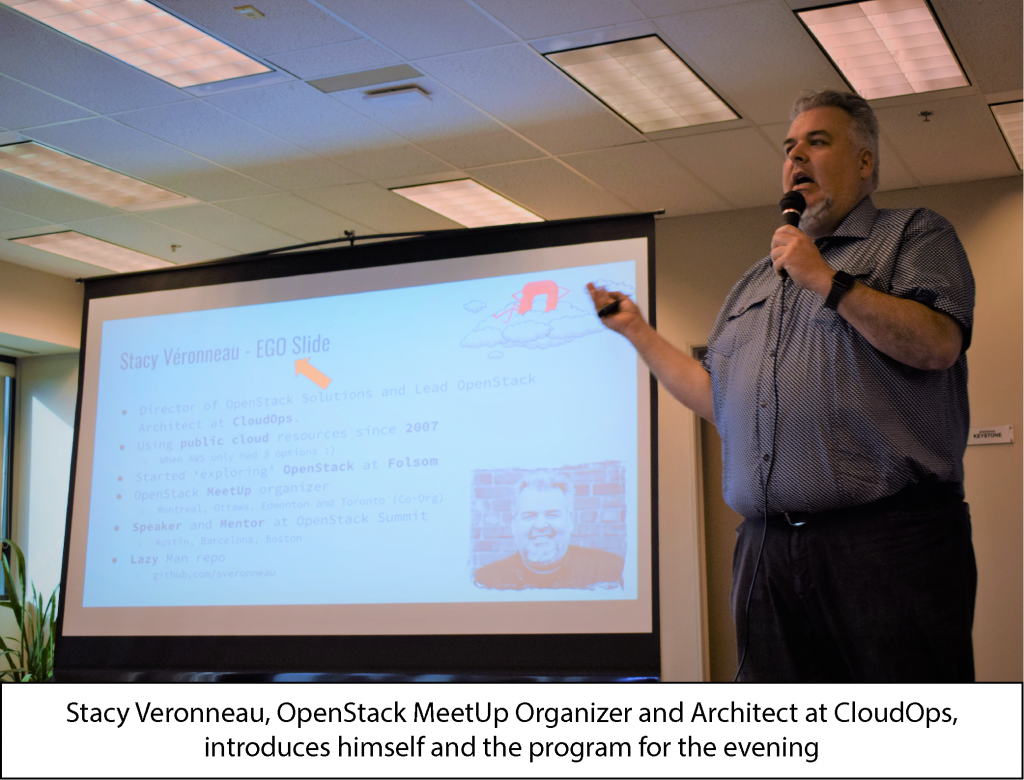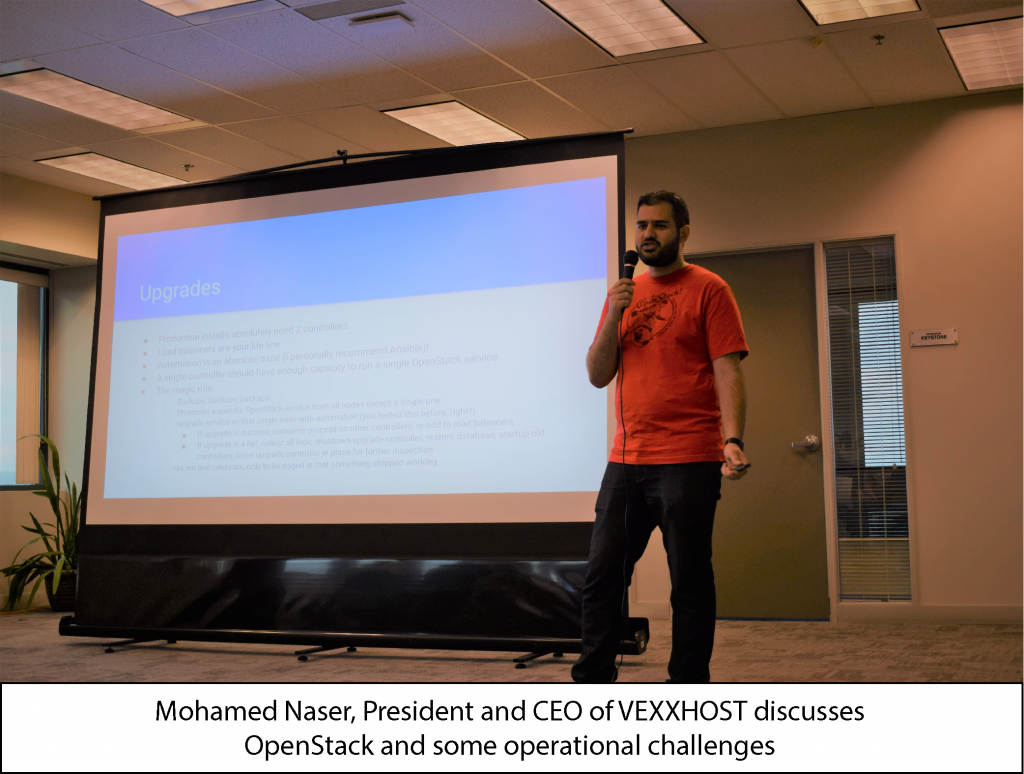 It was great having these three industry leaders at last night's OpenStack Meetup to stimulate conversation, share their innovative ideas, and to network with students and professionals of Ottawa's ICT scene.
With an introduction by Stacy Véronneau, Director of OpenStack Solutions at CloudOps, attendants got the chance to hear Mohamed Naisser, CEO of VEXXHOST, talk about the operational challenges of cloud infrastructure in his presentation entitled "Operational War Stories." Attendants also got the opportunity to hear from Stuart Mackie, SDN/NFV Architect at Juniper Networks, speak on the magic of integrating OpenContrail with OpenStack.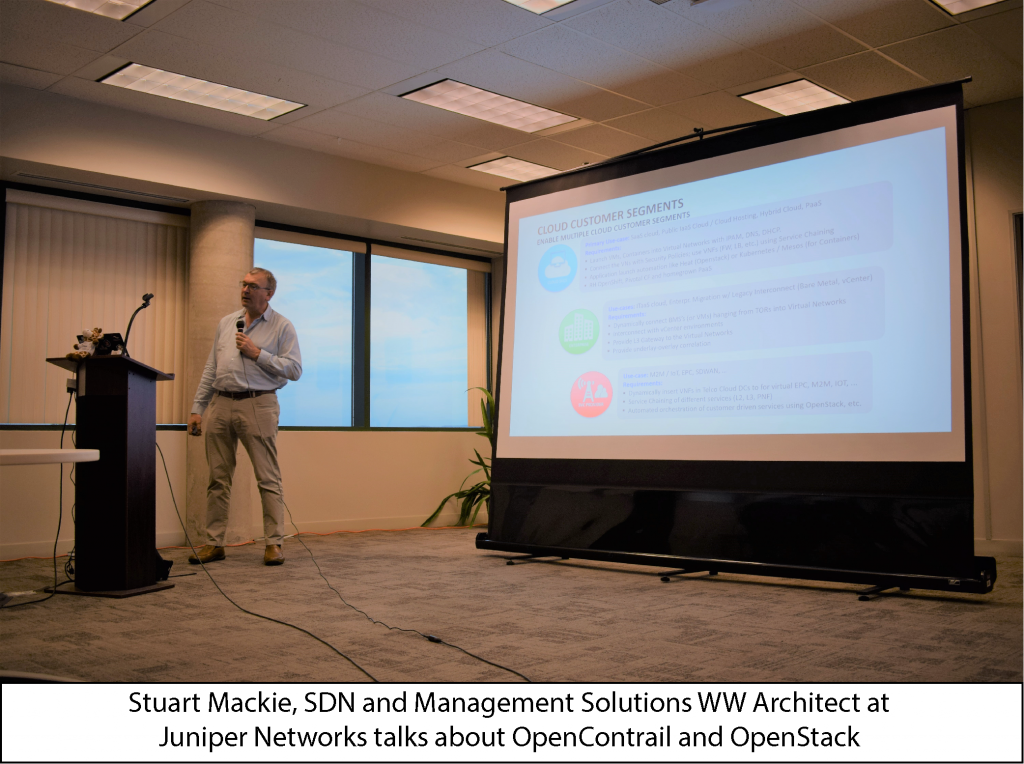 For those new to the game, OpenStack is an open source software working with popular enterprises to control large pools of compute, storage and network resources throughout a datacenter managed through the OpenStack dashboard. OpenStack was designed by a community of its developers and users.
CENGN uses OpenStack extensively within our cloud framework, demonstrating the possibilities of open infrastructure in propelling ICT, IoT, and Smart City innovations. In our latest projects, we have continued to use OpenStack as an essential tool in testing SME products and solutions.
We would like to extend a big thank you to OpenStack forgiving us the opportunity to host this month's Ottawa Meetup at CENGN! A gracious shout out goes to Wind River, Juniper Networks, and CloudOps for the generous sponsorship! And of course, a huge thank you to VEXXHOST for their engaging presentation! Last but certainly not least, thankyou to all the students, techies, and CENGN staff for taking the time to attend, and for making the event worth everybody's while! We can't wait to see you all on June 21st for the Open Source Networking Meetup!
Click here to view more photos from the Ottawa OpenStack Meetup on May 31st 2017
Click here to join the OpenStack Meetup Group
Click here to register for the Ottawa Open Source Networking Meetup on June 21
CENGN updates, in your inbox.