---
The CyberForum613 took place yesterday on February 7th, 2017 at the new Innovation Centre at Bayview Yards!
CENGN's Vice president of Business Development & Marketing, Richard Waterhouse, and Business Development Manager, Esha Abrol, attended CyberForum613 that focused on the trends of Cyber Security from top companies in the industry like NetApp and Adobe.
The full day event was run as a collaboration between Invest Ottawa, the Federal Economic Development Agency for Southern Ontario, the Ontario Ministry of Economic Development and Growth and The Capital Hill Group. The four companies did an excellent job at pinpointing the most important topics in Cyber Security today.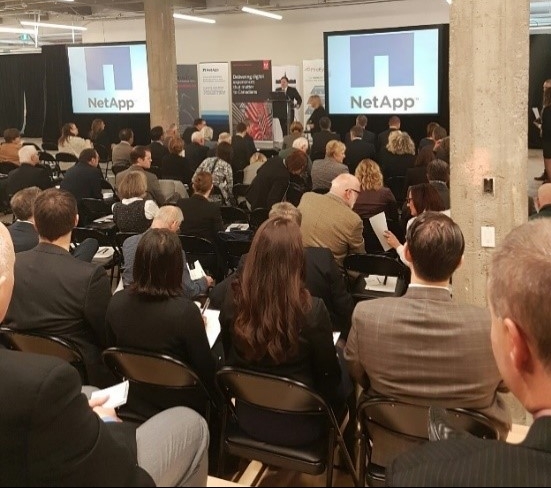 The event had a great turnout, as representatives from FireEye, Homeland Security, Hewlett Packard Enterprise, and Adobe focused on various perspectives of Cybersecurity. The keynote speakers offered their insights about current and future trends, what types of partnerships they're seeking with Canadian SME's and information about Cybersecurity threats.
The agenda also included an expert panel that discussed the exciting opportunities for both large and small-to-medium sized enterprises in defense and security procurement. The panel representatives touched on the solutions and technologies they are developing within the industry today and the large role that Cybersecurity has, and will continue to play, for their respective companies.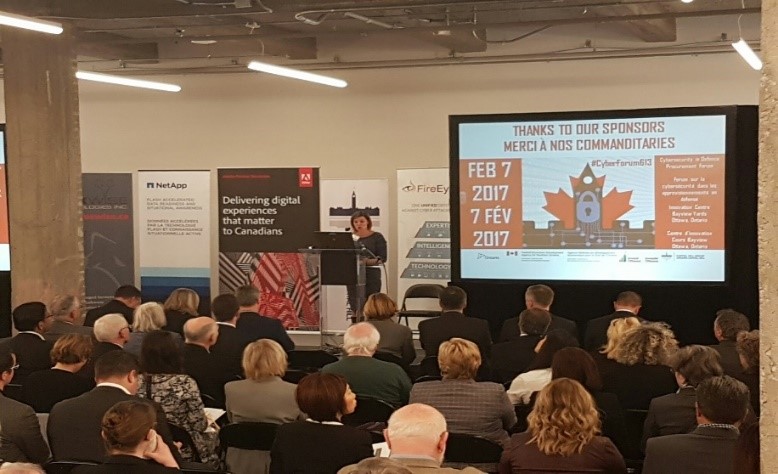 Following the presentations and panels were breakout sessions, that showcased different companies in the Cybersecurity sector. One breakout session was held
by a great partner of CENGN, InBay Technologies. InBay's CEO, David Mann discussed the importance of Cybersecurity features and funding in the government sector. InBay has a long, positive involvement with CENGN. Recently, InBay and CENGN have worked together on InBay'sMulti-Factor Authentication to test third party authentication through a trusted device. CENGN continues to work on projects like these with InBay aswell as promote importance of Cybersecurity innovation at events like the OPNFV Summit
Scattered throughout the event, were many networking opportunities that acted as great ways for CENGN to interact with some of the top minds of Cybersecurity. It was great to see Ottawa ICT professionals recognized the importance of Cybersecurity in today's tech center.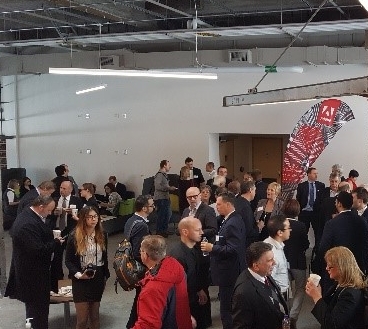 CENGN is heavily involved in the Cyber Security field as well as creating opportunity for innovative small to medium enterprises and Academia. CyberForum613encouraged and facilitated discussion between small businesses looking to grow and large multinationals. We were happy to witness growing startups have a platform to showcase their solutions to the latest security challenges facing our industry.
Overall, the event highlighted the opportunity for small to medium enterprises to create security solutions that emphasize convenience for the end user while adding more layers of authentication. We hope to see this opportunity turn into a successful push to market for a Canadian business in the future. If you have an innovative Cybersecurity solution that you're looking to commercialize, please submit a project to CENGN and see how our services can accelerate your success.
[cherry_button text="Submit a project!" url="http://cengn.ca/projects/" style="default" color="#0a0a0a" target="_self"]
Thank you to all who participated and contributed to the CyberForum613! CENGN had a great experience and learnt a great deal surrounding the Cyber Security field today!
CENGN updates, in your inbox.