---
Published: May 5th, 2017
After a full house at Juniper Networks' Academic Bootcamp last week, CENGN is proud to say it was a smashing success.
CENGN had the honour of facilitating Juniper's Bootcamp by connecting them with our academic partner, Ryerson University, who hosted the event. Taking advantage of this opportunity, three of our own CENGN team members attended the Bootcamp to experience the benefits of hands-on technical training. The Bootcamp lasted for three days from April 24th – 26th, with an attendance of 130 students from across the GTA.
CENGN is always looking for Canada's most innovative students to help propel the next generation of networking (NGN). By partnering with Juniper Networks, a CENGN member that provides a variety of technical skill-building workshops, CENGN was able to connect with Ryerson University to collaborate on an intensive three-day training program. And of course the Bootcamp could never have been so successful without the enthusiasm of students to join from our academic partners.
With Toronto being such a mecca for academia, the Bootcamp was able to attract students from throughout the GTA. Attendees included students from the University of Toronto, York University, Seneca College, and Ryerson University. The Bootcamp was a great opportunity for students who were looking for real-life experience in virtual technology, and are looking to market themselves in the workplace by completing one of Juniper Networks' many technical certifications. In an industry widely based on hands-on experience, last week's program also attracted students looking for internships or co-op placements, by putting them in connection with top associations.
The training itself was instructed by Cosmos Security and focused on giving real experience to engineering, networking, and computer science students in the areas of network technology. More specifically the training course covered technical skills in Juniper Networks' Junos Operating System (OS), going over the technology's fundamentals, and teaching the routing essentials needed to excel in the networking sector.
Beyond this, students were exposed to time management tips and strategies, and a full-day practice exam simulation in Ryerson's virtual lab. This allowed for individual feedback on each student's Junos OS performance. For individuals seeking to complete their Juniper Networks Certified Associate Junos (JNCIA-Junos) certification, the course was particularly beneficial. The JNCIA-Junos is a written exam which verifies the candidate's understanding of networking fundamentals, as well as core functionality of the Juniper Networks Junos Operating System. This training is a student's first step to preparing for the exam.
Not only did Juniper Networks' Bootcamp help prepare students for JNCIA-Junos lab exam, but it also gave them a head start to success in the growing technology industry. Students left the three-day training program with a broadened skillset, making them more marketable to industry employers. Students also left having gained valuable connections through the ample networking opportunities given with organizations like CENGN, and Cosmos Security.
CENGN also made a surprise guest speaker appearance, when Randy Elias, Program Manager, spoke about the ICT work sector in Ontario, and how students make all the difference to ensuring Canada remains a leader in next generation networks. He also discussed career opportunities both at CENGN and across several industries in the province, and shared his own experiences as a professional who has worked in the IT sector for decades.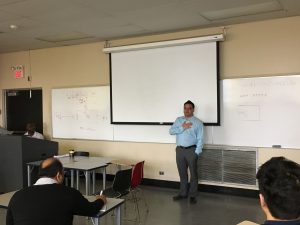 CENGN is proud to be able to connect its academic partners with top of industry organizations to further the success of its students. Juniper's Bootcamp is a perfect example of how CENGN continues to connect industry leaders and academic partners to provide students with opportunities that strengthen their academic knowledge, and their careers! In this case, CENGN was able to help Ryerson University and Juniper Networks collaborate on a training program that gave 130 students a chance to network with ICT professionals, and to get hands on experience with the Junos Operating System.
It is CENGN's belief that students are key to the growth of our country's ICT sector. By providing students with the ability to succeed and learn about the cutting edge technology that can be found in the current industry, we are ensuring that the next generation has the means to continue innovating, and maintaining Canada as a global leader in NGN and ICT!
We hope to continue fostering strong relationships between our members and academic partners to make a lasting difference in all spheres of industry, research, and academia. CENGN would like to put out a huge thank you to all the students who participated in the training session, and everyone who contributed to the event! We hope that both Juniper Networks and Ryerson University continue to teach students the importance of technical skills, and encourage them to fulfill their role as innovators in Canada's NGN.
CENGN updates, in your inbox.