---
On April 25th, CENGN attended the Kubernetes Ottawa Security Meetup. The event was co-organized by the Cloud Native Foundation and Kubernetes Ottawa. It was a great venue as Ottawa startup CanvasPop graciously opened their doors to host this security and mixed environment tooling event.
Attendees learned about the Kubernetes community and its development on Microsoft Windows, and deploying on a Linux environment, from Rodrigue Cloutier, Senior Online Programmer at Ubisoft. Rodrigue explained what was learned on Ubisoft's future online platform for the company's flagship games, and the tools they developed to work effectively with the next generation. He then explained how these future tools can better support developers who are working in mixed platform environments.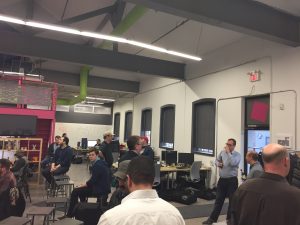 After Rodrique's presentation, there was a great presentation given by Tsvi Korren, Director of Technical Services at Aqua. Tsvi spoke on the importance of developing container security, emphasizing the best practices and implications of secure containers in a Kubernetes environment. The presentation went in-depth on the process of securing your containerized applications, including development through build, ship and run, and how this makes the entire Kubernetes deployment more secure.
CENGN was thrilled to attend and learn about how different businesses in the Ottawa area such as the Cloud Native Foundation are using Kubernetes in their work environment. Kubernetes is currently one of the most used container orchestrators in the world of technology.
We are looking forward to seeing the future development of Kubernetes, and the role it will play in next generation networks.
CENGN has our own meetup group called, Ottawa Open Source Networking Group! To become a member, click here!
CENGN updates, in your inbox.