---
The Networks of Centres of Excellence (NCE) is a federal government initiative that funds partnerships between universities, industry, government and not-for-profits to support growing Canadian businesses, strengthen growth in the Canadian economy, and maintain Canada's leadership in R&D innovation. The NCE hosts an umbrella network of various centres dedicated to the different areas of research such as natural sciences, engineering, social sciences, and health sciences. Their mandate is to harness the best talent in these areas and help build a more advanced and prosperous tomorrow for Canada.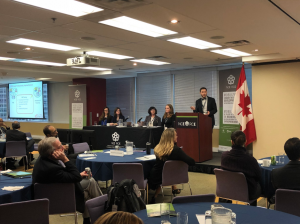 The NCE extended their reach to the ICT sector a number of years ago, funding the creation of CENGN. With their continued support, we have been working to usher in the next generation of networking in Canada. We received the funding we needed to get started through the NCE's Centres of Excellence for Commercialization and Research (CECR) program. From there, we have been working in conjunction with the NCE to deliver a platform where small and medium sized enterprises (SMEs) can leverage cutting edge technology, donated by our members and partners, to validate their innovative solutions in testing projects. Ultimately, NCE's funding of CENGN has contributed to SME R&D efforts, which have both accelerated the commercialization of Canadian products as well but a more prosperous tech economy for our country.
Because of our powerful relationship with NCE, we were thrilled to be part of their annual meeting on March 28th and 29th at the International Development Research Centre. It was a wonderful event packed with valuable discussions and thought-provoking presentations. The NCE hosts these meetings to stir up important conversations and open up a dialogue between new and established networks and centres, aiming to encourage further collaboration across various sectors. It is also a chance to highlight both the successes and challenges the NCE networks and centres faced over the past year as well as look towards some of the opportunities presenting themselves moving forward. This year's theme for the meeting was Delivering Impacts by Leveraging Canada's Strengths Through Powerful Partnerships, and was on prominent display throughout the full-day event.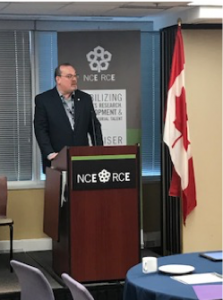 The meeting kicked off discussing bridging gaps in Canada' science and innovation sectors, moving on to addressing the issues and benefits of diversity in R&D organizations. The event also touched upon how to address major social and economic challenges facing Canada, ways to strengthen Canada's innovation capacity, as well as a showcase of the social and economic impact of the NCE's work so far. On the whole, the two-day event was bursting at the seams with informative presentations and necessary discussions. The meeting also offered ample opportunity for networking, giving attendees the extra push to collaborate and form a cooperative effort against the challenges that Canada is currently facing.
For our part, CENGN got to speak on The Power of Collaboration panel, where the importance of industry collaboration with relation to solving complex Canadian challenges was brought up. The session provided supporting data that showed the extent to which collaborations across sectors, government departments, and national and international jurisdictions impacted the industry in a way that exemplifies the Networks of Centres of Excellence and their work. Putting the efforts of the NCE in the spotlight and taking the time to appreciate all the hard work that has been put in over the years was a real treat and a reminder of why we continue to do what we do.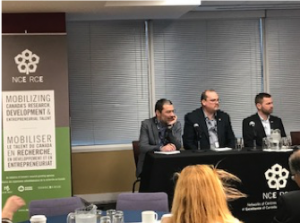 Attending events like the NCE's annual meeting is key to fulfilling CENGN's mission to support Canada's leadership in next generation networking. By joining in on these discussions, we get the chance to meld minds with other passionate tech professionals and get a taste of what the tech ecosystem outside of CENGN holds. After a strong and constant year of working with Canadian SMEs on a variety of project areas that leveraged our CENGN Testbed and infrastructure services, we liked taking a step back to look at the big picture – at CENGN and NCE's joint vision of a bigger, brighter future for the Canadian networking industry.
The NCE meeting came to a close after having delivered two days full of engaging presentations and thoughtful discussions. The event was both informative and meaningful and has given us valuable insight into the issues we have worked to mend, as well as the challenges and opportunities Canada still faces. We will keep these insights in mind as we move forward with our goals to accelerate the Canadian networking industry and usher in the next generation of networking.
We would like to thank the Networks of Centres of Excellence for hosting this meeting and are looking forward to staying in touch with the NCE as we continue with our vision.
Want to know where we will be next? Check out our events calendar to stay in tune with all of our upcoming events and see how you can get in on the action!
[cherry_button text=" Events " url="https://www.cengn.ca/events" style="default" fluid_position="right" icon_position="top" color="#828282″ min_width="80″ target="_self"][/cherry_button]
CENGN updates, in your inbox.