---
Published: October 26th, 2018
Earlier this week, CENGN hosted yet another successful OpenStack Meetup.
The Ottawa OpenStack Meetup is part of a set of travelling meetups providing learning and networking opportunities for anyone interested in OpenStack, its latest advancements and how businesses are using the technology in the real-world. With the open networking landscape continuously changing, paired with the fact that contributors are part of an online community, meetups are important to provide those involved with a place to discuss their technology face-to-face. This statement could not be more true in the case of OpenStack, a foundation that integrates with dozens of open source tools into a modern stack and is relied upon by the world's largest brands. Moreover, the OpenStack meetup is designed to create conversation about the entire technology ecosystem, discussing areas such as cloud infrastructure with a focus on OpenStack, storage, compute, and networking.
The meetup attracts OpenStack enthusiasts across all levels of knowledge. They can learn from not only the presenters but share knowledge amongst each other. For the Ottawa meetup, we had many industry professionals join us from companies such as our fellow sponsors Wind River and CloudOps. It was also great to reconnect with INTERdynamix, one of our CENGN Project companies who continue to leverage our infrastructure services to validate their network function virtualization (NFV) and VNF solutions.
Click here to view the success story for INTERdynamix's CENGN Project.
The meetup kicked off by welcoming our guests with pizza and drinks as they trickled in and mingled amongst one another. Shortly after, our attendees took a seat as the presentations were about to begin. Opening remarks were made by CloudOps director, Stacy Véronneau, reviewing the basics of OpenStack and creating a 'pop quiz' on OpenStack projects. The pop quiz made for a fun, interactive presentation as he handed out vouchers to everyone who answered one of his questions. The vouchers had a value of $750 to Citycloud -a public IaaS platform based on OpenStack and available worldwide!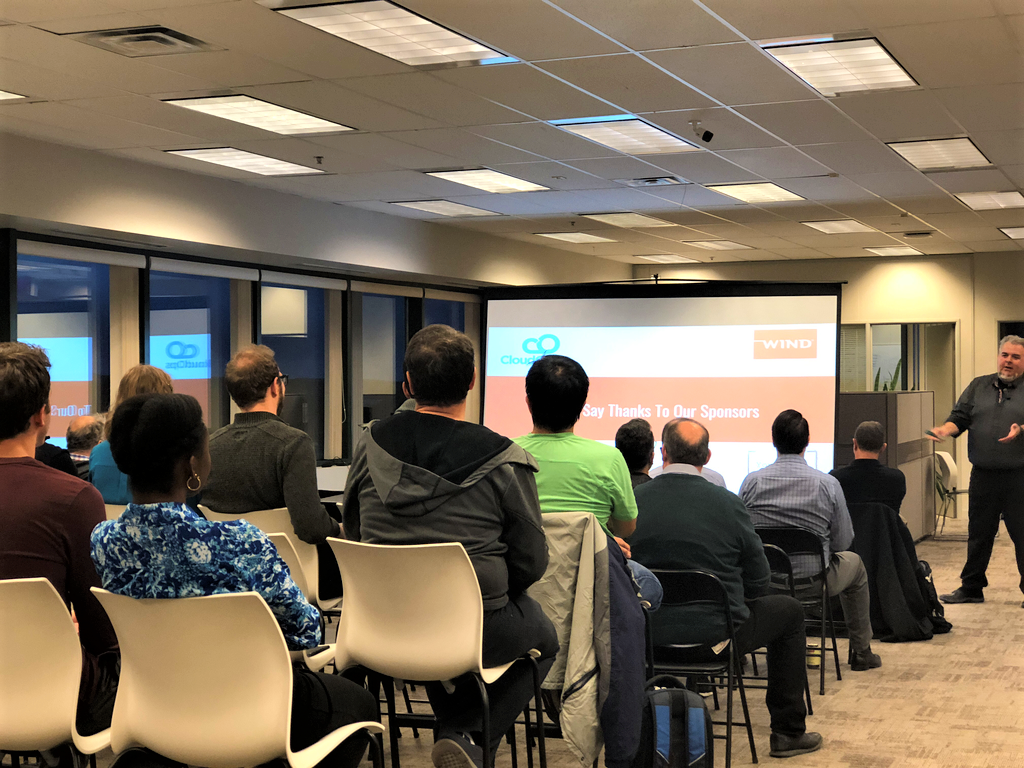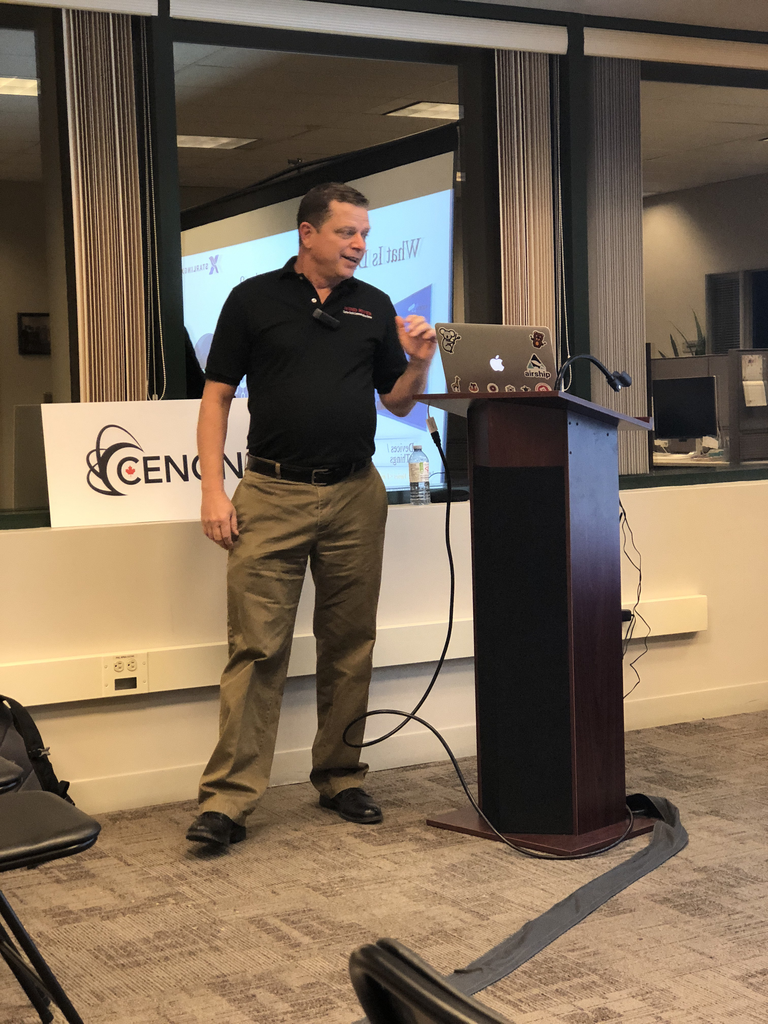 Following Stacy was Greg Waines, Senior Member of Technical Staff at Wind River. Greg discussed StarlingX, a complete cloud infrastructure software stack created for the most demanding applications. As the project was just released, he went into detail on the project's background and purpose. StarlingX is based on Wind River's Titanium service, offering features that focus on cellular infrastructure, enterprise edge, and service chaining enhancements to name a few.
You can learn more about StarlingX here!
This was a talk that was particularly relevant to CENGN. In fact, as a member of CENGN, Wind River provided their Titanium Cloud technology to the CENGN Infrastructure. Ever since, CENGN has been able to offer Titanium Cloud technology to small and medium enterprises (SMEs) validating their solutions and products through a CENGN Project. Titanium Cloud has proven to be a great service offering, being used in multiple projects by Canadian tech companies like CloudOps, Enghouse Networks, and INTERDynamix.
Click here to check out the most recent CENGN Project using Wind River's Titanium Cloud!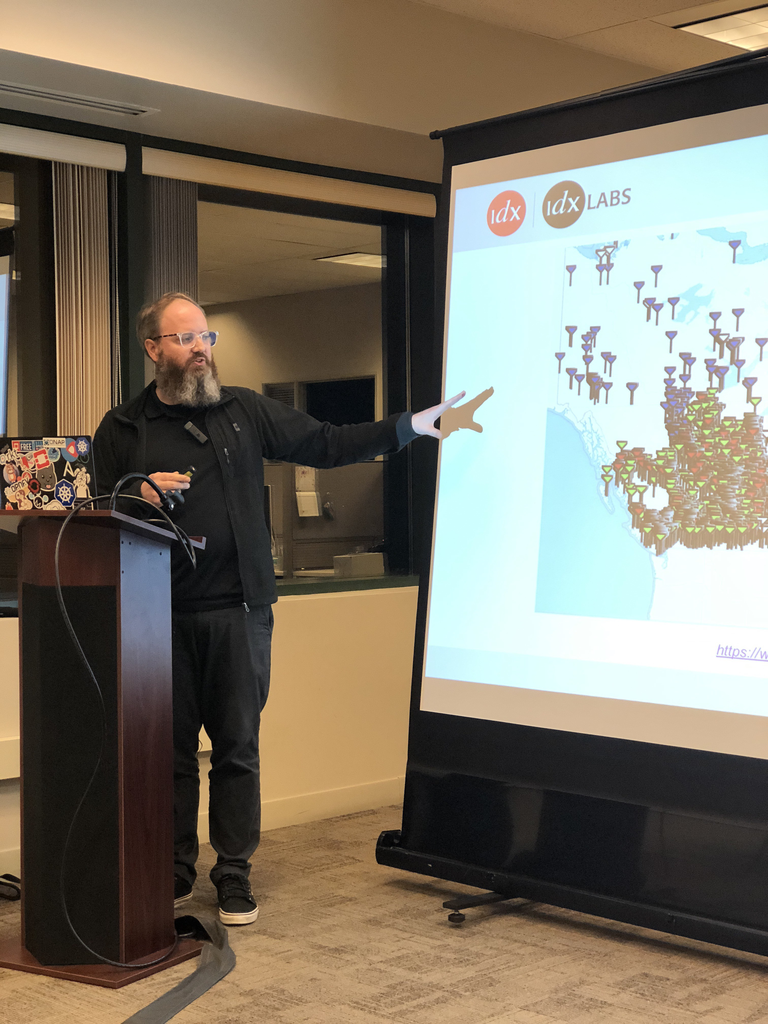 After a short break, our second speaker of the night took the stage. Curtis Collicut, an OpenStack Architect at INTERdynamix, discussed NFV and OpenStack. Curtis provided his take on the evolution cycle of innovation trends, elaborating on both the build-ups and the downfalls within the market that innovative software and networking approaches have experienced. He drew a connection from this phenomenon to the current state of NFV, siting company involvement and global perception of the value of virtualizing networks. Curtis dove further into NFV today, explaining the importance of OpenStack and Kubernetes in driving it to the next level. "We're just getting started" says Curtis. He wanted to show the audience that there is still a lot of potential to come out of this technology, and that open source is key to the future of NFV.
During each presentation, the attendees had the opportunity to ask questions to make more of the interactive meetup. Speakers also stayed after the event for one-on-one discussions about the technology.
CENGN always enjoys hosting events such as these as they promote our mission to accelerate the growth of the Canadian information and communications technology (ICT) sector through the coming together of like-minded professionals, emphasizing the importance of getting involved in the networking community. We know that it is the professionals behind the technology that enable the growth of economic strength and prosperity, as well as innovation and competitiveness in Canada.
CENGN will be pairing up with The Linux Foundation next week to bring those in the ICT community together for Open Source Networking Days (OSN Days) Ottawa. OSN Days are regional events for people who are passionate about network transformation through open source. This is the Ottawa event in the OSN Days North America tour, where presentations will be given on practical applications and the latest innovations in networking.
Join us on October 30th at Bayview Yards from 8am-4pm for this amazing, free, full day event!
To Register for OSN Days Ottawa click the button below
[cherry_button text="Register for OSN Days Ottawa" url="https://www.regonline.com/registration/checkin.aspx?EventId=2528937&MethodId=0&EventSessionId=&startnewreg=1&_ga=2.199426414.1749091817.1540560394-285795689.1537285087&_gac=1.36382612.1537804756.EAIaIQobChMIhdm1joHU3QIVSbnACh3U1w31EAAYASAAEgJfKvD_BwE" style="default" size="large" centered="yes" fluid_position="right" icon_position="top" color="#ec2028″ min_width="80″ target="_self"][cherry_button text="Click Here To Register for CENGN Summit!" url="https://cengnsummit.ca/tickets/" style="default" size="large" centered="yes" fluid_position="right" icon_position="top" color="#ec2028″ min_width="80″ target="_blank"][cherry_button text="Click Here To Register Today!" url="https://cengnsummit.ca/tickets/" style="default" size="large" centered="yes" fluid_position="right" icon_position="top" color="#ec2028″ min_width="80″ target="_blank"]Want to learn more about CENGN's student opportunities? Click here![/cherry_button]
CENGN updates, in your inbox.