---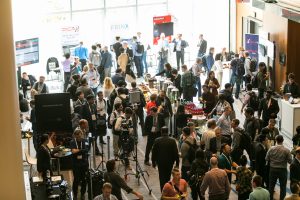 Published: April 5, 2018
All throughout last week, scores of tech enthusiasts and open source devotees journeyed to Los Angeles, California to partake in the 2018 Open Networking Summit (ONS) North America. Hosted by the Linux Foundation, ONS is an annual open networking event unrivalled in its sheer mass and volume of technical tracks and presentations from industry leaders. The 5-day event offered great opportunity to learn about open source networking and discuss the future of the networking industry.
CENGN sent two of our own to LA this time around. They got to listen to various presentations given by representatives from some of the biggest names in networking such as Huawei, Nokia, Google, Uber, and more. Some trending themes at ONS this year included cloud native and 5G edge computing, which were brought up by a number of different presenters.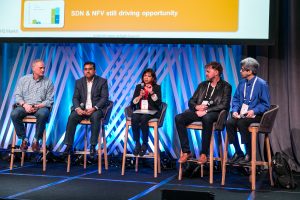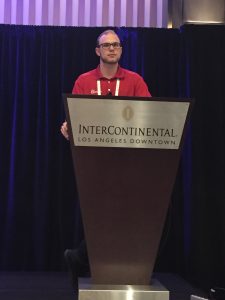 Our two CENGNeers got the chance to not only listen in on fascinating presentations and discussions, but got to take the stage themselves. Our VP of Product and Program Management, Bhavani Krishnan, represented CENGN on the Open Networking Driving Data Centre and Cloud Innovation panel, where she talked alongside CENGN member, TELUS, about open source and its ability to encourage collaboration and speed up Cloud Infrastructure Engineer, William Vail, giving his presentation at ONScommercialization. William Vail, one of our Cloud Infrastructure Engineers, gave a presentation and live demo on Using Route Reflectors to Set-up a K8s Multi-Cluster. His presentation showcased two Kubernetes clusters interconnected by a Cisco router acting as a route reflector and showing vector packet processing (vpp) as the overlay network for each cluster.
Attending ONS 2018 was a great experience for CENGN. We got to discuss and learn more on open source technologies, which is of particular importance to us given our partnerships with and usage of various open source technologies and projects like Kubernetes, OpenStack, FD.io, OpenDaylight, OPNFV, and more. Open source within the networking industry has become paramount to the cohesive environment of cross-collaborative R&D andOpen Networking Driving Data Centre and Cloud Innovation Panelinnovation. Having the opportunity to discuss and develop our knowledge of open source technologies and trends is always welcomed.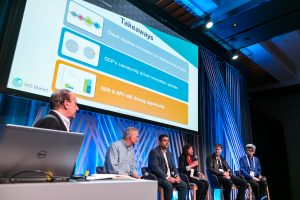 ONS also provided the chance to connect with small and medium sized enterprises (SMEs) that are not currently in the CENGN ecosystem. Connecting with new SMEs is of the utmost importance to CENGN as it gives us the chance to start new projects, where an SME can leverage our CENGN Testbed and infrastructure services to fast-track their commercialization process. In doing so, we hope to help validate the technologies of growing Canadian businesses and generate interest in their solutions, supporting them as they develop and go to market with their technologies.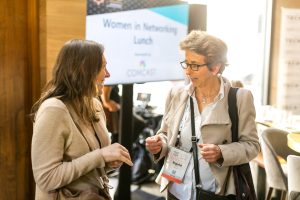 ONS 2018 is not the first Linux Foundation event that we have attended. We attended last year's Open Networking Summit in California and were also back in LA for the Open Source Summit last September. CENGN also manages the Linux Foundation's Open Source Networking Meetups in Ottawa, where speakers from various companies in the Canadian Networking industry can give presentations to fellow ICT professionals, creating an environment for mutual learning and exploration. Apart from events, we recently became an associate member of the Linux Foundation and the Linux Foundation Networking Fund (LFN).
Click here to read how we are moving forward with the new Linux Foundation project umbrella LFN!
Participating in events like ONS and sharing our work in open source makes for great experiences and learning opportunities, contributing as a whole to the CENGN mission: to bring about the next generation of networking in Canada. By attending and learning from more events, we hope to add more value to our platform which will allow us to offer more to growing Canadian businesses, while at the same time showing the world that Canada is a leading country in next generation networking.
Want to learn more about our upcoming events? Check out our events!
CENGN updates, in your inbox.