---
Published: March 9, 2018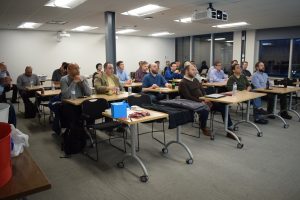 On March 7th, CENGN kicked off our rounds of quarterly meetups with our first annual Open Source Networking Meetup of 2018!
Open source enthusiasts and ICT professionals alike gathered at Invest Ottawa's Bayview Yards Innovation Centre venue to watch unique presentations and participate in stimulating discussions on topics presented by our speakers, Carlos Rivera and William Vail. With the support of sponsors like Invest Ottawa, OpenDaylight, and OPNFV, the event turned out to be a great success and provided ample opportunity for learning, innovation, and networking.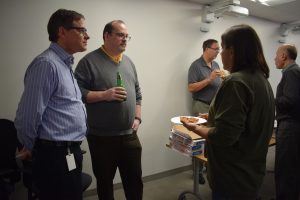 Open source has grown to become one of the leading topics and trends within the ICT industry today. With the implementation of open source technologies, the ability to improve and build upon one another's solutions grows, making for more rapid innovation. This is why our meetups are so important – they allow ICT professionals of varying talents and disciplines to come together and focus on a single topic that they can learn about and expand on, which helps generate new ideas and accelerate growth in the industry. In this meetup, speakers from both CloudOps and CENGN gave presentations featuring open source technologies such as OpenContrail, and Kubernetes.
CloudOps is a growing Canadian business that has undergone multiple projects here at CENGN in partnership with one of our members, Wind River. The first project successfully deployed Wind River's Titanium Edge solution on our CENGN cloud infrastructure while also exploring the possibility of integrating CloudOps' CloudMC into their package. The second project did just that; CloudOps managed to successfully integrate and validate its CloudMC solution with Wind River's Titanium Edge. CloudOps also spoke on a panel to discuss Innovation Across Canada at one of our previous CENGN Summits, and more recently has helped host a training session here at CENGN headquarters. They have shown their support for the CENGN mission, as well as local networking communities, continuously and did so once again at the meetup this week, where Carlos Rivera, an OpenStack Engineer at CloudOps, gave his presentation.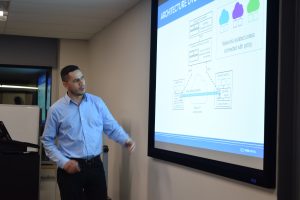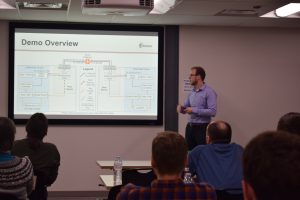 Carlos talked to us about OpenContrail – recently renamed to Tungsten Fabric – and an overview of its network, community, and security features. OpenContrail is an open source network virtualization platform built for scale that was developed by CENGN member, Juniper Networks. But before delving into the topic of OpenContrail/Tungsten Fabric, Carlos gave a brief introduction to SDN and cloud for businesses, where he touched upon topics like multi-cloud, containers, and cloud operation trends and challenges. Going further, Carlos went over the features, values, architecture, security, and community of OpenContrail before performing a live demo on the OpenContrail platform.
Our second presenter of the night was CENGN's own William Vail, who is a Cloud Infrastructure Engineer. Will's presentation was on leveraging route reflectors to setup a Kubernetes multi-cluster environment. Kubernetes is an open source system that automates scalability, deployment, and management of containerized applications. The presentation provided an overview of concepts like border gateway protocol (BGP), route reflectors, Kubernetes, CNI options and Elasticsearch. Following the presentation, Will performed a live demo showing how to setup two segregated Kubernetes clusters that could transfer data using Calico.
Want to learn more about the presentations? View them here!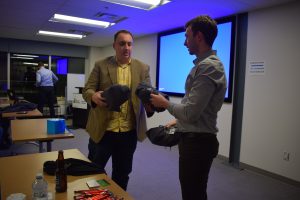 Overall, the presentations proved to be great learning experiences that helped with the formation of new ideas and encouraged much discussion. After the presentations, attendees took the time to ask questions and network while enjoying pizza and drinks before trickling out for the evening, leaving satisfied with their freshly-acquired knowledge. We would like to thank both our presenters for providing their insight on new applications of open source technologies and making the night so valuable and rewarding to all who attended.
Hosting Open Source Networking Meetups is important for us at CENGN. By connecting local industry members, we provide the opportunity for the formation of new ideas, business ventures, and ultimately, new innovations. This helps support growth within the Canadian ICT sector, which is part of our mission to strengthen Canada's leadership in next generation networking. Going forward, we hope to continue hosting events and spring forth innovation within Canada.
Interested in participating in upcoming training sessions? Send us an e-mail at training@cengn.ca
CENGN will be hosting more meetups in the future and attending other interesting events! To keep up-to-date with where we'll be next, check out our events calendar. Our next networking event is the OpenStack Meetup, which we'll be hosting at CENGN HQ. To become a member of our Open Source Networking Meetup or the OpenStack Meetup click the buttons below:
[cherry_button text="Register for our Upcoming OpenStack Meetup" url="https://www.meetup.com/OpenStack-Ottawa/events/248344010/" style="default" icon_position="top" bg_color="#ffffff" color="#000000″ min_width="80″ target="_self"] [/cherry_button]
[cherry_button text="Become a Member of the Ottawa Open Source Meetup Group" url="https://www.meetup.com/Open-Source-Networking-Ottawa-Group/" style="default" icon_position="top" bg_color="#ffffff" color="#000000″ min_width="80″ target="_self"] [/cherry_button]
CENGN updates, in your inbox.