---
This week, CENGN attended the Open Source Summit 2017 which took place at JW Marriott LA Live in Los Angeles, California.
The Open Source Summit is a technical conference where 2,000+ developers, operators and other professionals in the open source community assemble to collaborate, share ideas and learn about the latest in open technologies, including Linux, containers, cloud computing and more. During the 4-day event, attendees had access to a program lineup consisting of presentations by featured speakers, tutorials, panel discussions, and networking opportunities with community leaders. All of these activities centered on the broad theme of collaboration, which forms the bedrock of CENGN's work in the telecommunications industry.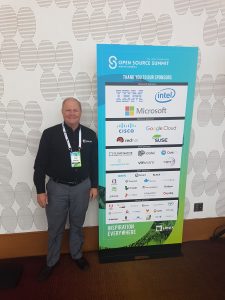 Attending on behalf of CENGN, Ritch Dusome, President and CEO, and Richard Waterhouse, VP Business Development & Marketing, were able to take in all the action. During the event CENGN had its own booth to promote CENGN's services and Infrastructure, as well as showcase Canada's talent in open source technology and next generation networks.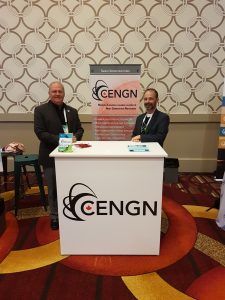 A major component of CENGN's mandate to accelerate the commercialization of ICT in Canada involves providing exposure and community networking opportunities to small and medium enterprises (SMEs). In collaboration with Wavefront, CENGN was able to attend the Open Source Summit with SME, INTERdynamix. Interdynamix Chief Technology Officer, Kevin Smeltz, attended the event to engage with leading experts in the field, learn about the newest open technologies and exhibit his company's innovative solutions on an international platform. INTERdynamix provides businesses with digital solutions in Converged IT, Cloud Computing, Software Defined IT, and Network Functions Virtualization (NFV), with the aim of helping maximize strategic business value. CENGN and INTERdynamix are set to collaborate on an upcoming project which will test the operation of a new VNF product.
To learn more about Interdynamix, visit their website here!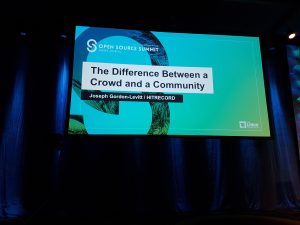 Delivering a keynote at this year's event, Joseph Gordon-Levitt, Actor, Founder and Director of HITRECORD, spoke about the difference between a crowd and a community, highlighting the importance of collaborative efforts among members of a community. He noted that today's internet is built on the pillars of crowd, free culture and socialization, and called on the audience to use the internet to 'create things together' as opposed to sharing things they individually created. Joseph cited open source software as the best example of people working together towards a goal. This sentiment of teamwork between competitors is one CENGN strongly believes in.
As a member of the open source community, CENGN works together with industry associations like OpenStack, FD.io, OpenDaylight, and OPNFV to research and develop open source products and services, and reduce entry barriers for Canadian SMEs. Events like the Open Source Summit promote the atmosphere of co-opetition that CENGN advocates for, and are therefore critical to creating an open technology environment that solidifies Canada's position in the global ICT industry.
In 2 weeks, CENGN will be hosting the Q3 OpenStack Ottawa meetup here at our headquarters. Visit the Meetup page for more information and to RSVP! Also, don't forget to check out our last meetup of the year, the October Ottawa Open Source Networking Meetup, for a chance to interact and build your network with industry professionals.
As for Ritch and Richard, they are off to San Francisco for Mobile World Congress Americas. Be sure to reach out if you are planning to be there!
CENGN updates, in your inbox.