---
On June 6th, new faces and seasoned meetup attendees gathered for the second Open Source Networking Meetup of the year. The variety of industry professionals and networking enthusiasts that came ready to participate and eager to learn, made for an engaging evening of open source collaboration.
The event was hosted at the Innovation Centre at Bayview Yards, and was sponsored by Invest Ottawa, the Linux Foundation Network, and yours truly, CENGN. Like previous meetups, the purpose of the event was to bring together a culture of ICT industry members to openly share and discuss projects they have been working on. These meetups are a great way for contributors to present their ideas, challenges, and solutions to a community of like-minded individuals!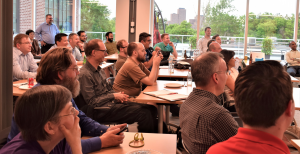 The two presenters of the evening shared their insight on topics that they are both experienced in and passionate about. Dan Cornilescu, Founder and President of ApartSW, and our first presenter of the evening, gave an overview of continuous integration (CI) systems based on pre-commit verifications, and underlined their advantages over traditional CI systems. Dan then dove into the ApartCI architecture and highlighted the positive features of his own cloud-based non-blocking CI system. It was very exciting to hear directly from a member of our Ottawa networking community about his experiences in and solutions to managing large scale software development environments.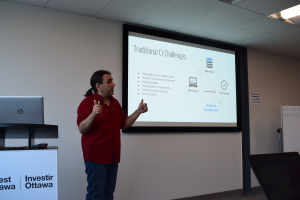 Next up was CENGN's own Boris Mimeur who presented on the entrance and value of the Tungsten Fabric project to the open source networking community. Director of Engineering Operations at CENGN by day, and Tungsten Fabric Ambassador by night, Boris gave a thorough presentation on the project's mission and its place in the Linux Foundation. He also ran successful demonstrations on installation and policy-based security of the multicloud multistack SDN project!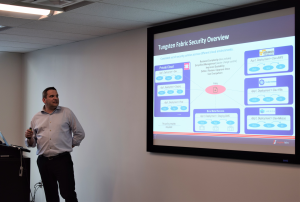 After the presentations, attendees took the opportunity to mingle and continue chatting about open source technologies. Here at CENGN, we love participating in events like these that foster an ecosystem of both individual and industry growth. Part of our mission is to support the continued growth of the Canadian ICT sector by helping professionals build on their expertise and helping students to gain the knowledge and experience necessary for them to become the next generation of networkers. We feel lucky to have a local group where members can share the open source challenges they have faced, and connect with the community to develop solutions that will play a role in advancing the ICT and next-generation networking industries in Canada.
Speaking of meetups, CENGN, in collaboration with CloudOps, will be hosting the next quarterly OpenStack Meetup on Tuesday, June 12th. Come on out to CENGN Headquarters to join us for pizza, beer, networking, and some technical deep dives into OpenStack discoveries. Click here to register now!
The opportunity to connect with other people who are passionate about using open source technologies to transform networks, is one of the many great ways that the industry is advancing the next generation of technology. The Open Source Networking Ottawa Group is a group of people that meet periodically in order to share their solutions to issues they are facing in the networking realm. Meetups like the one this week, allow members to work together to overcome the challenges they face individually and as a community of open source users. If you're interested in finding out more about the group and when we will be meeting next, click the button below!
[cherry_button text="Open Source Networking Ottawa Group" url="https://www.meetup.com/Open-Source-Networking-Ottawa-Group/" style="default" centered="yes" fluid_position="right" icon_position="top" color="#828282″ min_width="80″ target="_self"][/cherry_button]
[cherry_button text="Events Calendar" url="https://www.cengn.ca/events/" style="default" centered="yes" fluid_position="right" icon_position="top" color="#828282″ min_width="80″ target="_self"][/cherry_button]
CENGN updates, in your inbox.