---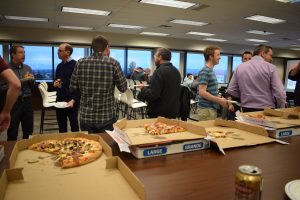 Another successful Ottawa OpenStack Meetup was completed last Tuesday, leaving its attendees intellectually quenched and socially satisfied!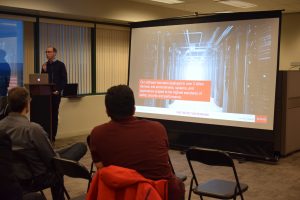 The event was hosted by CENGN project alumni, CloudOps, and took place right here at CENGN headquarters. The meetup provided great opportunities for learning from knowledgeable presenters, as well as the opportunity to network with fellow industry professionals. Speakers from CENGN as well as our member, Wind River, talked about various technical topics and performed live demos for the audience.
The first topic covered at the meetup was presented by Wind River's Ian Jolliffe and Yaniv Zadka, who spoke about Wind River's upstream focus areas, along with a demo of their platform, and an update on Dublin PTG. CENGN's own Raymond Maika followed up with a presentation and demonstration on deploying OpenStack Helm on Kubernetes. The speakers offered plenty of valuable and instructive information before they opened up to question periods, giving listeners the chance to engage with the speakers and exercise their curiosity. After the presentations, attendees had the chance to connect with one another during our networking period while they enjoyed drinks and pizza.
Our relationship with CloudOps stems all the way back to CENGN Summit 2016, where CloudOps spoke on our "Innovation Across Canada" panel, and has since continued through various projects and event sponsorships. As one of our project alumni, CloudOps got to leverage the CENGN testbed and infrastructure services and collaborate with Wind River in two separate projects: In their first project, CloudOps explored the possibility of combining their CloudMC solution with Wind River's Titanium Edge. Following the successful undertaking of this project, CloudOps came back for a second round to fully integrate CloudMC with Titanium Edge.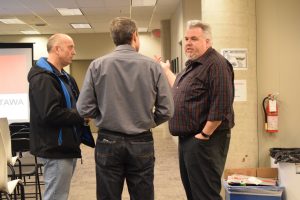 Since performing projects with us, CloudOps has contributed to our quarterly Open Source Networking Meetups, having presented at the last meetup on Tungsten Fabric. We also recently got the chance to work with them to deliver the Docker and Kubernetes workshop back in January. Both the meetups and workshops had great turn-outs and have provided ample opportunity for professional and intellectual growth for all participants. We are consistently thrilled to work with CloudOps and are looking forward to carrying out future meetups with them!
Our member, Wind River, has also contributed greatly to the CENGN ecosystem. Not only did they collaborate on our CloudOps project, but they have given us their Titanium Edge solution to use in our lab, spoke at our last CENGN Summit, and have had a hand in delivering previous meetups as well. As a member, Wind River is dedicated to giving back to Canada by supporting the development of Canadian-grown small and medium sized enterprises (SMEs). We are glad to have them as part of our consortium of members and partners and are thrilled with their continuous support.
Helping to provide important and constructive training opportunities like these meetups is an ambition we hold close to our heart here at CENGN. By providing new and inventive training sessions and learning opportunities, we can supply both the current and future workforce of the Canadian networking industry with a means to build upon their skills, creating a large pool of Canadian-grown talent. This all contributes to our mission to support Canada and its pursuit to be at the pinnacle of next generation networking, promising a prosperous and connected future for our country.
Are you interested in participating in our next meetup, either as a speaker or attendee? Sign up now for our upcoming June Meetup!
Want to see more events that CENGN will be going to? Check out our Events page for all the latest and greatest:
[cherry_button text="Events" url="https://www.cengn.ca/events/" style="default" centered="yes" fluid_position="right" icon_position="top" color="#828282″ min_width="80″ target="_blank"][/cherry_button]
CENGN updates, in your inbox.