---
On June 12th, CENGN, CloudOps, and Wind River hosted the second OpenStack meetup of the year. Featuring two technical presentations and plenty of time to mingle, yesterday's event continued the meetup's reputation for being both interactive and informative on the latest news in the OpenStack community.
Carlos Rivera started the evening off with an introduction and recap of the recent OpenStack Summit in Vancouver, including a note on Canadian presence at the Summit and OpenStack Community Awards. Carlos is a Cloud Solutions Engineer at CloudOps that is actively involved in the OpenStack community. As the emcee over the course of the evening, Carlos brought home the importance of the meetup and the key points being discussed in each presentation.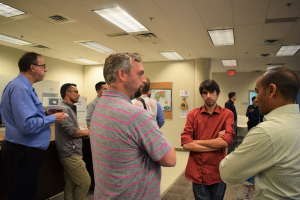 Our first presenter was Steven Woodward, CEO at Cloud Perspectives. Steven tapped into the differences between next generation clouds – Edge, Fog, and Mist. He gave an overview of each and lead some great discussion on the instances where each may be deployed. As founder of Cloud Perspectives, Steven and his company are devoted to improving visibility in the cloud through effective cloud governance. His services and work help many organizations, including the Canadian Federal government, form strategies that leverage the opportunities of cloud computing. Steven is heavily involved in the open source community and always has lots of great ideas to share at meetups and events.
Just a couple of weeks prior to the meetup, Steven spoke at OpenStack Summit where he provided insights on OpenStack Data Jurisdiction Compliance in Hybrid-Clouds. He discussed conceptual models of ISO/IEC together with IntOS, an OpenStack distribution that is developed and supported by cloud solution provider company, ComputingStack. Steven wrapped up his session by tying these insights into new cloud perspectives and proposed OpenStack frameworks.
After a networking break and a chance to re-fill our drinks, Mingjun Shan from ComputingStack jumped into a conversation about Queens version changes and associated effects on compatibility. Mingjun discussed load balancers through past OpenStack releases and chatted about migration to Octavia and integration with Magnum. Mingjun finished off his presentation with a demonstration of ComputingStack's OpenStack load balancing as a service (LBaaS). It was also great to hear Mingjun's professional journey working with open source in both small enterprises and large multinationals, like Huawei.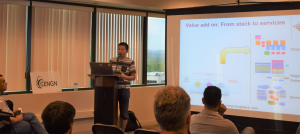 CENGN is both a user and advocate of open source infrastructure, and we make it part of our mission to help organize learning and networking sessions that bring together community members and students to collaborate on current transformative technologies. Tailored to both students and industry members, the goal of this particular series of meetups is to help bring networkers together to share their ideas and experiences using OpenStack. In addition to strengthening the knowledge base and skillset of experienced attendees, these meetups are designed to connect and inspire students and young professionals to get involved.
Here at CENGN we believe that the powerfully expanding networking industry in Canada lies partly in the hands of today's students. We work to create learning and community building opportunities so that we can help build a talent pool of professionals that is second to none. Without a strong talent pool of qualified individuals, Canadian businesses that are growing exponentially and require new positions to be filled, will likely have to move elsewhere. Instead, with CENGN and the help of our tech community, organizations can find highly trained, home-grown talent to contribute to their expanding workforce.
Are you looking to hire a former CENGN student? Click here to see what these highly trained workers have to offer your company.
CENGN actively partners with academic institutions to offer internship opportunities to students from across the country. Our internship program allows students to gain real-world experience as we equip them with the technical skills required to make great contributions to the information and communication technology sector.
Click here to learn more about our student opportunities!
We would like to give one last thank you to CloudOps and WindRiver for sponsoring the event last night! To stay connected with our local community of OpenStack users, join the OpenStack Ottawa group here! You can also stay up-to-date on CENGN's upcoming events by visiting our event page with the button below:
[cherry_button text="Events Calendar" url="https://www.cengn.ca/events/" style="default" centered="yes" fluid_position="right" icon_position="top" color="#000000″ min_width="80″ target="_self"][/cherry_button]
CENGN updates, in your inbox.