---
Last week Inocybe Technologies and Microsoft teamed up to organize a meetup event in Montreal last week!
CENGN sent two representatives, Rick Penwarden – Marketing Manager, and Eric Dupuis – Software Engineer, to attend the SDN Meetup, where they had the chance to further their knowledge about Microsoft's approach to Software Defined Networking and the OpenContrail platform.
The evening agenda included a presentation from Pierre Roman – Technical Evangelist for Microsoft Canada, on Microsoft's Azure Networking and SDN. The presentation involved an explanation and in-depth demonstration of the Azure Network, where Pierre explained how to route data centers to Azure. Included in his presentation was a live demonstration, where he explained that none of the information Azure transfers across data centers is revealed to the internet.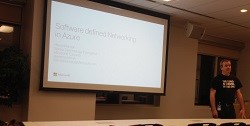 Following Pierre's presentation was an introduction to OpenContrail by Carlos Rivera who is the OpenStack Engineer for CloudOps. Carlos walked the crowd through a collection of the key OpenContrail use-cases.
During the meetup, presenters and attendees were free to mingle and discuss presenters and event attendees mingled and discussed the current and upcoming trends within SDN.
The event was a great opportunity for SDN professionals and those interested in a career in network engineering to learn about some major projects in the sector and have face-to-face discussions with leaders in the industry. The Meetup made it easy to connect with other companies and professionals on a more personal level, and was able to pinpoint important, top of mind challenges and opportunities both large and small businesses are addressing today!
CENGN is always enthusiastic about attending Meetups, as they are a great way to gain insight into what other companies in the ICT sector are doing and to learn about the latest innovations in SDN, NFV and networking. A large portion of CENGN's success comes from its track record of collaborating with its members to help small and medium enterprises accelerate the commercialization of their innovations. With Meetups like this, we get to take advantage of a fantastic opportunity to meet with potential partners and members as well as get a glimpse of the innovations taking place outside of CENGN headquarters.
With a turnout that filled the room, the Meetup ran very smoothly with active participation from a wide array of individuals from both the private and public sectors. A big thanks to Inocybe Technologies and Microsoft for hosting a great event! CENGN is looking forward to more in the future!
---
To RSVP to CENGN upcoming Open Source Networking Meetup, click here!
To see how CENGN's 2016 Open Source Networking Meetup went, click here!
---
CENGN updates, in your inbox.