---
Published: June 1st, 2018
Last week, we travelled to the West Coast to take part in the always amazing OpenStack Summit. This year's theme, Home of Open Infrastructure, flourished with buzzing attendees and discussion topics. Our four days at the Vancouver Convention Centre were jam-packed with inspiring speakers and a variety of breakout sessions and workshops that left us feeling invigorated and proud to be a part of the evolution of open technology. We also got the chance to hang-out with some of our members and project alumni companies as well as network with many other champions of open infrastructure!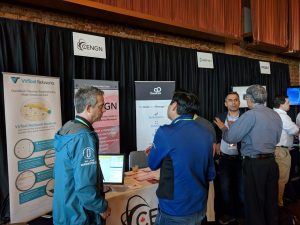 As sponsors at OpenStack our booth showcased the great work being done at CENGN, as well as two Canadian Cloud innovator companies that have used CENGN's testbed and next-generation commercial grade infrastructure services to test their creative solutions. Both CloudOps and VirTool had an opportunity to share their success in providing innovative network solutions for open source and OpenStack environments.
CloudOps is a cloud consulting and services company that enables hundreds of businesses to adopt and operate cloud platforms so that they can thrive in the data driven software economy. In one of their projects with CENGN, they successfully provided key functionality for OpenStack by integrating CloudMC with WindRiver's Titanium Edge. As active contributors to the OpenStack community, CloudOps felt right at home showcasing their solutions at the Summit!
Click here to view CloudOps' project using CloudMC!
Headquartered in British Columbia, VirTool Networks were a very popular visit on the booth crawl, where they presented the powerful graphical tools that they have created for OpenStack network troubleshooting for Neutron. Named VirTool Network Analyzer (VNA), the solution is specifically designed to provide real-time network visualization, packet flow analysis, and a network dashboard in order to reduce the time users spend manually troubleshooting OpenStack. In fact, VirTool has just closed their first project with CENGN.
To learn more about VirTool Networks' validation and scaling of VNA, check out our feature article on their project here!
We had an excellent time mingling with both of these growing businesses and learning more about their unparalleled solutions for
OpenStack environments. It was fantastic to leverage the OpenStack Summit to provide more exposure for thriving Canadian tech businesses. From what we saw, neither company had any shortage of leads and potential partnerships from the other companies after leaving the Summit.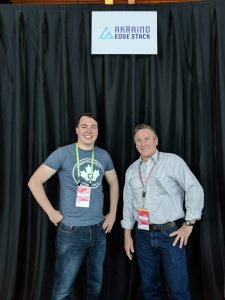 CENGN's direct and powerful link to the OpenStack community stems from the OpenStack-based cloud environment on our digital infrastructure that is used to validate projects and solutions for Canadian small to medium enterprises. Many companies, like NOCLand and BreqWatr, have made use of our open source technology in order to directly validate their OpenStack solutions in project areas like network applications and data centre and cloud networks.
In the OpenStack Summit Marketplace, we were able to meet up with several of our member companies to talk about the cool things that they are up to. WindRiver shared their progress on a couple of their cloud infrastructure projects in the works, including their newly created Linux Foundation project, Akraino Edge Stack, and the integration of Titanium on OpenStack through StarlingX. We connected with Juniper Networks to learn more about their newly open sourced project, Tungsten Fabric, and with Nokia to hear about the progression of Nuage Networks – their incredibly scalable solution to help manage multi-tenant clouds. We also had some fun with members Bell, Cisco, and Huawei, chatting with them about all things open source!
Our members enable us to complete our mission of providing support to small and medium Canadian enterprises, and strengthen our innovation community's capacity in Next Generation Networks. Their commitments and contributions foster an ecosystem of collaboration and growth from which CENGN hopes to solidify Canada's leadership in information and communication technology. The inventive ideas and admirable success stories that were shared at the event by hundreds of businesses like our members, reminded us of how extraordinary the open source community truly is and reinforced CENGN's objective to ensure the development and sustainability of the Canadian innovation economy.
Thanks to all those who organized, participated and attended the event last week for meeting with us, sharing your stories, and learning about our services. We love connecting with like-minded individuals and professionals at events all over the map. The next event you can find us at is the Open Source Networking Meetup we are hosting on June 6th in Ottawa! Don't miss out on the opportunity to prime your networking skills and score some of the Tungsten Fabric swag that we brought home from last week's Summit!
Register for the Open Source Networking Meetup by clicking here! Also, you can keep up-to-date on the events on CENGN's horizon by visiting our calendar through the button below!
[cherry_button text="Events Calendar" url="https://www.cengn.ca/events/" style="default" centered="yes" fluid_position="right" icon_position="top" color="#000000″ min_width="80″ target="_self"][/cherry_button]
CENGN updates, in your inbox.