---
The semester is coming to a close for CENGN's Winter Term co-op and intern students, as they begin to wrap up on their final projects!
CENGN took in another collection of students this semester in four different fields which included, Finance, Project Management, Marketing, and Engineering. Each team worked on a variety of projects, and were exposed to what goes on behind the scenes of the technology centered company, adding a true impact to CENGN and its success!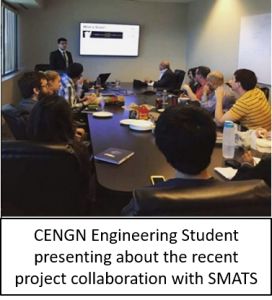 CENGN takes satisfaction in the success of its students as we aim to prioritize skill building and professional growth as a way of ensuring Canada maintains its leadership role in the Next Generation of Networks. Through building up a new generation of professionals, CENGN aims to ensure that the ICT sector has the talent it needs to continue to develop in Canada, and that our country's job pool continues to provide opportunities for generations to come.
Our Winter Term students ranged in experience, from those completing their first ever co-ops, while others carrying out their graduate studies for a Masters in Engineering. There was also a great variety to the number of schools the students came from, which showcased the great young talent being developed across the country. A big shout out goes to Carleton University, University of Ottawa, Algonquin College, University of Waterloo, Dalhousie University, and Willis College for having such talent within their student body!
Throughout the semester, the CENGN students were given challenging and impactful work! This week, as things wind down, each team has
begun to finish the last of their tasks and projects, looking to end on a high note.
The Engineering students worked as a team to develop many different monitoring tools, which allowed them to see the big picture around many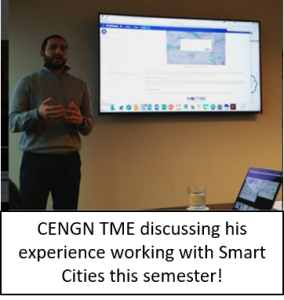 fields of IT. They also learnt to join open source online groups to exchange information about solutions and reveal answers to bugs and obstacles.
The Product & Program Management students explored many of the tools, and services used and supplied at CENGN. One major project was creating the technical overview of the Smart City and Fujitsu Virtuora Controller proof-of-concepts. These overviews will be the basis for any future work on CENGN's Smart City and Fujitsu initiatives. The students also documented end-to-end solutions where multiple service providers can share network infrastructure. Some students were also given the opportunity to work alongside our members, like Nokia, on various projects.
The Marketing students worked on several projects to help promote CENGN through videos, success stories, social media, newsletters, and blogs, as well as creating a brand-new company website! The students also helped to put together events like the second Ottawa Open Source Meetup, the first OpenStack Meetup, and the Juniper Academic Bootcamp, which were all a great success!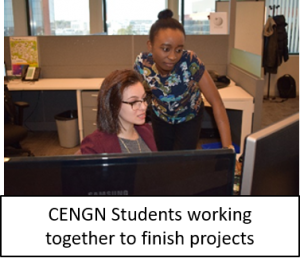 On the Finance side of things, the team also worked on a variety of tasks. The main task involved entering bills and managing all CENGN accounts in QuickBooks. Another main task was helping prepare for the annual financial audit, which required lots of time and commitment. On top of that, the students prepared and processed purchase orders and expense forms, and worked on various account reconciliations, corporate policies, and potential purchases.
Overall, CENGN is extremely proud of all the student, as they each produced high quality work and gained a tremendous amount of experience within the last four months!
CENGN would like to wish all the students good luck with their education and future careers. As we say goodbye to the Winter Term students, we look forward to welcoming the new group coming in May, and are excited to see what is to come!
---
For information on CENGN student opportunities, click here!
---
CENGN updates, in your inbox.