---
"Alright parents I'm off to work!" is the last thing I said to my family before beginning my time at CENGN. During the drive in I thought about this sentiment again and found it ironic, how many times had my parents said the same thing to me as they left for work in the morning?
This summer I decided to commit to learning about the IT sector, the industry I want to pursue as my career. After being here for two weeks, I don't regret the commitment I made at the beginning of the summer. Part of the reason why I don't regret this decision is because of the people I get to work with, or "My colleagues" as I now get to say. After my first time using that term I thought to myself "that felt weird." From the moment I walked through the door and into the office I was greeted by the very friendly people who get to work here everyday. Within the hour of my arrival I was at my desk googling terms I overheard in earlier conversations so I could understand at least a few words in my first meeting. It's said that it's the people that make a home great, and I can say that without a doubt about my colleagues. The people that I get to work with have made me feel as comfortable as being at home, with a few key differences of course.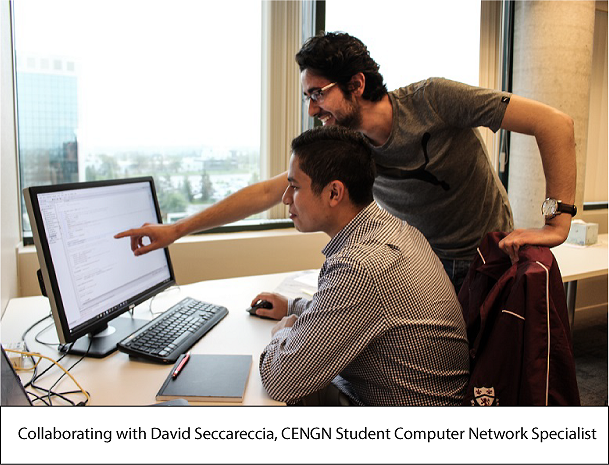 The time that I get to work here is time for me to learn and absorb about what it's like to develop technology that CENGN works with everyday. I joked with Will and David, two of my colleagues, about how working here is so much better than being in high school, to which they agreed.
When I did Civics and Careers at Ashbury College two summers ago, I learned that the most important thing when choosing a place of work is what you'll be doing. Before arriving at CENGN or even applying to be a student intern I knew that I wanted to enter the technology sector. Consequentially, this time at CENGN has fostered my passion for technology to a greater level. While working here I got to explore new technologies that I had never heard of before. For the first week, I was working with a—actually, I better not say, just to be sure I'm not in breach of the non-disclosure agreement. Anyway, through this project, I got to revisit python coding, learn about MQTT, and networking to name a couple of the few hundred things I've googled. However, beyond the googling, I really enjoyed learning about networking and just being in the high-tech sector.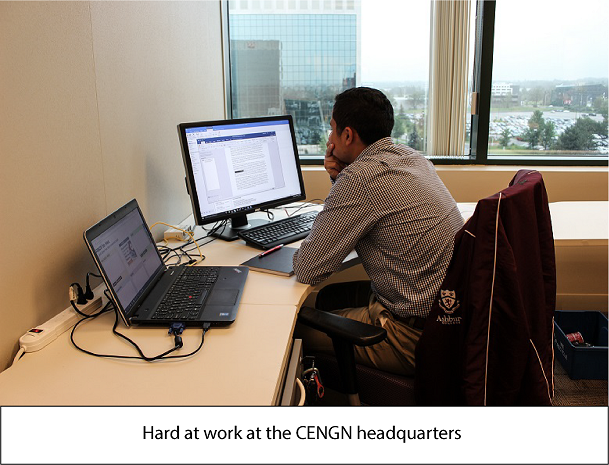 When the task of writing this blog was assigned to me, I was told to write about what I think CENGN is. Well, here it goes. Through my young and inexperienced eyes, CENGN is a consortium of companies both big, small and in-between whose goal is to bring Canada back on top of the international high-tech stage. As Ritch Dusome, President and CEO of CENGN, described it "[CENGN is an] odd dynamic where competitors come together to further the progression of Canadian innovation, but as soon as they leave the board room they are back to competing against one another." My high school version of that description is a space where competitors come together to team up and achieve more for the Canadian high-tech market, but when these companies are not in meetings together it's business as usual. It truly is an interesting dynamic and place to work.
For any other high school student out there reading this and hoping to work here, I would strongly encourage you to do so. Working at CENGN will give you the chance to connect with some of the best people that you will work with in your life. It is also an opportunity to contribute meaningfully in what may be your first work position that involves more than just getting coffee, but being part of a real team. After these great two weeks of learning, I cannot think of a better place to intern.
CENGN updates, in your inbox.