---
Last week we welcomed our largest pool of students to join our internship program yet, coming from universities from all across Canada including Carleton University, Concordia University, Dalhousie University, University of Ottawa, University of Victoria, and Willis College! Fourteen of Canada's best scholars joined the CENGN team, settling into the office to meet their peers and learn the ins and outs of the company they will be working in over the summer.
The first day began with an introduction to CENGN lead by Peter Heath, Senior Manager of Training Programs, and Nathalie Guthrie, Director of Human Resources. Here, new students participated in a team building exercise to learn a little more about their future co-workers. We also welcomed back five students who have previously worked at CENGN and chose to come back to further their professional growth and learning.
The interns were launched into orientation, packed with exciting and informative presentations given by CENGN executives and leaders. Topics ranged from department overviews, CENGN's mission and ecosystem of members and partners, an office tour, and an introduction to the company's key infrastructure and software. Through this, staff had an opportunity to explain the various facets of the company to new employees that are critical to CENGN's overall success.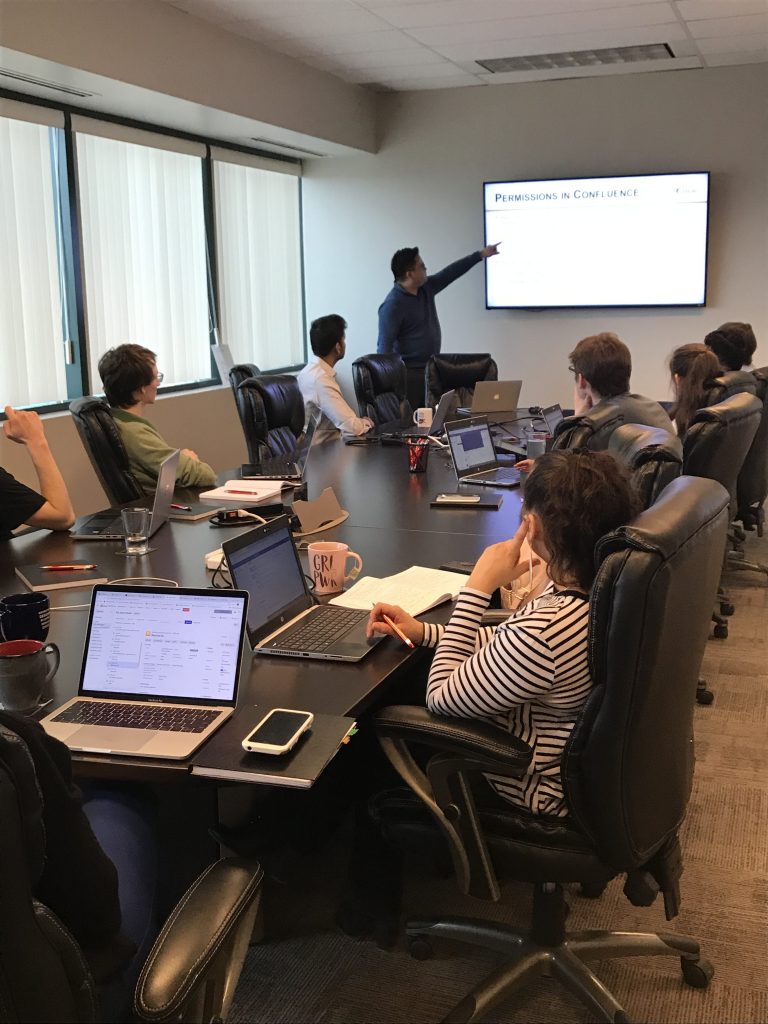 After the two-day orientation period was complete, our Marketing, Finance and Human Resource students parted ways with the group and began their full-time work in their individual departments. The other portion of the group including the Engineering, Project Management, and Training students, are now starting the CENGN Cloud Networking Bootcamp offered by CENGN's training school, CENGN Academy.
The bootcamp leads to the CENGN Cloud System Specialist (CCSS) certification. An entry-level certification with emphasis on the key theoretical concepts and hands-on skills needed to work on cloud-based infrastructure. Attendees validate knowledge and practical abilities in Linux Fundamentals, Container Orchestration with Docker and Kubernetes, Networking Fundamentals, Cloud Computing using OpenStack, and Network Functions Virtualization. Students must pass the CCSS exam to begin their work at CENGN.
For the first time ever, CENGN is not only offering this course to CENGN students and staff! Techies from across Canada are encouraged to reach out to us for the certification to receive powerful knowledge and hands on experience. Having this certification gives graduates an edge in today's rapidly evolving ICT community and gives them a competitive advantage when applying for future jobs.
We hope that by offering this bootcamp to non-CENGN employees, we can help cut costs for tech companies during their onboarding process. Simply put, CENGN believes that providing entry level professionals and recent grades cutting-edge knowledge on the technology and tools being used in today's ICT industry will limit the amount of onboarding time required by companies to train new employees from straight out of school.
Ready to enroll? Contact academy@cengn.ca!
By offering state-of-the-art training to students and industry workers through our bootcamps and mentorships, we work towards strengthening the Canadian networking talent pool. With the fast pace and rapid development of the ICT sector, there is a high demand for a relevant and skilled workforce. CENGN's training and student programs work to provide the Canadian tech ecosystem the professionals they need to scale up their employee count within the country. We believe that growing Canada's talent is an integral part of solidifying our country's ICT global competitiveness and building economic strength and prosperity for all.
We can't wait to see what our new interns will accomplish, we know they'll rock this semester!
Interested in becoming a CENGN intern? Click the button below to see if there's a student job opportunity suitable for you!
CENGN updates, in your inbox.