---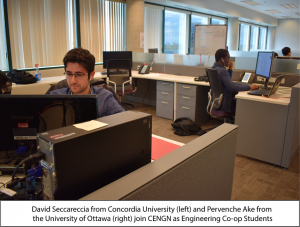 We would like to extend a big welcome to our new student interns who started in our Summer Co-op program last week!
CENGN is always working with its academic partners to find Canada's most innovative students. Every year, we bring in about 40 students to work in the fields of project management, marketing, and engineering. In our co-op program, students get the opportunity to work on leading technologies by way of our unique multi-vendor platform, learn new skills, gain office experience, and network with other enterprises to help kickstart their careers. This term, students have joined us from universities across Ontario and Quebec, including Carleton University, University of Ottawa, Concordia University, McGill University, University of Toronto, and Brock University.
It looks like we'll have a great group of students this summer. On the engineering side, we have Pervenche Ake and David Seccareccia joining as Student Cloud Network Engineers, Andrea Cabral as our Student Solutions Engineer, Caroline Wood as part of both our engineering and administration teams, and Andrew Lonardelli as our Student Product Manager. The students in engineering and project management will be working with CENGN's cloud infrastructure, and collaborating with SMEs to establish potential projects.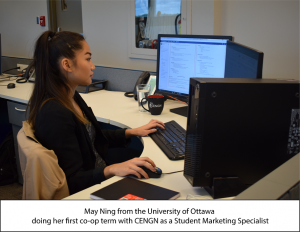 In finance, Brett Miller joined us as our Student Finance Specialist, and will be gaining hands on experience running the procurement, contract, and fiscal end of CENGN over the summer. Joining as Student Marketing Specialists, May Ning and Olivia Joerges will be taking part in CENGN's outreach by running events, working on SME success stories, and contributing to the organizations online presence. Last but certainly not least, Alfredo Herrera has joined us as a PhD, Technical Marketing Engineer!
So far, our students have been busy working on individual projects, and participating in a two-week boot camp organized by CENGN's Intern Manager Randy Elias. The boot camp included technical SDN and Network module training, and an introduction to Atlassian's JIRA and Confluence. Students were also given an overview of CENGN's partners, projects, goals, and a glimpse of what they will be working on this semester. The boot camp functioned as a great introduction for the students, ensuring a smooth transition into their new placements at CENGN. A big thanks goes out to Randy for organizing such an awesome boot camp! It was a great opportunity for the students to familiarize themselves with each other and the staff who facilitated the training!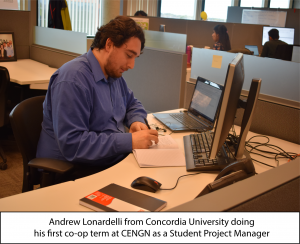 Why so many Students?
We love being able to give students real-world experience to help build their resumes, and their confidence in the work force. It is CENGN's belief that next generation networking (NGN) lies in the hands of the next generation itself! Students and millennials play a crucial role in the development of new technology in the information and communications sector. By giving students the opportunity to enhance their skills and take the first steps toward a successful career CENGN is building up Canada's strong talent pool in ICT. We hope that the students are able to strengthen their skills, practice meaningful career networking, and most of all, have fun this semester!
What are our new students most excited for this semester?
Andrea Cabral, Student Solutions Engineer, shared with CENGN that she's most excited to be an information sponge this semester, "CENGN is also a great community to work in everyday, and I am looking forward to getting to know the other interns and full-time staff!"

May Ning, Student Marketing Specialist, said she is excited to learn hands-on skills this term at CENGN, "I'm really excited to gain more experience in using marketing tools like WordPress and Adobe Suite, and build a strong foundation of technical skills."

Andrew Lonardelli, Student Product Manager, is excited to be working with CENGN as well, "Working at CENGN is a great opportunity to enhance our technical knowledge towards the telecom industry. I am also excited to learn more about the product management tools and methods to organize the flow of projects."

For more information about student opportunities, or how to apply for our Fall 2017 co-op term, check out our Academia & Students page!
CENGN updates, in your inbox.