---
Back in January, CENGN welcomed a batch of eager and talented students into our mix. Now, after four months of hard work and growth, we are ready to see them move forward in their academic and professional careers.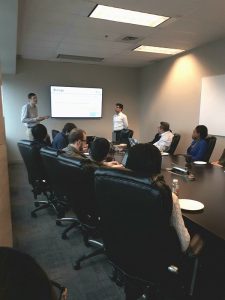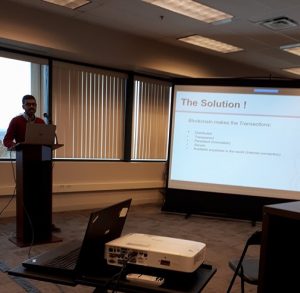 Studying out of Algonquin College, McMaster University, University of Guelph, University of Victoria, University of Waterloo, and Willis College, our Winter 2018 students were selected from the top academic institutions across the country and are leaving CENGN with more skills and a stronger professional toolbox. After undergoing an intense bootcamp at the beginning of the term, the students were continuously tutored by their respective superiors in the areas of Engineering, Customer Solutions Engineering, Project Management, Marketing, HR and Admin, and Finance. Going strong for four months, we are stunned by the sheer growth of our students.
Our Engineering students have been plugging away and developing their networking knowledge, leveraging various open source technologies such as OpenStack, Docker, and Kubernetes. Our engineering students' performance throughout the term was great; so much so, that they got to turn the tables and teach us a thing or two during our last breakfast & learn, where two of our students demonstrated how to reproduce the CENGN architecture on a small scale and showcased their involvement in our central authentication proof-of-concept initiative.
In Project Management and Customer Solutions Engineering, our students gained experience in OpenStack administration and Heat Template orchestration to create VMs, networks, and cloud platforms. One of our Cloud Services Engineering Students even researched and presented on BlockChain at one of our lunch & learns after working with growing Canadian business, Leonovus, during a CENGN project!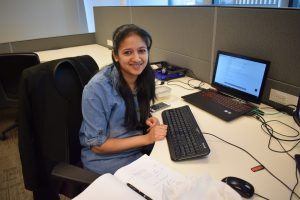 From collateral and content creation, to event planning, our marketing students kept us in the loop by pushing CENGN's presence on social media and at events both local and international. They also got to work with a handful of our small and medium sized enterprises (SMEs) to finalize projects and promote their successes through our channels, bringing to light the hard work and innovation of our project alumni.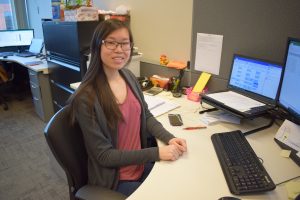 On the HR, Admin, and Finance side, our students worked to maintain our day-to-day operations and organize procurement for future events and programs. In her student spotlight video, our Student Finance Specialist, Kathleen Kan, recounts her experience working in finance at CENGN this term. You can check out her story here!
Interested in hearing more from our students? Check out our student spotlight videos here!
At CENGN, a large part of our mission is to advance the Canadian networking industry by working with our members and partners to accelerate the commercialization process for our SMEs. However, beyond working with SMEs to validate their solutions, we understand that the sustainability of the next generation of networking relies on the next generation of talent – Canada's students. By taking in student interns each semester, we look to prepare and groom them to reach their absolute highest potential, giving them both the hard and soft skills needed to excel in the networking industry. By learning hands-on lab training, programming, content-building, and beyond, our student program delivers on our mission to raise the next generation of networkers, today.
Learn more about our internship program by checking out our Internship Information sheet here!
After all is said and done, we are sorry to have to let go of these young talents so soon, but are also exceedingly excited to see them branch out and go forward with their professional careers as CENGN alumni! Good luck, students!
We boast about our talented young students and our internship program, but don't just take it from us: check out our latest student video featuring interns recent and old giving their input on the CENGN student program!
Click here to visit our student webpage
CENGN updates, in your inbox.