---
If you're familiar with CENGN (Centre of Excellence in Next Generation Networks), you probably know that we host commercialization projects with growing Canadian businesses to validate their technologies in seven major networking areas. Today, we take a look at a cloud project we completed with Toronto headquartered Breqwatr and their private cloud solution.
Introduction to the Breqwatr Cloud Appliance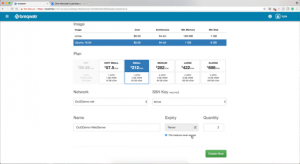 A month ago, we unveiled Breqwatr's private cloud solution Proof-of-Concept (POC) project with CENGN. Breqwatr provides clients with an OpenStack-powered highly scalable turnkey private cloud appliance called the Breqwatr Cloud Appliance (BCA). The company originally entered the private cloud industry because they noticed how complex and frustrating it can be for non-technical organizations to deploy a private cloud. In addition to the complexity, companies must pay exorbitant amounts of money for large volumes of unneeded storage. The BCA addresses these issues by enabling consumption based billing allowing the client to pay based on their actual usage and deploying a simple to manage private cloud on behalf of the client. Breqwatr's client-focused approach has been a key contributing factor for their success in the cloud market.
The Cloud Appliance vCPE Project Value

The BCA is already a proven solution for enterprises looking for the promise and capability of a public cloud bundled into a simple to use on-site appliance – nonetheless, Breqwatr is looking to take their product one step further. They leveraged CENGN's infrastructure to demonstrate that their cloud solution has virtual Customer Premises Equipment (vCPE) functionality, a feature that will allow them to break into new markets.
Since our last project update, Breqwatr has closed out their project with CENGN. In our intro blog we mentioned that the successful deployment of this solution would open up the service provider market for their business. As of today, we can happily say that they are on a smooth road to market expansion!
The Project Play by Play
To test their product, Breqwatr commenced a multi-phase project with us in September. The initial phase involved deploying their BCA into CENGN's Infrastructure, which involved using our Cloud Tenancy and Hardware Hosting infrastructure services for full integration. In the final phases, they tested multiple Virtual Network Functions (VNFs) on the BCA to demonstrate simplicity and normal functionality for a client within the service provider market. This was done by setting up load balancers and firewalls to efficiently handle incoming requests and prevent malicious attacks on their cloud appliance. Both phases went off without a hitch and demonstrated the BCA's true agnosticism when it comes to running VNFs. By working on this project with CENGN, Breqwatr got the chance to showcase their solution in a real-world environment and document the steps involved in working with vCPE applications for their provisioning. They can now move forward with the assurance that their product offers vCPE compatibility for their clients no matter the VNF.
Our mission, as a consortium of members and partners, is to help accelerate the commercialization of products and services offered by Canadian small and medium enterprises (SME's) in ICT and tech. We take great pleasure in knowing that Breqwatr received the support they needed to move forward in their growth plans and demonstrate with ease the increased reliability and functionality of their product. We look forward to seeing Breqwatr succeed in their future endeavors!
If you have a project of your own, you can submit it here!
[cherry_button text="Learn More About Breqwatr" url="https://www.cengn.ca/about-us/members-partners/expeto-wireless/" style="default" fluid_position="right" icon_position="top" color="#828282″ min_width="80″ target="_self"][/cherry_button] [cherry_button text="Submit Your Project Here" url="https://www.cengn.ca/projects/" style="default" fluid_position="right" icon_position="top" color="#828282″ min_width="80″ target="_self"][/cherry_button]
[cherry_button text="View More Projects" url="https://www.cengn.ca/service-view/past-projects/" style="default" fluid_position="right" icon_position="top" color="#828282″ min_width="80″ target="_blank"][/cherry_button]
CENGN updates, in your inbox.