---
eGloo is an Ontario-based company that specializes in providing executives and team leaders quantitative data derived from traffic on their networks in order to make smarter business decisions. Their solution is called Netify and uses Deep Packet Inspection, or DPI, to analyze millions of traffic flows across an organization's network. Real-time (and historical) network intelligence reports specifically targeted towards business owners and executives sift through the noise to provide actionable insights related to traffic on the network. In the coming months, eGloo will be completing a security project for stress-testing and resource determination of Netify.
eGloo Team Experience
eGloo was founded in 2014 but the core team has a history dating back to 2000 under a previous venture, Point Clark Networks. The three founding members at eGloo hold over 25 years of experience each in the technology industry in the areas of software development, engineering, project management, cybersecurity and network infrastructure. On top of this, the eGloo team are very active in the open source community developing and contributing to several projects including OpenWRT, nDPI, ClearOS, PFsense and CentOS.
Network Intelligence with Netify
Many network monitoring tools on the market are heavily geared towards technical teams. This is a problem for executives, team leads, or business owners seeking information to make sound decisions around human resources, productivity, cybersecurity posture, and compliance. Through a combination of data analysis, machine learning, AI, and integrations with 3rd party data silos, Netify extracts actionable insights from an organization's own source of big data in order to make data-driven decisions
Netify Explained
Netify is a DPI network packet analyzer that passively collects data on your network and securely sends meta-data to the cloud for analysis. It is capable of classifying traffic based on application, protocol, and over 25 additional parameters. The agent can be installed on a supported gateway or ingest data from one or more mirror ports configured on your switch. The end result is analogous to a professionally configured CCTV video surveillance system for your network – complete visibility (both real-time and historical) into the traffic flows on your network.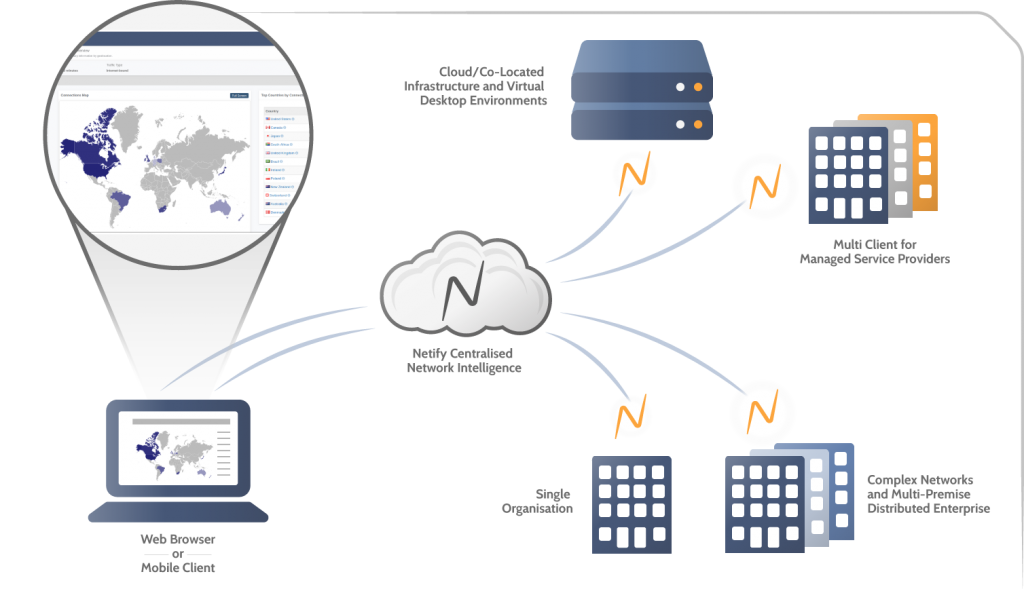 Features of Netify:
• Displays employee use of social media sites, gambling, adult content
• Assesses cybersecurity risk and provides recommendations
• Identifies and tracks network devices
• Identifies phishing scam alerts and malicious attacks
• Maintains historical network traffic data for auditing purposes
• Detects network traffic anomalies
• Multi-Agent/Muti-site – supports unlimited network topology configurations in addition to multiple physical site locations – perfect for distributed enterprise having regional offices, school boards and regional ISPs and WISPs
• API – Use the Netify portal or integrate metrics into existing infrastructure
Preparing for Larger Deployments
eGloo is currently testing Netify with over a dozen beta customers and has compiled feedback to enhance the network monitoring solution. Through partnerships with Concordia and Carleton University, the company is actively developing machine learning models to automate the task of flow anomaly detection, implementation of cybersecurity best practices and business insights.
eGloo has engaged with CENGN to determine hardware requirements when deploying with customers with varying connections speeds. They are also stress-testing the back-end infrastructure in order to scale seamlessly with customer growth.
Since Netify analyzes all traffic on a network, it must be able to handle an extreme amount of data running through their analytics platform in a cloud. Replicating a customer environment with various levels of traffic for Netify to analyze will give eGloo the insight they need to improve their solution's back-end infrastructure and the analytics process of their clients' data.
During their CENGN project, eGloo will receive infrastructure resources and technical support to quantify minimum customer premise equipment hardware specifications for bandwidth flows that would be costly to replicate in a laboratory environment. eGloo is aiming to double its headcount over the next 1-2 years in addition to engaging with a multi-site customer to share real-world data from Netify in partnership with academia for training machine learning models. Stay tuned for further developments of the eGloo CENGN project!
eGloo is a growing Canadian business that is using the services at CENGN through the Next Generation Network Program (NGNP). The NGNP is a Government of Ontario program offered through a partnership between CENGN and the Ontario Centres of Excellence (OCE) that is providing small and medium-sized enterprises (SMEs) across Ontario access to the CENGN Testbed. CENGN's digital infrastructure is connecting SMEs like eGloo to state-of-the-art equipment and network services, which will allow these companies to test and validate their solutions. Are you interested in completing a CENGN project? Learn more by clicking here.
Click here to visit the eGloo website.
CENGN updates, in your inbox.