---
Published: March 23rd, 2017
CENGN had the pleasure of working with inBay Technologies to help them continue to validate and perfect their product, the idQ protection solution. inBay's focus is on providing passwordless authentication and authorization solutions to users who are seeking increased security for their systems and accounts. What sets inBay's new solution apart from others is that it is multi-factor, meaning it uses more than one layer of authentication. This multi-factor idQ solution uses push notifications on a linked mobile device as an additional layer of security, creating a seamless and secure way for users to access their accounts.
In a previous proof-of-concept, inBay Technologies worked with CENGN to validate an earlier version of their multi-factor authentication solution. In this version, a user was required to scan a QR code with their mobile device each time they logged in. With the addition of inBay's most recent update, the idQ solution only requires QR code mapping to set up a trusted mobile device, and uses push notifications as the second layer of authentication instead. To learn more about CENGN's first proof-of-concept project with inBay, click here.
inBay's most recent proof-of-concept project utilized CENGN's cloud platform to evaluate the functionality of its multi-factor designated authorization solution as well as showcase the multi-factor push notification application by running a series of testing scenarios with various users.
How CENGN's Multi-Vendor Labs Put idQ to the Test
In order to test the solution, inBay provided CENGN with its software package which CENGN installed into a jumpbox container. inBay then created an authentication application account for CENGN on inBay's idQ authentication server and generated user accounts for CENGN's test users. Using these accounts, CENGN then signed up their users on the idQ application for their mobile devices. With all these elements in place, CENGN developed several different use cases that effectively tested the idQ solution.
The Results
The proof-of-concept project enabled inBay to validate their solution in a real world cloud platform. The tests that CENGN performed were extremely successful, and confirmed the success of inBay's solution in a variety of different use-case scenarios. Check out the individual use cases that CENGN developed and tested by watching this short video demonstration:
With the ability to test multi-factor authorization solution as a user, CENGN was able to generate specific feedback that will be able to assist inBay in qualifying the efficacy of their solution. In addition, CENGN's feedback will help inBay to make further improvements on their product. In the end, this project was a major step towards enabling inBay to demonstrate the ways in which their solution can be beneficial to users, and will help the company showcase their solution to a broad range of local and global customers, creating opportunity and facilitating the company's business development.
Why Projects Like These Matter
As a highly technical facility housing multi-vendor labs, one of CENGN's goals is facilitating proof-of-concept projects with innovative start-up businesses just like inBay Technologies. Our technical assets and skilled team puts CENGN in an excellent position to help validate and improve up-and-coming products before they are released in the market. As a Canadian Consortium, CENGN can also assist in providing endorsement and networking opportunities for small businesses whose products have been successfully validated.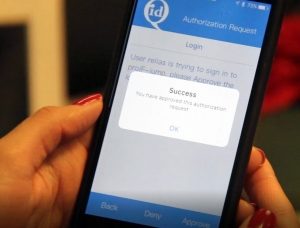 Projects like inBay's multi-factor designated authorization solution are not only beneficial to the companies that CENGN partners with, but also play a role in improving the Canadian tech sector. Working with small businesses to certify products and solutions provides an outstanding opportunity to advance the Canadian ICT sector. The collaboration between CENGN and inBay Technologies is just one example of how Canadian companies can work together to further innovation and growth in the industry. Through CENGN's validation testing, it was confirmed that the idQ solution will be highly valuable for customers who are looking to make their systems more secure in an accessible and user-friendly manner. All of us at CENGN are looking forward to watching inBay Technologies and their multi-factor authentication solution continue to develop and succeed in its push to market.
[cherry_button text="Learn More About InBay" url="https://www.cengn.ca/companies-inbay-technologies/" style="default" fluid_position="right" icon_position="top" color="#828282″ min_width="80″ target="_self"][/cherry_button] [cherry_button text="Submit Your Project Here" url="https://www.cengn.ca/projects/" style="default" fluid_position="right" icon_position="top" color="#828282″ min_width="80″ target="_self"][/cherry_button]
[cherry_button text="View More Projects" url="https://www.cengn.ca/service-view/past-projects/" style="default" fluid_position="right" icon_position="top" color="#828282″ min_width="80″ target="_self"][/cherry_button]
CENGN updates, in your inbox.